3. Select Fields: You can select to show or hide either the minimum night requirements and/or any date-specific overrides set at the listing level.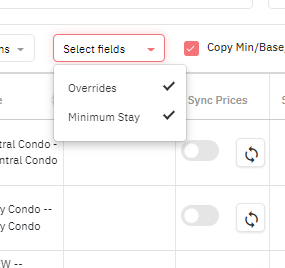 4. Next Month: Once you've gotten to the end of your selected date range, clicking here will add the next calendar month of dates to the Multicalendar.
5. Reset Calendar : Clicking this will take you back to viewing listings in their default order.
6. The Header Row:
○ Listing Name: This will show you the name of your listings.
○ Last Synced: This column shows you how long it has been since the listing has successfully synced.
○ Sync Prices: You can toggle sync on or off, and even do a manual sync for each listing from the Multicalendar! Hover over "Sync Now" on the listing row and a button will appear


○ Save and Refresh : A Save/Refresh button for each listing! As on the individual listing calendar view, pricing will save and refresh automatically after adjusting customizations but you'll need to click the Save/Refresh button when setting date specific overrides, and unlike on other pages, you will need to Save/Refresh when adjusting your min, base, and max prices.
○ Customizations: Click on "Edit" to open the full customization panel for each listing! Currently only listing-level customizations can be managed from the Multicalendar
○ Overrides: You can see all the date specific overrides set on your listing using the "View" button. You can also set date specific overrides using the " Add" button, or click and drag to select your dates on the calendar.
○ Groups: Click the drop down to assign or remove your listing to/from existing groups.
○ Tags: Tags set on the Manage Listings page will appear here
○ Min, Base and Max Price: You can set or adjust your minimum, base, and maximum prices here. Do note that unlike on other pages you must click Save/Refresh to save your adjustments here.
○ 15/30/60 Days: Shows you the occupancy rate of your listing as well as market for 15/30/60 days respectively.
7. Daily rate detail popup: Just like on the regular pricing calendar, you can hover over any date on the Multicalendar for any listing and a detail box will pop up. If you have customizations being applied to this listing from the group or account levels, they will show here. Very useful while in compact view!
8. Previous Page and Next Page: Multicalendar will load 40 listings at once. If you have more than 40 listings in your account you can click these buttons to move between pages of listings. Please note that clicking the Next Page button won't add an additional 40 listings (showing 80 total) but will show you the next group of up to 40 listings in your account.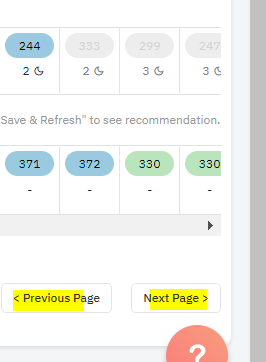 9. Number of listings on this page: This will let you set the number of listings you want to see on one display page.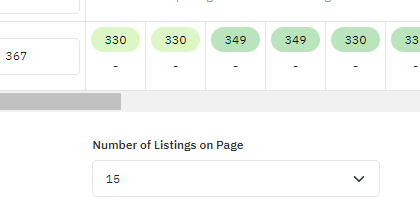 Once you've scrolled to see farther out dates, your Multicalendar will look similar to the image below, allowing you to review your rates for the next few weeks for multiple listings at once!