We're very excited to announce an upcoming update to the performance metrics (the traffic lights) that we show on the main Review Prices and Multi-Calendar pages. We really hope that this will help you stay more informed about how your listings are performing relative to the market more easily, and also help in easily making adjustments to your settings. A lot of this information was already available in our
Neighborhood Data Tab
but with this update that information is available at a quick glance for all your listings!
What's not changed?

As always, these metrics default to next 7, 30, and 60 days on a rolling basis, but you can also choose different future booking windows from the
Advanced settings page
.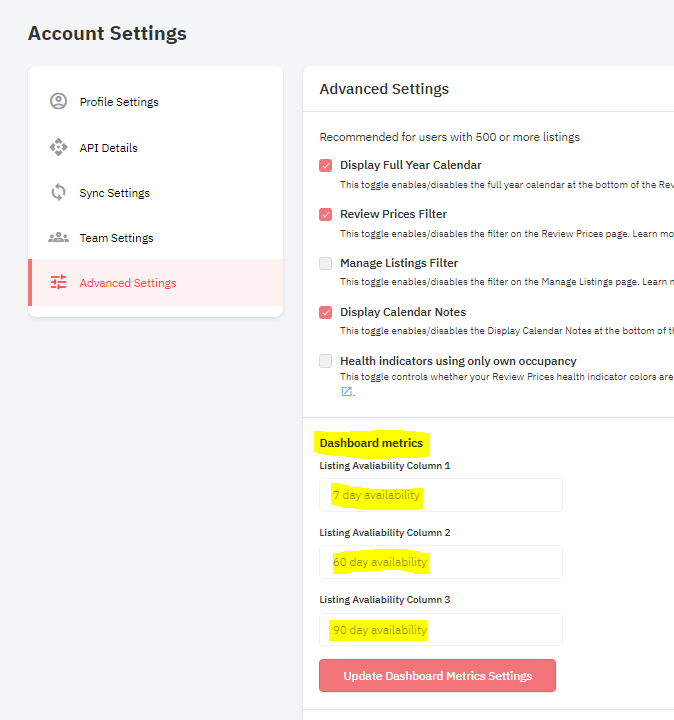 What's changed?
A summary of the upcoming changes:

We earlier used to show vacancy rates, and are now switching to showing occupancy rates.

The colors are based on relative performance of your listings compared to similar listings around you (called Market Occupancy here):


Red

: listing's occupancy is less than [0.8 x Market Occupancy]


Yellow

: listing's occupancy is between [0.8 x Market Occupancy] and [Market Occupancy]


Green

: listing's occupancy is between [Market Occupancy] and [1.2 x Market Occupancy]


Blue:

listing's occupancy is higher than [1.2 x Market Occupancy]


Gray

: waiting on either listing's or market occupancy to be calculate (may happen for newly imported or inactive listings). In case of newly imported listings, the color should change within a day.


Hovering over the information capsules will show you the market occupancy as well.

These are updated once a day, and are also available on the Multi-calendar and when you review prices for a listing (next to the calendar).

How to use these performance metrics?

As an example, for the first listing above it seems like we are beating the market on last minute bookings, but the market seems to be getting more bookings farther out (7 day metric is green, 15 day is yellow, and 30 day is red). There could be a few reasons for this:

Your base price is too high, and you're only getting bookings very last minute when the last minute discounts kick in. You could look at reducing your base price a little and at the same time reduce the last minute discounts to achieve the following:


Keep last minute prices more or less the same, as you are already getting bookings and shouldn't lower prices for those further

Reduce farther out prices a bit so that you take more bookings farther out (when last minute discounts haven't kicked in).


Alternately, maybe you are aware of this and you've designed your strategy to be such that you're okay not taking bookings farther out!

I liked the older setup where my own listings performance dictated the colors. What do I do now?

While this is an important and useful change, we do understand that you might have certain processes tied to the previous colors schemes - if you want to switch back to the older coloring scheme, you can reach out to our support team at
support@pricelabs.co
!