Using VRBO data for your dynamic pricing!
After 2 years of tracking
VRBO
booking trends, we're finally ready to put them to work. You can now opt in to have
VRBO
data drive your dynamic pricing recommendations if you are in a
VRBO
heavy market. We did want to add a few findings from out testing:
We default to using Airbnb data, and have found that switching to VRBO data does not materially change your price recommendations in a VRBO heavy market. This happens for a few reasons:
Many properties cross-list on both platforms.




The way we collect market data is by scanning listing calendars on Airbnb or VRBO and inferring if unavailable dates are bookings or not. As a result, it doesn't matter where a booking comes from (either Airbnb, VRBO, another OTA, or a direct booking!). When a booking is made, we see the dates disappear from the calendars, and then run our algorithms to filter out potential owner/maintenance blocks. If it looks like a booking, regardless of where it comes from, we consider it a booking!




Our algorithm looks at broader booking/occupancy trends in the market, and applies those trends on top of your base price (

How Are the Price Recommendations Calculated?

). Though there are properties in each market which list only on VRBO or Airbnb, the broader booking trends stay similar when a vast majority is listing on both OTAs.
Hang on - if the price recommendations don't change, should you bother switching to VRBO data? Here are some helpful tips:
Switching to VRBO might make sense if you are in a market that's heavily dominated by VRBO (the image below shows some such markets - you can reach out to our team to inquire about your specific location!)


VRBO Heavy Markets

Although the price recommendations might not change much, you might want to look at the comps in

Neighborhood Data

and compare prices against the market using VRBO data.




Alright - if you want to make the switch, how do you switch over to using VRBO data then?
The feature is only available on request, so please reach out to our support team at
support@pricelabs.co
to enable this!
Y
ou can email our support team, or simply
click on this link:
Request VRBO data.
Our team can also help evaluate if switching to VRBO would be the right choice for your market.
Once enabled, this feature is available under "Advanced Customizations" as seen in the below screenshot.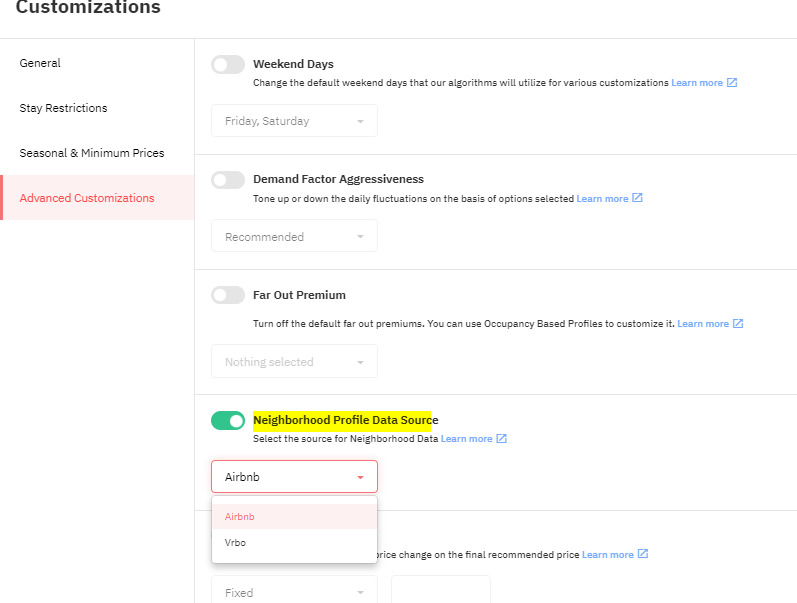 Related Articles

Guide for using both Airbnb and VRBO with PriceLabs

Please follow these steps to set up your PriceLabs account for using both Airbnb and VRBO: Step 1: Import your listings from Airbnb by following the steps here - How to Integrate PriceLabs with Airbnb Step 2: Import your listings from VRBO by ...

2021-08 (August) : Market Dashboard Improvements, VRBO and Hotel Data

It's time for another product update! This month we doubled down on data with a focus on tracking more of your competitors across multiple channels. Read on to learn how you can now use VRBO and hotel data to price your listings, and see changes ...

How to import Airbnb listings using the Google Chrome extension

First things first, if you use a PMS (Property Management System) or a Channel Manager, do note that you'll need to integrate PriceLabs with your PMS, and NOT directly with Airbnb/VRBO. When using a PMS, the flow of data goes from PriceLabs => PMS => ...

PriceLabs Dynamic Pricing: Billing, Subscription, and Invoices

How does PriceLabs calculate your invoices? PriceLabs is full of features and bells and whistles, but the one thing we've kept simple is our pricing plans; there are no commissions, and in every billing cycle you only get charged for the listings you ...

Pricing Offsets

The Pricing Offset customization sets a "Fixed" or "Percent" price change on the Recommended Price (after all other customizations have been applied). This was mainly developed for users who want comparable prices for mapped listings from different ...