How Are the Price Recommendations Calculated?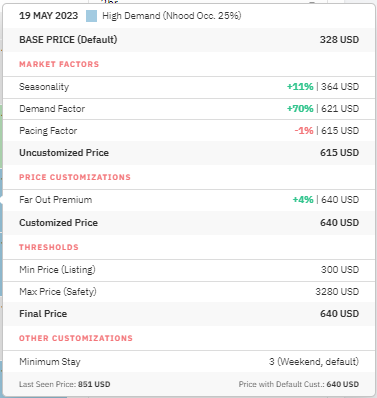 Our algorithm considers a number of factors, some inputs and settings that you can control, and our data-driven analytics layered on top of it. When you review prices for a listing for the first time,
We estimate a base price for the listing you based on it's attributes and current performance. Think of the base price as the average nightly rate for the year, around which we'll make fluctuations based on various trends. Reducing or increasing the base price will reduce or increase the price recommendations

We then apply seasonal factors estimated from historic rentals and hotels in the area. Note that the seasonality is for a broad region - if you want to fine tune your seasonality, it can be done in a few ways (providing us the seasonality based on your portfolio, or by setting seasonal base prices)

Next we apply day of week adjustments. These are also based on historic performance in a very localized area. These can also be fine-tuned using customization options on the UI.

We then apply lead time adjustments based on how far out a date is (think last min discounts and far out premiums). These can be controlled/adjusted as well.

Next we apply event/holiday factors - note that we use a calendar to detect major holidays in your area, and for local events we use data based on abnormal booking behavior (occupancy levels and prices for vacation rentals and hotels for future dates) in a very localized area - this helps identify demand surges caused by events that are not well publicized online.

Any customizations (e.g., decrease prices for 2 night gaps by 20%) and date specific overrides (for example, to further increase prices for New Year's eve by 20%) are applied next.

Lastly, we make sure the price doesn't go below the minimum price, and above the maximum price you set. You can also set different min and max prices for certain seasons and holidays.
Do note that if you chose a date override and set a fixed price for some dates lower than the lowest rate, then those fixed overrides will still get used.

Hope this helps get a good sense of how we calculate prices!



Related Articles

Understanding the Pricing Calendar

The calendar shows recommended prices for each available night in the future. You might notice that each day has a different price - and this is the magic of dynamic pricing! In general, the prices fluctuate around the base price (either calculated ...

Setting your base price

What is the base price? Base price is the average rate you would charge across the year. We use the base price as a starting price and apply all market factors, demand patterns, and customizations on top of this. The base price includes the quality ...

Pricing Beyond 1.5 Years

By default we send prices for 1.5 years(540 days) for most listings. Not as many bookings are made more than one year in advance which makes it hard for our system to detect events. If we extend price beyond 1.5 years, you should manage pricing and ...

Seasonal Minimum, Base and Max Price Settings

Our default pricing setup already accounts for seasonality based on market data (and you can set seasonal price and min-price settings using date-level overrides). But these new settings are a great addition if you: are in a heavily seasonal area and ...

Pricing Offsets

The Pricing Offset customization sets a "Fixed" or "Percent" price change on the Recommended Price (after all other customizations have been applied). This was mainly developed for users who want comparable prices for mapped listings from different ...