We're sure you must have seen fields for Min, Base, and Max prices over a few places within PriceLabs. This article will explain what these terms are along with their purpose.

Minimum Price

The minimum rate is the lowest price a user sets for their listing. You should consider even the slowest seasons while setting this price. This would be the least recommended rate from PriceLabs for the listing, no matter what customizations are applied.

However, a fixed
Date Specific Override
for the listing can cancel the effect of the minimum price, meaning the minimum price is then bound to be the override. For instance, the minimum price is set at $100, and a fixed override rate of $80 is set for some specific dates, so now the override will take precedence over the minimum. To see which other customizations can supersede the minimum price, check our guide
here
.
Base Price

We talk a lot about the base price and why it is crucial to set up.

Base price is the average rate that a property manager charges across the year. All market factors, demand patterns, and customizations are applied to the base price to come to a recommended rate for a particular date. This rate will fluctuate based on the quality of your listing.

Picking an optimum base price is relatively important for your revenue. Fret not. We've got you covered! Our base price help tool, which can be accessed by clicking 'Help me choose a base price' on the pricing dashboard page, has all the information you need to choose the right base price.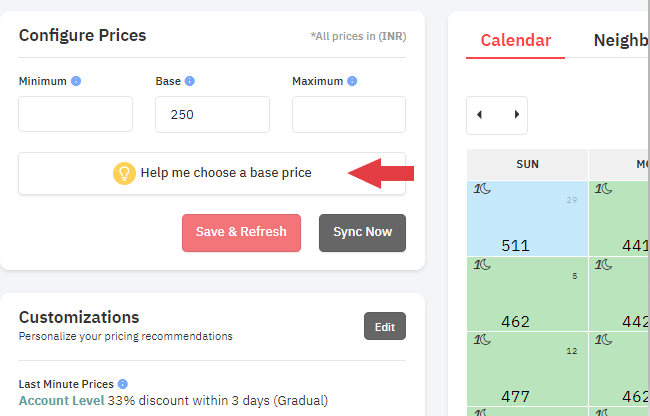 Please go through
this article
to learn more about the base price help tool and optimize the base price.
Maximum Price

The maximum price is the highest price one sets for their listing. This price acts just like a minimum and won't let the recommended rates go above the maximum value set. So even with multiple customizations on your base price, the pricing will not go above the max price. Y
ou can keep this blank as well to see how high our calculations for your rates on higher demand dates can go!

If you leave your Min and Max Prices blank, we will automatically apply our safety prices:

Safety Min Price - 30% of the Base Price

Safety Max Price - 10 times the Base Price

How to set Minimum, Base, and Maximum Prices

Now that we've talked about these terms, you should also know where and how you can set and control these rates on PriceLabs.

You can set these values at different pages on PriceLabs:

The first is at the

Pricing Dashboard

> Review Prices page on the left of the listing's rate calendar. You can individually click 'Review prices' for any of your listings to see or edit the min/base/max rates for your listings.



From the

'

Manage Listings

' page- if you are a property manager managing listings in bulk, it might be helpful to keep track and edit the Min, Base, and the Max rates for all the listings on a single page.



Pro tip: You can also download and upload CSV from this page to bulk manage your listings.



Last but not least, using the '

Multicalendar

' - just like the Manage Listings page, you can adjust the default prices of your multiple listings in a single page.

Minimum and Base Price Nudges

Once you've set your minimum and base price, you'll receive prompts (also called nudges) when a listing's setting needs adjustment, enabling you to realign with market conditions and boost your competitiveness.

Please note that these nudges don't automatically change your prices. You have the option to accept or reject these nudges. Also, you can click the "Learn More" link, which will lead you to the Base Help Tool or provide you further information for the recommendation.




To learn more about nudges, check our guide
here
.