Our default pricing setup already accounts for seasonality based on market data (and you can set seasonal price and min-price settings using
date-level overrides
). But these new settings are a great addition if you:
are in a heavily seasonal area and have a higher-end portfolio, and our market seasonality wasn't capturing this as well

manage properties where you don't have as much flexibility in pricing

have luxury properties with very small comp-set

or, you just need more control of your pricing but still want all the automation that comes with PriceLabs!


Our algorithm already considers seasonality factors, so setting a seasonal base price may cause
double-counting seasonality
and result in higher rates. To learn more about
Seasonality Factor
, check our guide
here
.
To apply Custom Seasonal Profile, just follow the steps below:

From the Pricing Dashboard, click "Edit" on the Customizations panel

Go to the Seasonal & Minimum Prices tab and enable the toggle for Custom Seasonal Profile

Click "Edit Profile"

Select between Fixed or Percentage then the first Custom Seasonal profile (empty row) will show up.

Enter your season settings:


Season Name - Any unique name for your season

Start and End Date - Date range of your season; this can only go from January to December and is not year specific (e.g. 2022, 2023, etc.) so if you want to create a season from November to February, you'd have to create 2 seasons: a.) November to December, b.) January to February


Min and Max Price -

If left empty, the listing-level default prices will get used, but if populated, it will override the listing-level prices

; for percentage change, if you want to set a negative percentage change, you'll need to enter the ' - ' (minus) before the number


Base Price -If you'd like to set a seasonal base price, you can enable this option by clicking the button and tick the checkbox for "Add Base Price"


Min Stay Profile - You can set different minimum stay settings for each season by selecting your created

Min Stay Profiles

Once done, just click "Finish Profile" and "Save Changes":



Additional Notes:

You now have an option of creating random seasons, as any restrictions associated with day ranges that existed before are now removed.
Example, if your season is starting on 15th January and ending on 20th March, another season can start anytime after the first season ends, and not necessarily on 21st March.
You can download a CSV of the seasons you create to replicate those on other listings, or make mass edits and re-upload those instead of doing it on the one by one.

The 'fixed' price type is not available on the Account level (you'd either have to set this on a Listing or Group level):

Deciding between modes: Fixed or Percentage?

Setting fixed values on the Custom Seasonal Profile allows you to directly configure seasonal min, max and base prices - this is recommended when using this setting on a listing level. On the other hand, when used on a group level, it can be more convenient to set up seasons as a percentage, since listings in a group can have different min, max and base prices. In this case, the percentage value configured in the profile is applied as a "% change" to the listing-level values. For example, a percentage value seasonal base price of 20, for a listing that has a base price of $100, will result in a Seasonal Base Price of $100 * 1.2 = $120.

Can a listing have multiple Seasonal Base Profiles?
No. As with other PriceLabs' customizations, if a Seasonal Base Profile is active at the group or account level, and the listing level, only the listing applies (you can read more about our customization hierarchy
here
). This also means that percentage values set up on a group level are not applied to seasonal values set up on a listing level, percentage values are always applied as a percentage of default min, max and base prices configured on a listing level.

Important Notes:

As mentioned above, if a season's min/base/max price are left empty, the listing level min/base/max price will get used.

Once you've set seasonal min/base/max prices, the listing's usual min/base/max prices will be ignored whenever the seasonal price is filled in.
How to delete Base Price from Custom Seasonal Profile?

Step 1 - (Open Seasonal Profile)

Go to Edit Customization Panel >> Seasonal & Minimum Prices >> Custom Seasonal Profile >> "Edit Profile"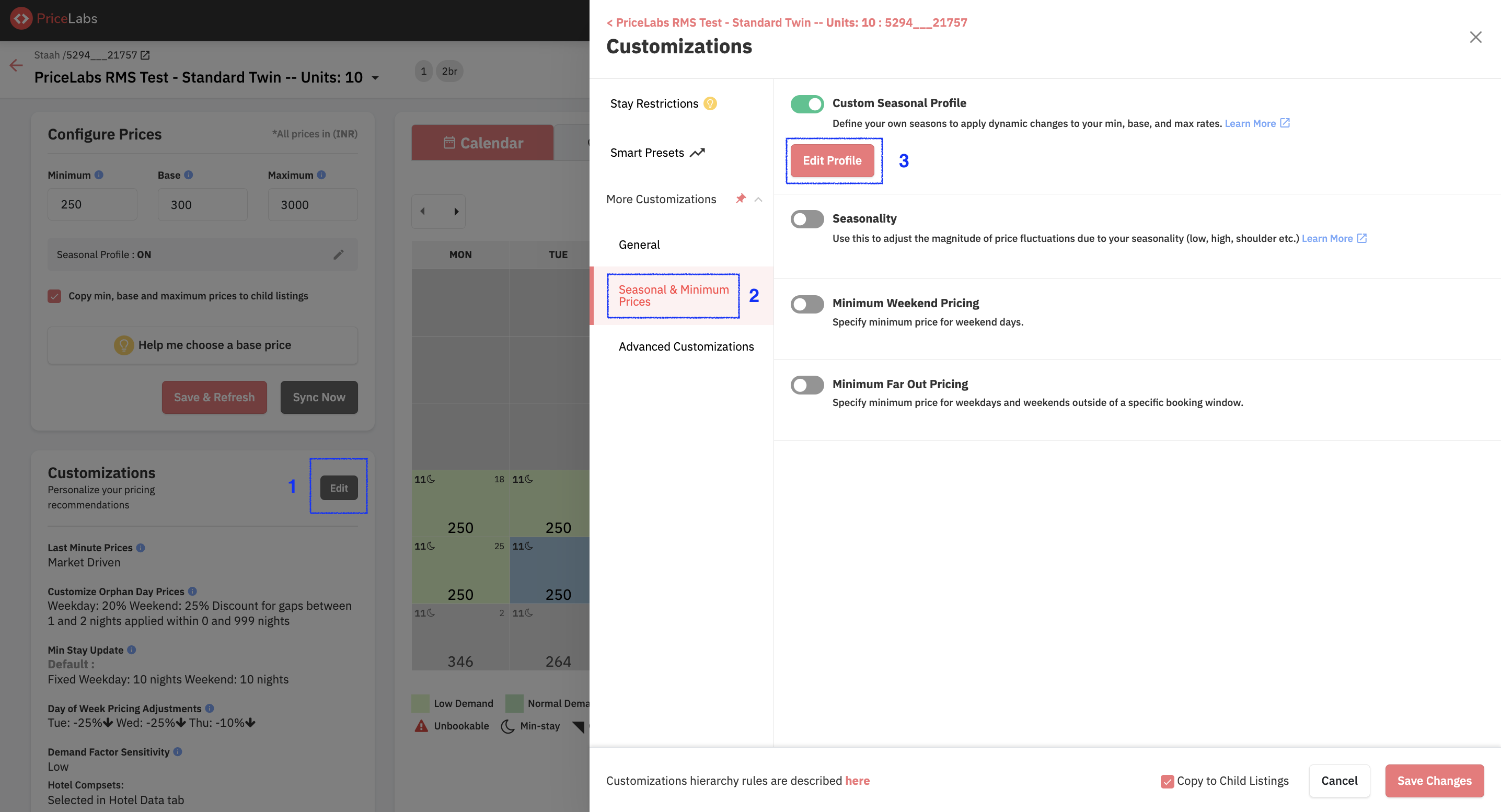 Step 2 - (Delete Base Prices fields)

In all the Base Price fields, DELETE the values (boxes 1 and 2 in screenshot below) and click "Finish Profile"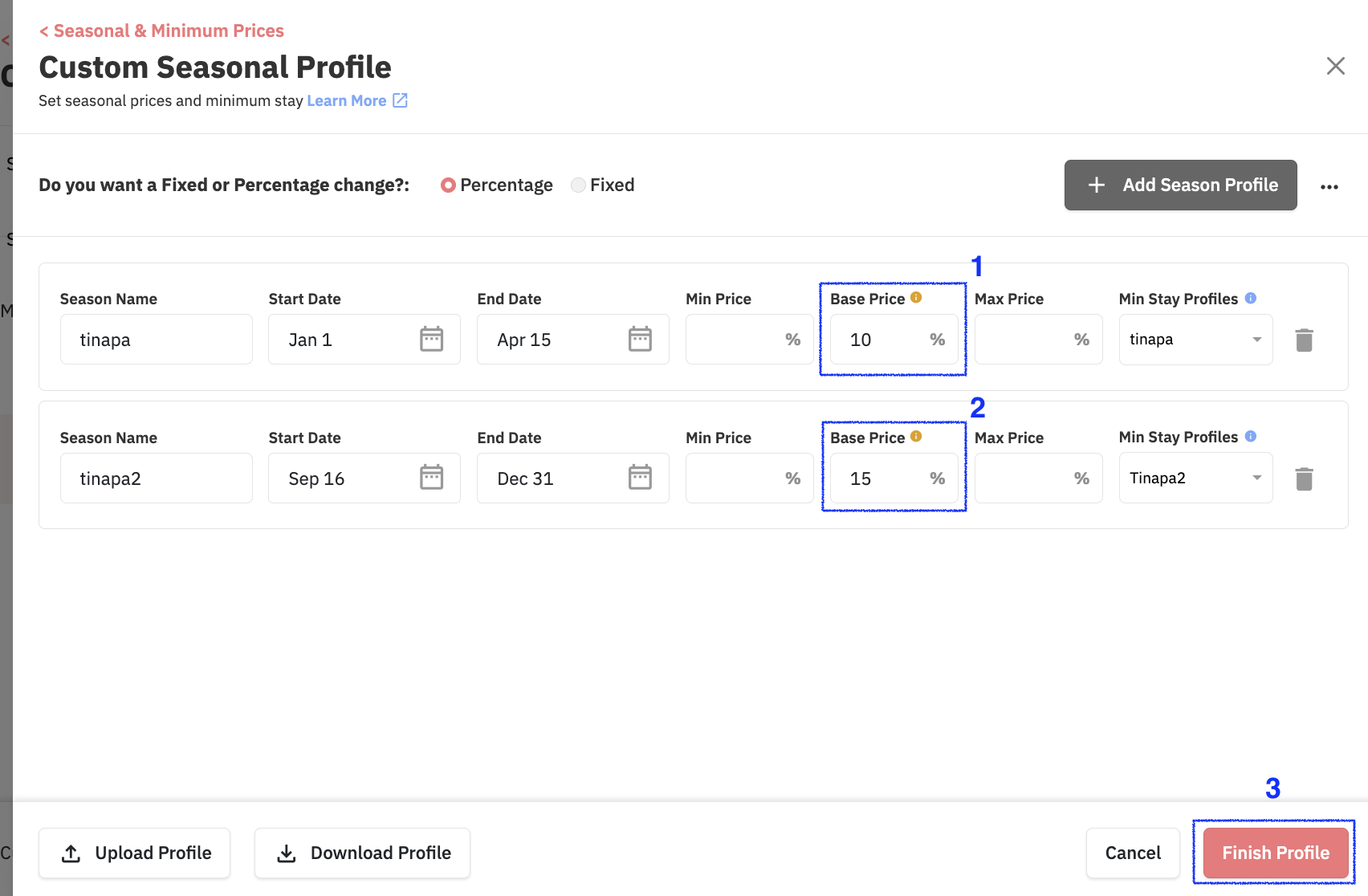 Since you have don't have base prices on, we have to make sure that you are using PriceLabs seasonality
Step 3
- (
Ensuring you are using PriceLabs determined seasonality)
Go to "Seasonality" >> Set the option to "Recommended" >> Click on "Save Changes"