Mapping Listings Between Channels
When to use mapping:
Same listing on two or more different channels/PMS'es:
If you are using PriceLabs to update prices & minimum stays for a listing on two channels (say Airbnb and Vrbo), you would want the two channels to have similar rates for your listing. Also, you don't want to do double the effort required to maintain pricing for both properties.




Parent and Child Definition
Before we start mapping, it would be helpful to know the difference between a parent and a child listing:

Parent listing is your main listing on one portal and will be the primary listing when using PriceLabs.

Child listing is a copy of the parent listing on other portals.

Now that we know what parent and child listings are, let's map them!


Do note that to map two listings together they need to have the same location parameters (their lat/long should be same). The Lat/Long information is set in your PMS.

How does mapping listings help?
It helps us maintain rate parity between similar listings.

It allows you to set the min/base/max prices, and date-specific customizations on a parent listing and they will be copied over to the child listing(s)


Once you've mapped listings together a reduce rate will apply so we won't double charge you. We will charge only 1$ extra for the child listing

- billing for child listings is explained in detail in step #5 here


To give you an idea, if you have one listing hosted on Airbnb and VRBO, parent would cost 19.99$ and the mapped child listing would only cost you $1 extra.

You will be charged $19.99 + $1= $20.99 instead of the current $34.98 per month.
Check for detailed information on pricing in this article
How to Map

In order to map two listings together click the Map Listing button for any list that isn't already mapped to a parent, this listing will be the child listing. Be sure to take a look at the location details for the listings you are planning to map together, they should match or be with one or two digits of each other. If the latitude and longitude of the listings aren't close enough, you'll need to adjust the location settings for your listing in your PMS before mapping can be done (see
here
for instructions on finding the correct lat-long for your listing).
Once you've clicked the Map Listing button, the listings from all other systems will pop-up and you can assign your child its parent by selecting the parent from the available listings shown. Do note the tick boxes at the top of this pop-up, unless these are unticked, settings from the parent listing will automatically copy to the child listing once the Red "Map Listing" button is clicked.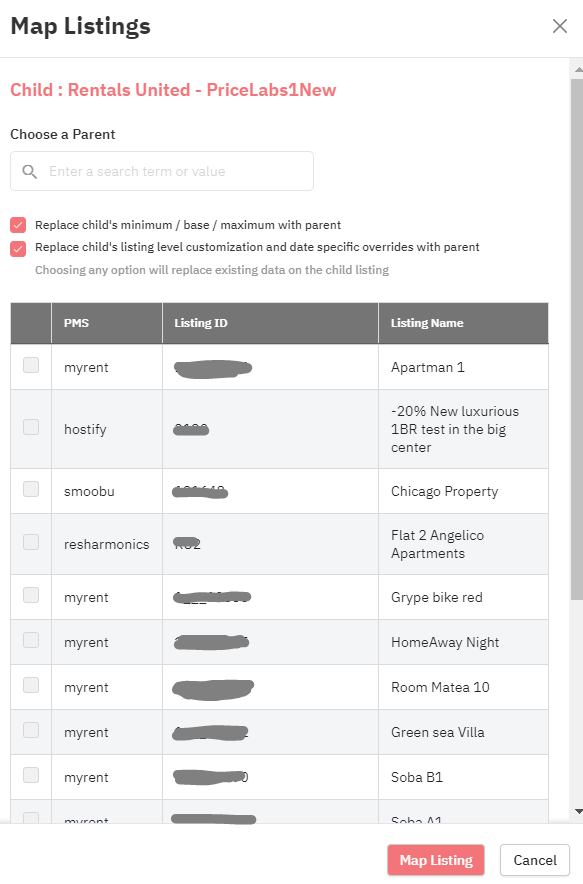 A Mapped Listings heading will appear on the page and child listings will show directly beneath the parent listing.

If you head back to the Review Pricing page, you'll see the child listing in italics there as well.



On this page you can also set the base, minimum, and maximum prices for all of your listings from one location. Bonus!

Instead of the default overnight sync, you can now choose what time in your local time-zone you want the sync to happen at so that both parent and child listings sync at the same time! For more information refer
here
.
Managing rate parity

Rate parity is maintained by applying your base/min/max settings, listing level customizations, and override settings from your parent listing to the child listing. These settings automatically copy over, so please make sure to untick the boxes if you wish to have different rates between parent and child listings. You can also request to have the
pricing offset option
added to your account.
To adjust base, min, or max prices. Click review prices for the parent listing and on the left panel, next to the calendar, you will see an option to copy prices to child listing.

To adjust customizations for both listings, simply set the customization on the parent listing and you will see the option to copy the same settings to the child listing. If the save button is clicked while this box is ticked then all customizations set for this listing will copy from the parent to the child listing

To copy over custom price changes, set the custom prices on parent listing and you will see the option to copy the custom prices to child listing.

Note that all of the copy boxes shown above are checked by default.

Managing Channel Specific commission
When syncing to two channels with different commission structures (say Airbnb and VRBO), you should use
pricing offset customization
at the account level from the Customizations Page so your customization settings will apply to all listings at once! Note that if you create pricing offset at child listing level, it might get over written when you try to change parent customization because default action is copy all customizations from Parent to child.
Related Articles

Multi-unit mapping

What is a Multi-unit? Multi-units are properties that have the same category/room-type. In order to map listings as multi-units in Pricelabs, two conditions are required: Listings have to be in the same location (example: several flats in the same ...

Understanding Your Dashboard

From your dashboard you can see your imported properties from all the different accounts you've connected to PriceLabs. You will notice multiple columns, as well as a search field that you can use to quickly find the listing you want to look at -- ...

Importing or adding new listings

Have you recently added new listings in your PMS but aren't seeing them on your PriceLabs dashboard? This is because we don't fetch listings from your PMS, unless you tell us and authorize us to do so. Click the big grey button on your PriceLabs ...

Pricing Offsets for Mapped Listings

The Price Offset customization sets a "Fixed" or "Percent" price change on the final Recommended Price (after all other customizations have been applied). This was developed for users who want comparable prices for mapped listings from different ...

How to delete listings from PriceLabs?

To remove a listing(s) from your PriceLabs dashboard, first turn off sync for that listing and then head to the Manage Listings page from the Dynamic Pricing menu. Once you're on the Manage Listings page you have two options if you want to remove a ...