Listing Location Settings in PriceLabs
Part of our rate adjustments are based on the hyper-local data we use to track demand for your listing's area, so it is very important to make sure the correct location is set for your listing. If the location for your listing is off by even a few hundred meters, this could skew the demand-based portion of our adjustments!

In most cases, your listing will automatically be assigned a location based on the address entered in your OTA or PMS, but different platforms can use different mapping systems and this can lead to differing locations.

You can check to see the exact location that was assigned to your listing on the
Manage Listings
page, clicking the location details will open a map so you can make sure your listing location is correct.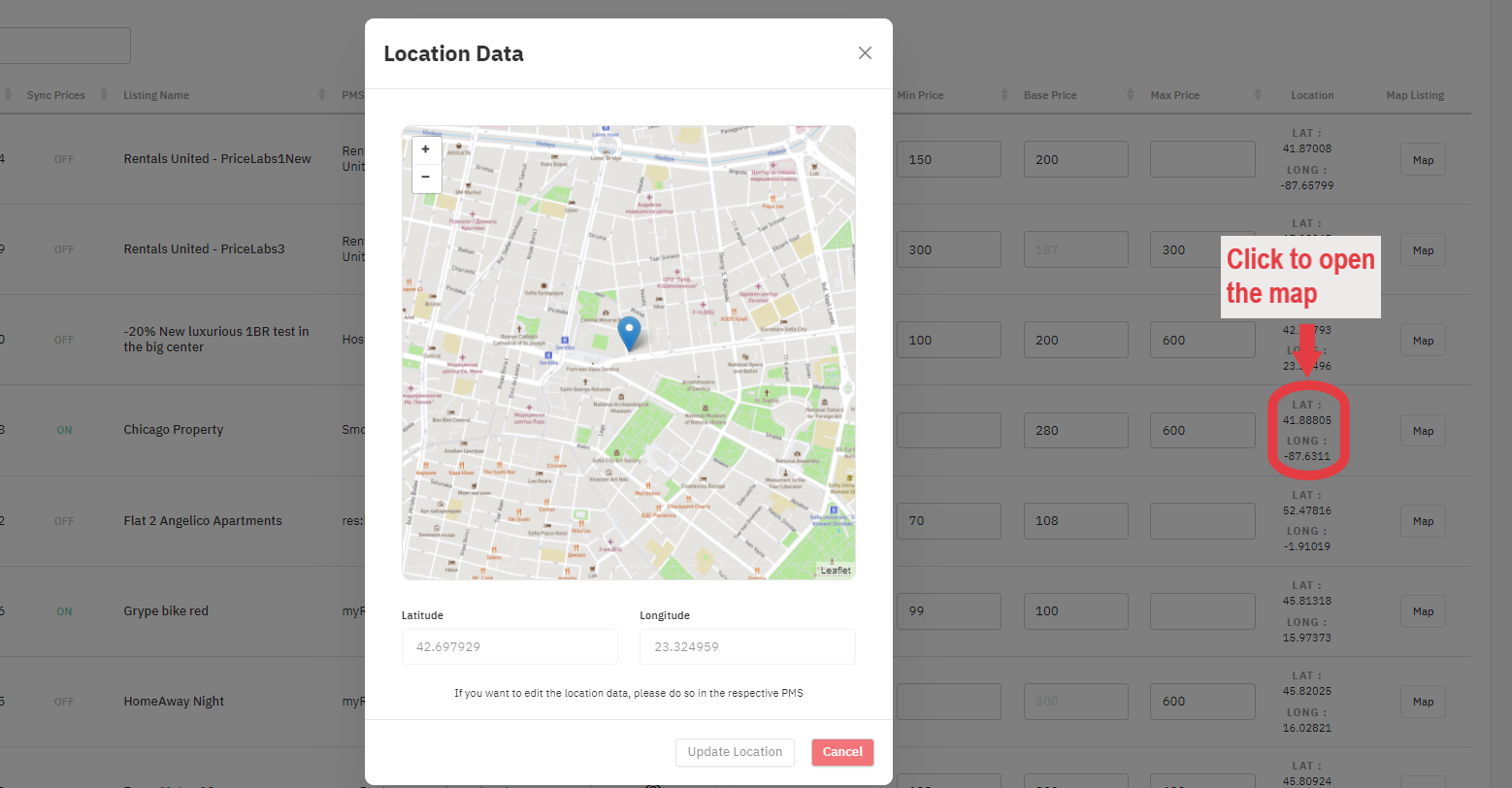 What happens if your listing location is incorrect?
In most cases you will need to adjust the latitude and longitude in your PMS/platform and then re-connect the listing into PriceLabs; instructions for this will be in the help article for your PMS/platform
here
If you are syncing directly with Airbnb, then you must reach out to Airbnb support and request the location for your listing be changed and then re-import your listing into PriceLabs.

If you are syncing to Mews, Yield Planet, Newbook, Staah, VRBO and MiniHotel - you will be able to adjust your location directly on PriceLabs.


How to change your listing location in Pricelabs

Please note this feature is only available for the following PMSs:
To adjust your location for the above mentioned PMSs, follow the below steps:
Go to the Manage listings page of your account.
Click on the "pencil" icon in the "Location" column, the Location Data modal will open.
Now, make sure that the "Allow PMS to import" toggle at the bottom left of this modal is turned off.
Move the marker on the map to the spot where you want your property to be, and the latitude and longitude of your property should change OR you can use the coordinates (latitude and longitude from Google Maps) please see the details below on "Where to find my property's coordinates? (Latitude and Longitude)"
Click the "Update Location" button inside PriceLabs to save the location, and that's it.
Here's a YouTube Video tutorial: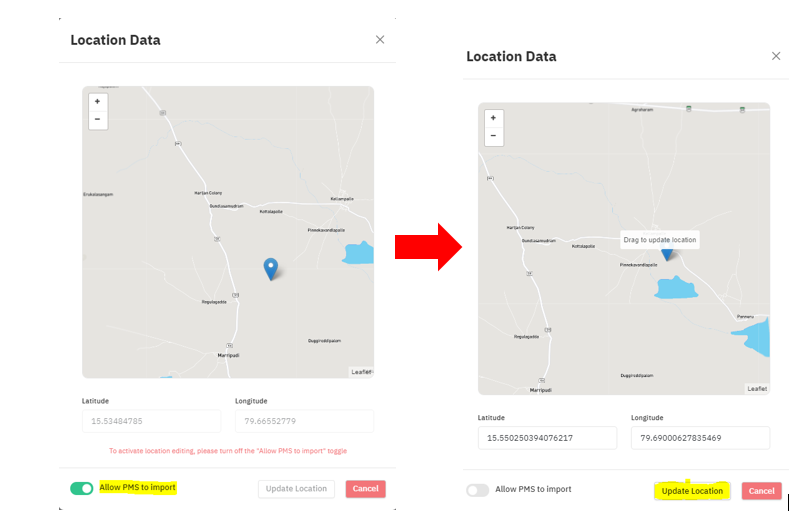 Where to find my property's coordinates? (Latitude and Longitude)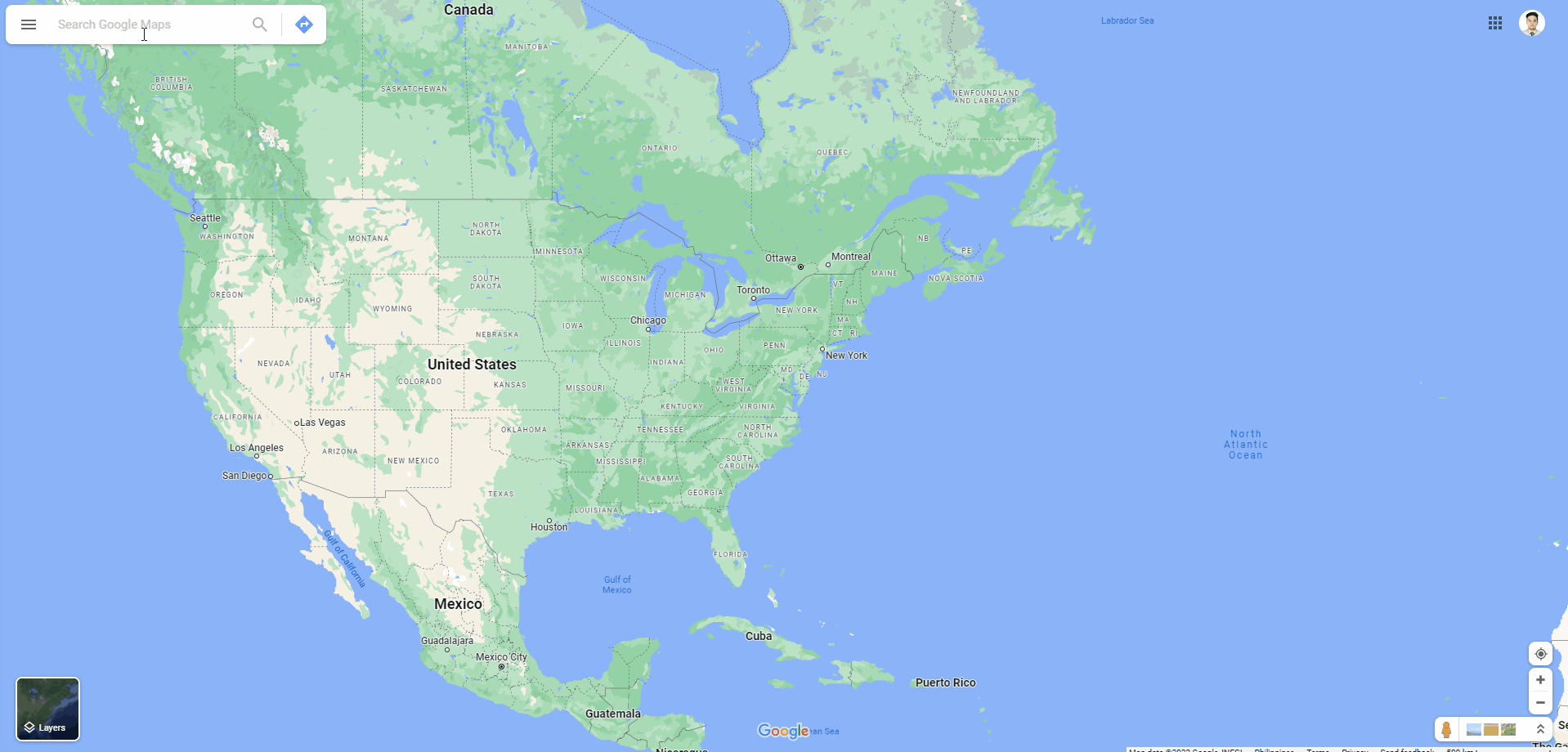 You can use Google Maps to find your property's coordinates
Steps to acquire your property's location:

1. In Google Map, enter the address in the search field bar

2. It will find the location and show a red pin location marker

3. Right-click on the pin you'd be able to see the coordinates (latitude, longitude)

Bonus: If you have geo-tag your place already it will appear when you use "What's here?"

If you still find issues when you are setting up the location of your property, please do send us a message at
support@pricelabs.co
Related Articles

How to Integrate PriceLabs with Smoobu

Connecting PriceLabs to Smoobu When actively syncing with Smoobu, PriceLabs will send rates and minimum stay requirements to Smoobu listings for up to 540 days from today (see our article here on extending your pricing calendar). How to connect to ...

How to Integrate PriceLabs with Hospitable

Connecting to Hospitable When actively syncing with Hospitable, PriceLabs can send rates and minimum stay requirements to your listings for dates up to 540 days from today (for more on extending your pricing calendar see our article here). Before ...

How to reconnect your listings?

Whenever you update your PMS/Channel Manager/OTA's account password, add new listings, or make changes to your listings such as updating the listing name and location, you'd have to reconnect your listings in order for the changes to apply to ...

Mapping Listings Between Channels

When to use mapping? Same listing on two or more different channels/PMSs: If you are using PriceLabs to update prices & minimum stays for a listing on two channels (say Airbnb and VRBO), you would want the two channels to have similar rates for your ...

Advanced Dashboard Display Settings

If you navigate to the Settings page from the Account menu and expand the option to show the Advance Settings, you'll see a few switches that are designed to help out users with larger portfolios. ​ 1. Display full year calendar: When this toggle is ...