The calendar shows recommended prices for each available night in the future. You might notice that each day has a different price - and this is the magic of dynamic pricing! In general, the prices fluctuate around the base price (either calculated by us, or provided by you) based on the following factors, and you should be able to see those in action:

Season (time of the year, peak vs. lean season)

Day of week (weekends vs weekday depending on the location)

Supply and demand fluctuations due to a holiday or event

How far out a date is (close in dates get a last minute discount)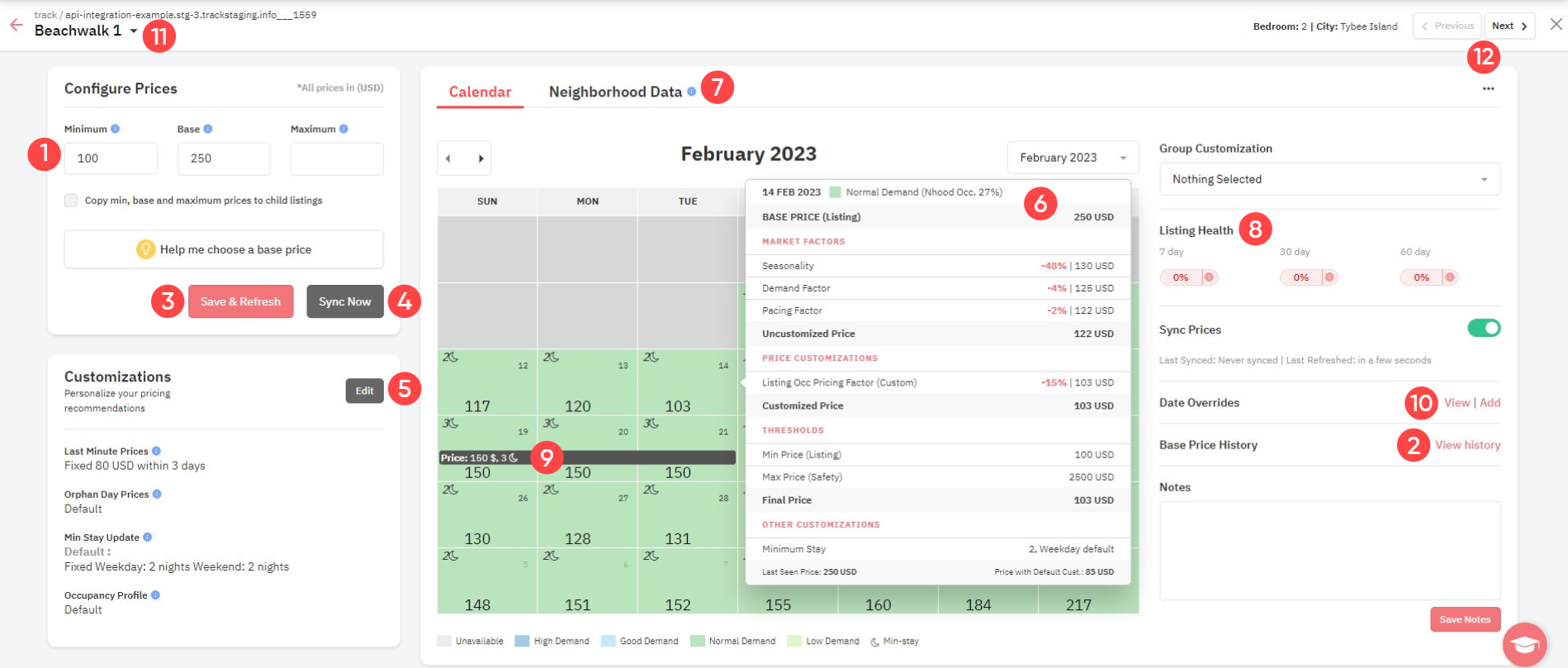 Now let's dive in to the numbered tags in the image above:

1. Minimum, Base, and Maximum Prices: When you first import your listing you'll be able to see the base price calculated by us. Think of the base price as the average nightly rate for the year - we'll then fluctuate your rates around this base price based on season, day-of-week, events/holidays, and how far out a date is. You can change the base price to bring the recommended prices up or down (since our price recommendations fluctuate around the base price). We recommend users to periodically monitor their performance metrics and update base price if needed. You can also set a lowest and highest price that we wouldn't go beyond in our recommendations.

2. Base Price History: Click here to see a table of the changes to your minimum, base, and maximum rates over the time your listing has been on PriceLabs.
3. Save & Refresh: Once you enter new lowest/base/highest prices, you can hit the "Save/Refresh" button to allow your changes to reflect in the recommended prices

4. Sync Now!:
Once you have reviewed your prices are satisfied with the price recommendations, you can turn on the switch on the dashboard so that we can start our daily updates to the listing. If you want the prices to update right away, hit the yellow "Sync now!" button and allow up to 15 minutes for the prices to update on your listing. If you've made changes to several listings, you can head to the
Customizations page
to sync listings at the account or group level.
5. Customizations
:
Customizations
allow you to select the extent of last minute discounting (to get last minute bookings at a discount instead of nights going un-booked) and orphan day discounts (to get bookings on short gaps between two bookings that are harder to fill), and setup rules to dynamically change your min-night settings, along with adjusting your rates automatically based on listing occupancy, seasonality, day of the week. Follow the link above to read our full customizations guide, or join one of our
live onboarding
training sessions
during office hours
!
6. Hover over the calendar: When you hover over the calendar, you can see a popup with the reasons as to why a price was recommended. In general you'll see a demand factor and a supply estimate (in terms of occupancy rate in other vacation rentals), along with how rates are adjusted for seasonality and listing occupancy, and any minimum or maximum pricing settings. Advanced users might also see details on customizations, and what your daily rate would be if only default settings were in place, but more on that later!

7. Neighborhood Data:
This neat feature allows you to see how other listings in your area are priced compared to yours, and where they are located, you can access it by clicking the tab next to the calendar tab. You can read our full guide on your listing's Neighborhood Data tab
here
. Please note that this can take up to a day to appear after you first review prices for a listing.
8. Listing Health:
The first set of metrics show you the listing's occupancy rates over the given time periods, you can read specifics on these metrics and learn how to change the time frame shown
here
. Just below these metrics is a sync switch for this listing along with the last synced and last refreshed times; a sync is when your rates and min-stays are pushed to your listing, while a refresh is when rates are updated in PriceLabs only (this is useful for seeing how changes in customizations effect your rates before sending them to your listings!).
9 & 10 Custom Pricing:
Know something that we don't? You can click and drag over dates or click the green "Date Specific Override" button to override our recommended prices and/or min-night restrictions with your own values. From then on we will use this value instead of our recommended prices for those dates. To see a list of all overrides being applied to this listing, including those from the group or account level, click the "Show Date Specific Overrides" link. You can read our full article on setting overrides
here
.
11 & 12 Review Prices of other listings: You can click this dropdown to select another listing to review prices. Or you can click "Previous" and "Next" to hop from one listing to the other.

Download Prices :
Click this link to download a log of the current rates and min-stays for this listing. If you don't use a channel manager or PMS and need a way to update rates, this can be used for updating rates using our
extension
.
Display full year calendar: When this check box is checked, the full year navigation calendar is displayed at the bottom of usual "monthly" pricing calendar. Displaying the full year calendar (screenshot below) can add 3 to 4 seconds when you review prices for a listing, so we recommend keeping it off to speed things up unless you use it frequently

.

Enable Display notes: Use this to add notes for your listing. You will see a box on the right side of the calendar as seen in the screenshot above.

Highlight dates with overrides: Use this to display different levels of date specific overrides (Group, Account and Listing level) on the pricing calendar with a black triangle mark on the top right corner of the date box.