Base price Override:
To place a date-specific override on the base price for a particular duration, we have an option in Date specific override section. Once you apply this setting, it overrides the default base price set for the duration you select on your calendar.

It appears under Price settings under Date specific override.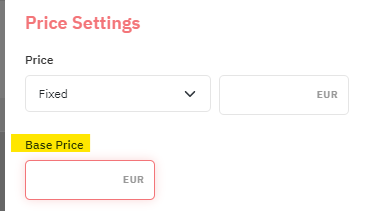 Note:
To access this setting, please get in touch with
support@pricelabs.co
to enable this for your account.
Other things to consider:
Do not overthink the decision as you start. Instead, use something and refine it over time. Several factors in our algorithm auto-adjust rates up or down based on your listings' performance.

Revisit the base price every couple of weeks and then every few months to ensure you are considered within the market.

If you've been using a base price for more than a few weeks and want to make an adjustment, opt for small incremental changes (5-10%) from your current base price over time rather than a significant one-time change. This helps to determine the impact on your revenue safely.

Before confirming the base price, also consider your listing's occupancy. In general, if your occupancy is low, increasing from the current base price is not a good idea. Conversely, if your occupancy is already very high, decreasing your base price is probably unnecessary.

Once you have set up your base price, click "Save & Refresh," then head to the neighborhood data tab, filter for your bedroom size, and see how your prices compare to other listings in your neighborhood. Adjust the base price up or down to fluctuate within the 25-75th percentile, depending on the desirability of the listing.

If you are not setting any additional markup, Airbnb Host fee, or OTA service fees, the base price includes the service fee. So keep in mind that your net payout would be a little lower.

Also, when thinking about base price, do not include taxes. Those are usually charged above your nightly rate.

Do consider entering minimum and maximum prices for your listing(s). While all the calculations to determine your daily rates are based on your base price, the min and max prices act as stopping points. Setting minimum and maximum prices ensure your rates don't drop too low or spike too high.

Q: Base Price Help suggests that my base price is already slightly below the median market price, but I am not getting any bookings. Should I increase my base price?

A: In general, no. Base Price Help is only considering market prices, which is a good starting point, but what matters, in the end, is maximizing your listing's revenue. So, for example, during very low-demand periods, it might make sense to market your listing below the market median.

Video Tutorial