From your dashboard you can see your imported properties from all the different accounts you've connected to PriceLabs. You will notice multiple columns, as well as a search field that you can use to quickly find the listing you want to look at -- very useful if you manage dozens of listings! Read on to learn about the numbered tags in the picture.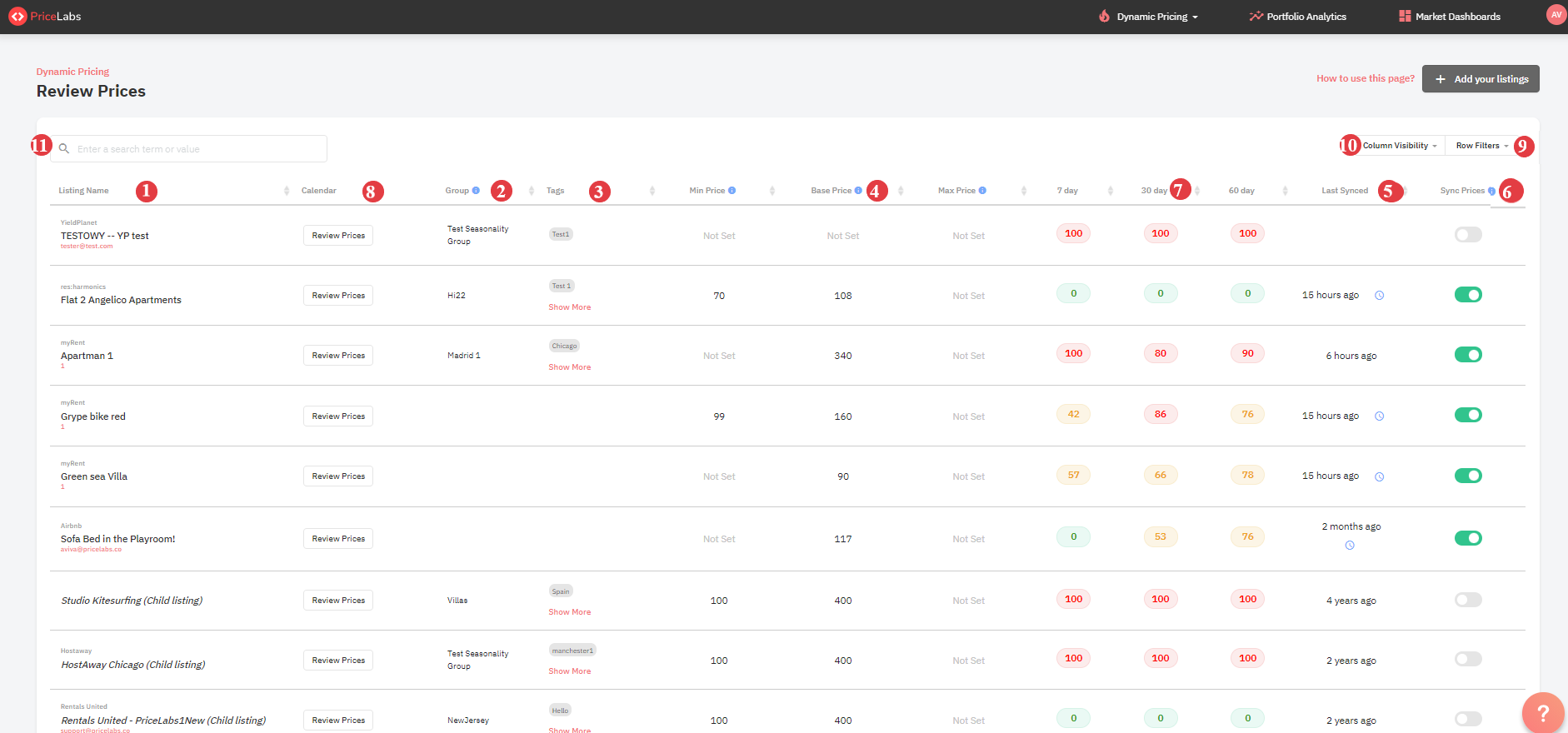 1. Listing name: The title says it all! In addition to the listing name we also show the channel/PMS and account this listing belongs to. Clicking the listing name will take you to the listing page or calendar in your PMS or channel manager, or your Airbnb listing page.
2. Customization Group:
A useful feature if you have multiple properties. Assign each listing to a group so that you can work on a group of properties in one session. You can read more about creating and managing groups
here
.
3. Tags:
Examples of tags could be anything you fancy - location ("East London") is a common one, but users also use it to list the address of the property so they can find it quickly with the search function, you can enter them on your
Manage Listings
page. If you have set nicknames in some management systems, they will be imported to this field.
Pro-tip: You can choose a complex tags such as "London-Airbnb-221 Baker". Now you can search by location (London will show all London listings), channel/PMS (Airbnb will show all Airbnb listings), or address ("221 Baker" will show all listings at that address).



4. Min, Base and Max:
Min
is the lowest price that you have set for a listing (we'll show how to set it shortly); our recommendations will never go below this value.
Base
is the base price you have set for a listing. If you don't set a base price, we calculate one for you. (We also provide you with intelligence on how to set the base price. More on that
here
!).
Max
is the highest price you have set for a listing. We will never go above this price
5. Last Synced: This gives you an indication of when the listing was last updated. For new listings, it should say "Not yet synced."

6. Sync prices: This toggle shows the current status of the property in the PriceLabs system. If the switch is ON and green, then we will update prices every night, and if it's Off and grayed out then PriceLabs will not change prices on this listing.

7. Availability Outlook: A quick snapshot of how your listings are doing for the next 7, 30, or 60 days. The number shows the percentage of booked days in the next week, month, and two months, and the color codes help you quickly get to the listings that need attention. Note: these may take up to four hours to update after you have imported new listings.

8. Review prices
: Button that takes you the Custom Pricing Calendar and allows you to set parameters around your pricing. More on that
here
!
9 & 10 Column and Row Filters. You can sort by any of the fields that show a tiny triangle next to them, and filter based on PMS, whether a listing is available or not. You can also select which columns you want to view. Super handy for people who regularly use PriceLabs on a small lap top or mobile device!

11. Search: Don't want to scroll through all your listings to find that one that you want to review? Type in what you're looking for in the search box above your dashboard, and we'll find any listings where the listing id, listing name, account name, channel/PMS, or group name matches.
Pro-tip: Once you have mapped listings across PMS/channels from the Manage Listings page, you can use a filter to hide child listings so that you don't see the same property twice. You can still copy any custom pricing or base price changes when you change them in the parent listing!