Historically, PriceLabs has primarily served the Short-Term Rental Industry. However, we have expanded our product to cater to Hotels as well, offering a comprehensive solution to automate pricing and minimum stay requirements.
If you're a Hotel manager seeking a leading solution provider to streamline your pricing strategies, you've come to the right place. With our extensive experience and expertise, we have assisted over 30,000 customers in optimizing their pricing on a daily basis.

In this article, we will delve into the various customizations we recommend for Hotel managers, along with valuable insights on where to access additional market information.


Contact our support team (
support@pricelabs.co
) to request the following features : Sub Groups, Same PMS mapping and Far-out Premium switch.
Define your Base Price

The Base Price is a crucial starting point for our algorithmic pricing. To ensure accurate pricing, it is essential to get this data right.
You can use our Base Price Help tool to compare against other Rooms in your Market and cross-reference it with your annual ADR (Average Daily Rate).
Connect your rate-plans and define mark-ups between categories

For hotels, it is common to start pricing the Standard room or the lowest-priced category and add supplements for higher-tier categories.

After that, we recommend you to create a group with the name of the hotel, and then a group for each category (these will be subgroups). This way, you will be able to apply adjustments for all the rooms at once, but also to each category separately.

Finally, to add mark-ups between categories in PriceLabs, you'll be using the Pricing offset customization (located in 'Advanced Customizations') for each category group. This feature provides flexibility and control over your pricing structure.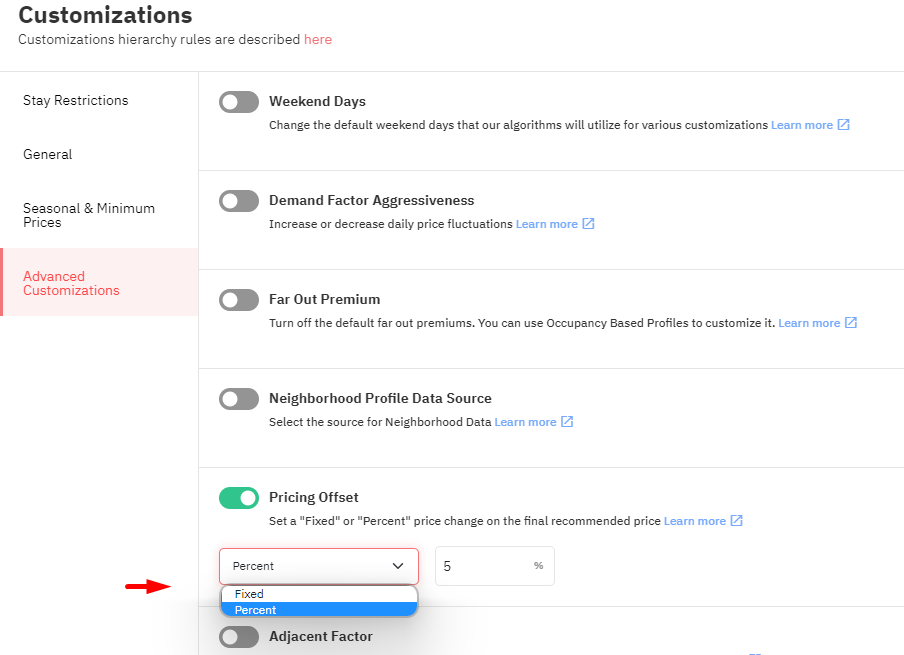 Set your Customizations

Here are some essential customizations for hotels:
Last Minute Prices

: we recommend you to select the "No last minute adjustment"




Orphan Day Prices

: by default, the system will drop prices by 20% for gaps of 1 or 2 nights in your calendar. As a hotel you will most likely work with shorter stays and won't want this automatic rate drop which is why we recommend you to set "No orphan Day adjustment"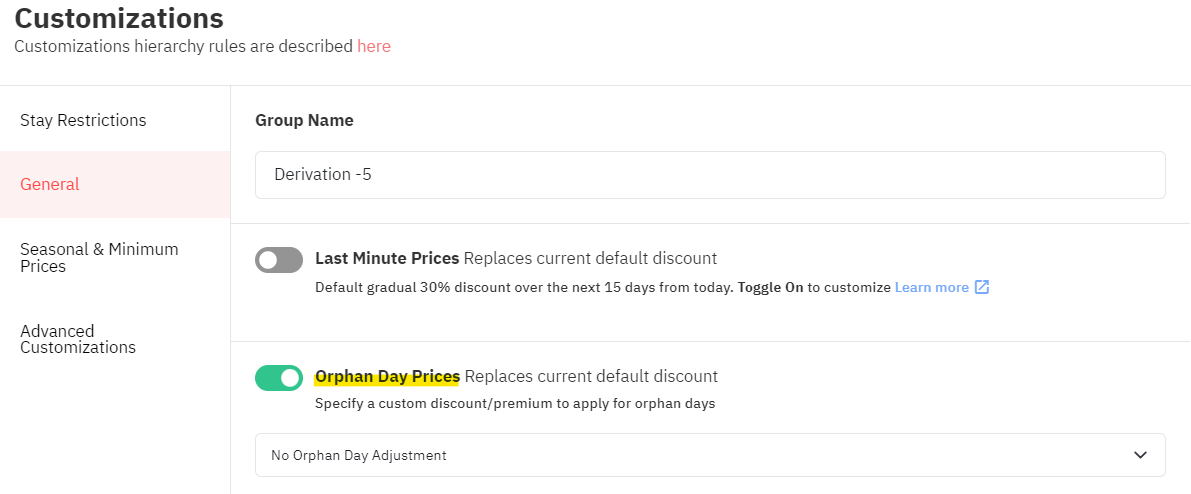 Day of Week Pricing Adjustment:

if needed, you can apply percentage adjustments based on the day of the week





Occupancy Based Adjustment:

since you'd most likely want to optimize your prices based on the hotel's occupancy and not per room type. We would suggest deactivating this option or use only for specific categories that might have a different booking patterns than the rest (like a Suite, Family room, Jacuzzi room etc)





Go to Advanced Customizations to activate the

Portfolio Occupancy Based Adjustments

: this option gives you the possibility to make prices change based on the time left to sell your rooms and the global occupancy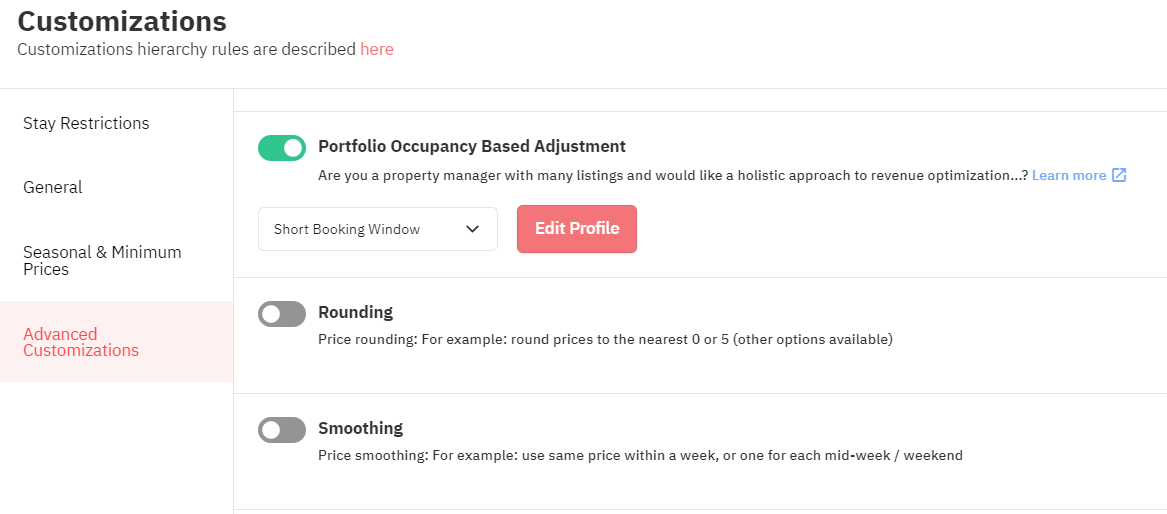 By default, we apply a

Far-out premium

, but for hotels, it is recommended to reverse the logic and start with lower rates, gradually increasing them as occupancy rises (using the Portfolio Occupancy Based Adjustment option)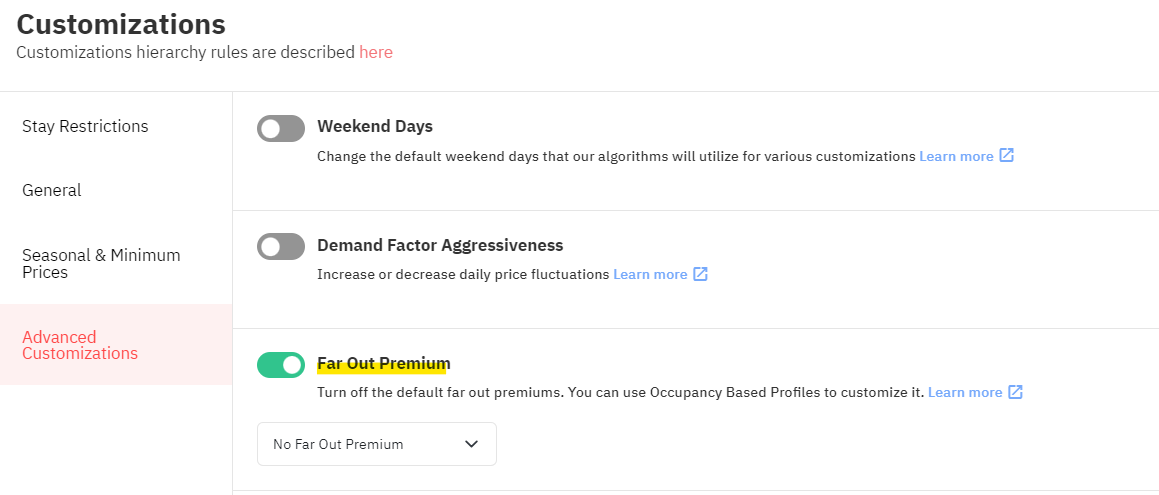 Rounding: If you prefer prices ending in specific numbers (e.g., 0 or 5, 4 and 9), you can indicate your preference in the Advanced Customizations


Multiple Syncs per day: by default, we synchronize prices every 24 hours but as hotel market might need a bit more dynamic, you can add automatic additional syncs (up to 3 per day) in your Settings → Sync Settings → and "Specify Your Own Time". This option comes with an additional cost of $1 per month and per listing.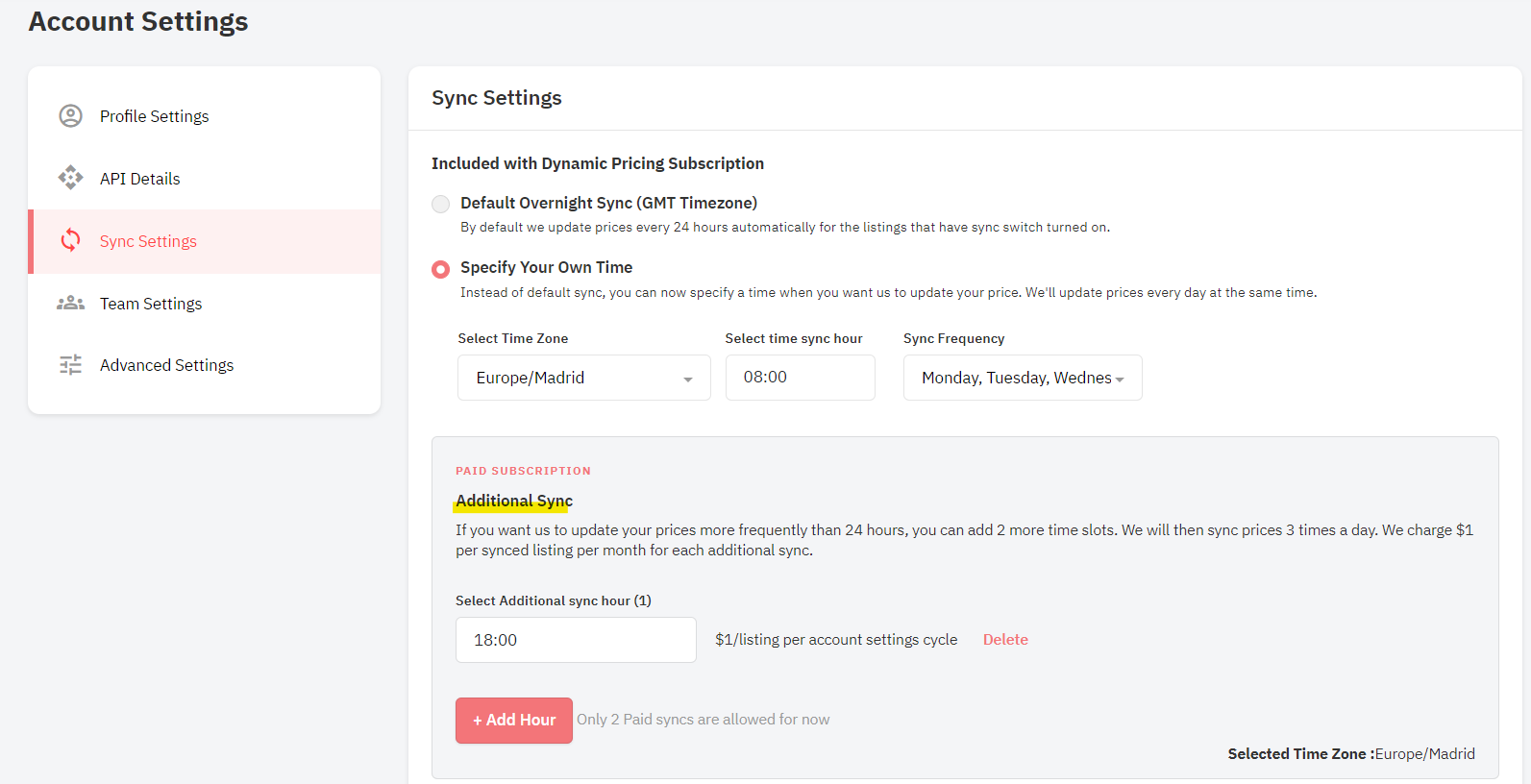 Compare your pricing against your Comp set

Once you have selected your Base Price, you can use our Hotel Data tab to look at the prices of the comp set of your choice and see if you need to adjust your Base Price up or down:
Define your Minimum Stay settings

Depending on the type of hotel and its location, you may need to adjust prices and minimum stay requirements throughout the year. For example, properties near the beach might have higher minimum stays and prices during summer compared to quieter months like November.

PriceLabs offers the flexibility to manage these variations using Minimum Stay Profiles and Seasonal Profiles. By implementing these profiles, you can easily adjust variables such as minimum price, base price, maximum price, and minimum stay according to the time of year. This allows you to tailor your pricing strategy to match seasonal demand fluctuations.

By utilizing PriceLabs, you can automate your hotel pricing and maximize revenue while saving time. Our comprehensive customizations, including base price optimization, mapping, group-based adjustments, and seasonal variations, ensure that your pricing strategy remains flexible and responsive to the market.

We hope these ideas are helpful. We keep adding new features to our product based on customer feedback to make our product the most efficient possible for you!