Portfolio Occupancy Based Adjustments
Are you a property manager with many listings and you'd like a holistic approach to revenue optimization?
Do you have groups of listings in the same location or even in the same building, and would like to change prices based on their combined occupancy, as would a hotel?
N
o matter what your unique situation is, this
customization is the perfect solution tool to achieve just that!
It allows you to set certain price adjustments based on the average occupancy of groups of listings within different time windows.
Table 1: Portfolio Occupancy Based Adjustment (short booking window profile)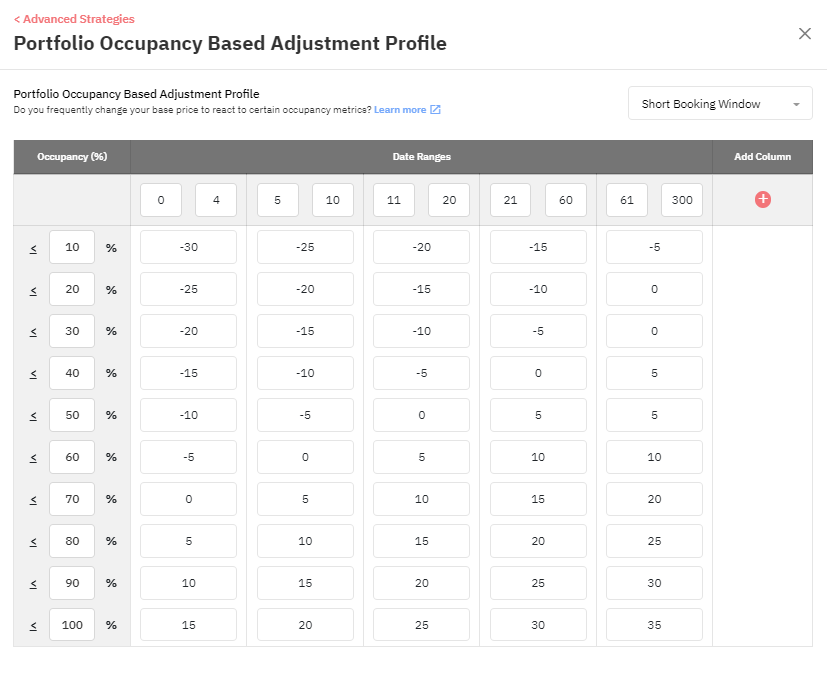 Table 2: Portfolio with 5 listings and occupancy data for the next 10 days
Consider the portfolio of 5 listings outlined in Table 2 and managed through a c
ustomization Group in PriceLabs. The effect of using the Portfolio Occupancy Based Adjustments on Table 1 is that a 25% discount for next day bookings (i.e. Day 0), because occupancy is only 20% for that date. On the other hand, since the portfolio is already 80% booked on day 5, the customization raises prices on that date by 10%.
Sound useful? Read on to see how to set this up!
Setting Up Portfolio Occupancy Based Adjustments
Start off by opening the customizations window for the Group you want to work with. Scroll down to "Portfolio Occupancy Based Adjustments" and toggle the switch located on the right-side of the customization to the "ON" position.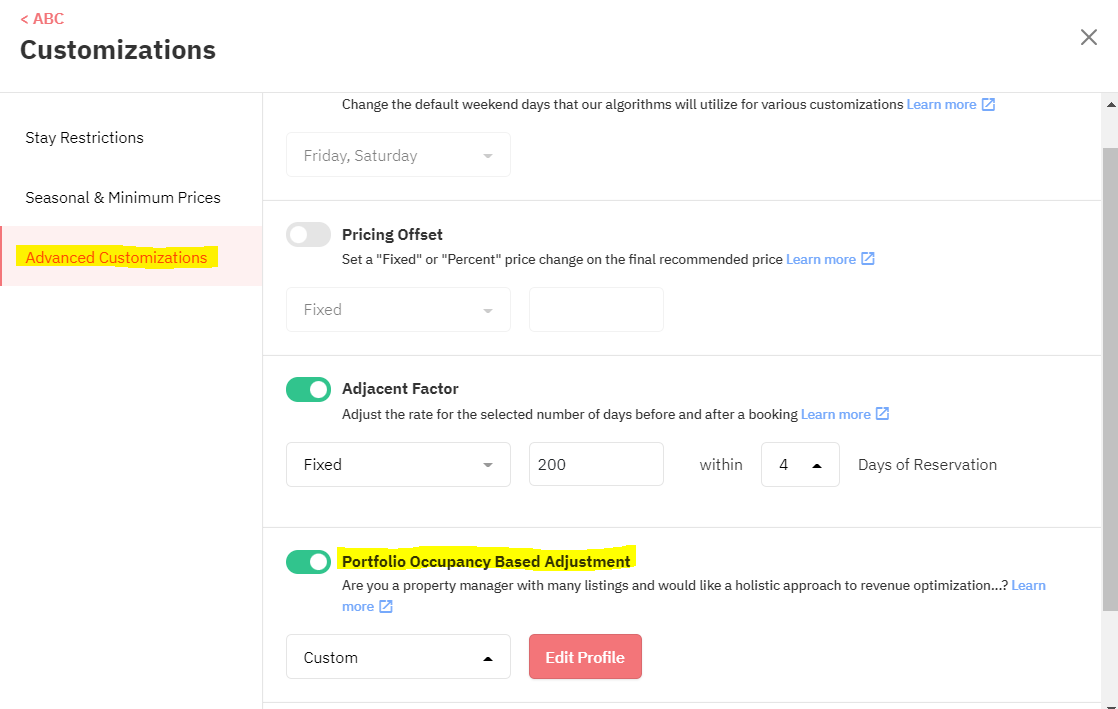 You'll see the following profiles in there:
Short Booking Window:

targets a 50% occupancy at a booking window between 11 and 20 days.




Medium Booking Window

:

targets a 50% occupancy at a booking window between 16 and 30 days.




Long Booking Window

:

targets a 50% occupancy at a booking window between 31 and 60 days.




Custom:

any of the above can be tailored into a custom option, and this is the option you'll see selected if you edit and save one of the other templates.




None:

need a tight control on prices and don't want this automation? This has the same effect as toggling this customization OFF.



Each profile can be customized to your liking by clicking on the "Edit Profile" button. After clicking on the button, you will be prompted with the entire table and will be allowed to enter the exact values for your profile.

When customizing your profile, make sure to follow the following rules:

Every day range must be smaller than the preceding day range.
Each occupancy-based percentage in the left-hand column must be smaller than all preceding occupancy-based percentages
All percentages in the table must be within the range of -50 % to 500 %. These percentages, as mentioned above, will be applied on top of our pricing calculations.

When finished editing your custom portfolio occupancy-based profile, be sure to click on the Save Changes button.

This will redirect you back to the previous customization menu, where you can finalize all customizations by clicking on the Save Changes button.


A few things to note:

The occupancy is calculated as the average portfolio's occupancy on a certain date.




These adjustments are applied on top of our price calculations (which include seasonality, day of week, event/holiday, and last-min/far-out factors) and your adjustments (last-min discounts, orphan day discounts, date specific adjustments, etc).




Even after these adjustments are applied, the prices will not go below the minimum price or above the maximum price you set.




If you put in a fixed price override at listing level (or a "% of base-price" override at group/account level), then those prices are final and none of our calculations are used.




All the numbers in the table are adjustable - you can provide the day ranges, or the % adjustments based on what your occupancy targets look like.




Blocked dates are considered booked for the purposes of calculating occupancy rates.




Only listings with the sync switch ON will be counted when calculating overall group occupancy.




In cases where listings with different pricing windows are in the same group, the smallest date range will be used to calculate portfolio occupancy. For example, if one listing has a pricing window of 365 days and another has a window of 520 days, both listings will have occupancy adjustments for 365 days. Keep in mind this is the length of time PriceLabs sends rates, not the listing booking window.



Portfolio Occupancy for Multi-Unit Listings
Currently this customization only works at the group level so there are two ways to set up portfolio occupancy for multi-unit listings
If you have connected PriceLabs to a PMS that supports pricing for multi-unit listings, you will need to create a group for your multi-unit listing in PriceLabs. Though the group will appear to have only one listing in it, the availability for all units assigned to that unit type within your PMS will be used when calculating occupancy for any given day.




If you have connected PriceLabs to a PMS that does not support pricing for multi-unit listings then you will need to add all listings of the same type into one group and occupancy will be calculated from there as long as the listings have the sync switch ON.



We hope you enjoy the added functionality that this customization brings - we think this will make a lot of difference!
Related Articles

Occupancy Based Adjustments

Occupancy based adjustment looks at your listings' horizontal occupancy and tries to adjust your rates accordingly. This factor helps us to consider your properties performance and not just the market, when recommending prices. Here are the common ...

Coronavirus Occupancy Based Adjustment

We are actively monitoring the booking situation worldwide and are coming up with ways to help you weather the storm. Our algorithm uses a mix of future looking and historical data (primarily for seasonal and day-specific trends). In this case the ...

2021-06 (June) : 📣 Base Price Recommendations & Enhanced Portfolio Analytics

As we approach the strongest summer season for vacation destinations in history, you'll be happy to know our team has been hard at work on product updates meant to help you set the perfect price and validate your portfolio's performance! Read on to ...

Portfolio Analytics: Spot Actionable Trends In Your Bookings

Note: Portfolio Analytics is available for users of the following PMSs: 365Villas, Airbnb, Avantio, Beds24, BookingSync, Brightside, Direct, Elina PMS, FantasticStay, Guesty, Guesty for Hosts, Hostaway, Hostfully, Hostify, Icnea, iGMS, Kigo, Kross ...

2020-03 (March): Coronavirus Occupancy Based Adjustment

We have developed a new Occupancy Based Adjustment profile with aggressive discounts to try & generate bookings during the low demand period. Several markets are experiencing low demand over the next two months and this setting will try to improve ...