Note
: Portfolio Analytics is available for users of the following PMSs: 365Villas,
Airbnb, Avantio, Beds24, BookingSync, Brightside, Direct, Elina PMS, FantasticStay, Guesty,
Guesty for Hosts,
Hostaway, Hostfully, Hostify,
Icnea,
iGMS, Kigo, Kross Booking, Lavanda, LMPM, Lodgify, Lodgix, Mews, MyVR, Octorate, Ownerrez, Rentals United, Rentlio, Res:harmonics, Hospitable, Smoobu, Stays, Streamline, Supercontrol, Track, Uplisting and Vreasy.
We will be adding more PMSs in the coming months. If you don't see your PMS on the list, please reach out to us at
support@pricelabs.co
We're super excited to launch Portfolio Analytics dashboard! This is a very handy tool for a few different purposes, and can be used regardless of whether you use PriceLabs Dynamic Pricing or not:

Reporting: Get a high level overview of how things are going. For example:


this can be monthly revenue numbers,

listing level performance and more!

Informing your revenue strategy: Provide detailed insights into trends in your reservations that can highlight changes you can make to your minimum stay and pricing strategy. For example:


Length of Stay (LOS) trends


Booking window trends


Identifying under-performing listings: Let you easily find and review/adjust listings that are not performing well. For example:


Scatter chart that allows you to select an area and make pricing changes to those properties

Listing table with extensive information about each listing


Market comps: Provide an easy way to compare your prices and occupancy trends against the market. For example:


Choose a Market Dashboard in your account and compare your forward looking prices and occupancy with the market data!

Important note about reservation data listed in charts by "stay date": Reservation data is prorated and equal shares are attributed to each stay date. For example, if a 10 day long reservation starts on April 30 and ends on May 10, then we distribute the revenue so that April gets 10% of it and May gets 90% of it. With that in mind, let's dive in!

Basics & Navigation

You'll find the Portfolio Analytics page in the top menu (if you don't see it yet, please reach out to our support to enable Beta access!). Once you navigate to the page, you'll see a few filters at the top. You can view the metrics for your entire account, specific groups, specific listings, and listings sorted by tags. Make your selection and click "see analytics". Do note that if you don't select anything, we will show data for all the listings in your account that aren't
hidden
.
Once the report loads, you will find a handy navigation panel on the left that can take you to the various charts, otherwise you can just scroll down.

KPIs

The first section of the report shows Key Performance Indicators or KPIs. Use this section to compare broad metrics across various dates to see how things are changing. The default date range comparison looks at the last 30 booking days (so if today is May 15, we look at all bookings made in Apr 15-May 15 period) compared against the 30 days before this period (so bookings made in March 15-Apr 14 period). You can also choose to do comparisons by stay date and year over year (YOY).

In this section, you have the option to view metrics on Stay Dates or Booking Creation Dates. Do keep in mind that if you have not received any booking for a time period, then you will not be able to select those dates if "booking creation dates" is selected.
Trends by Stay Date (Monthly, Weekly, Daily, or by Weekday)

These charts show various trends by stay dates, which you can summarize by month, week, day, or by day of week to easily compare year-over-year metrics.

Use the radio buttons on the top to choose between monthly, weekly, daily and day of week views!

Use the dropdown on each chart to choose which metrics to view.


By default, we show Revenue, RevPar, Occupancy, and Average Booked Rate.

You may also choose from: Number of Nights Booked and Number of Active Units

You can click on the years in the legend to hid/show the lines for a year (if you want to declutter the view)

Zoom in on any dates by hovering your mouse over the chart and selecting a section.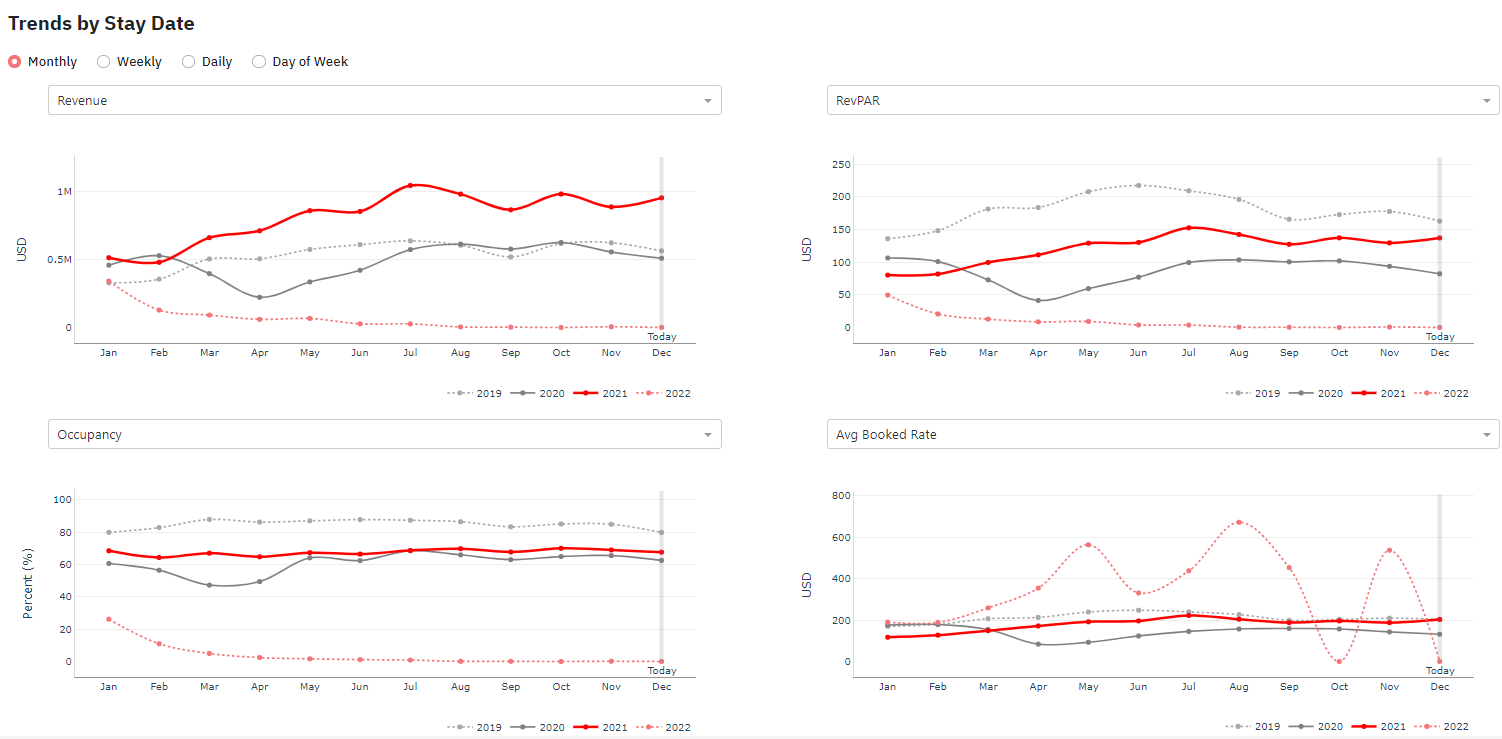 Listing Level Metrics (Insights + Table)
The listing insights scatter plot is a great way to quickly identify how each listing in your portfolio is doing. The default view shows next 30 days occupancy on the y-axis and days since a listing last got booked on the x-axis (both x- and y-axes are configurable if you want to look at some other metrics). The listings that fall towards the bottom-right would be of particular concern - they have low occupancy, and haven't been getting any bookings recently. Once you click and drag across the chart, the table below will automatically filter to only show those listings so you can dive in and review their calendars and settings!

You can hover over any dot to see more information about the listing, and for the more data driven, the table on the right contains all that info in a nice sortable and filterable format! When you click the listing link in the table, a new tab opens to directly take you to that listing's calendar!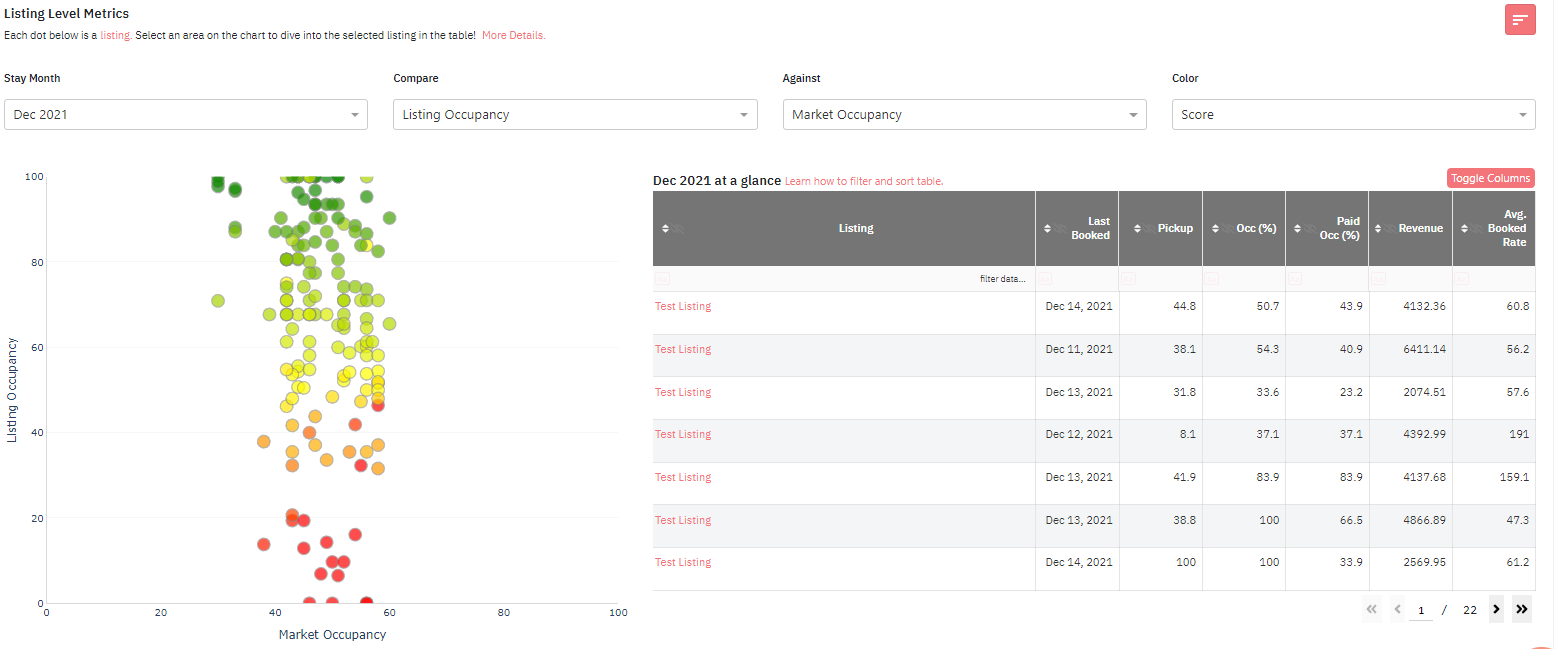 Length of Stay & Booking Window
For seasoned revenue managers, this is super handy - you can see how many nights get booked from reservations with different booking windows, and different stay lengths. In the chart below, it looks like most of the booking activity happens in the next 2 months. It helps inform you that you shouldn't discount (either manually, or using automated listing-occupancy/portfolio-occupancy rules) more than 2 months out as most dates should anyways be empty.

Instead of looking at total booked nights, you can also see a split by LOS on the Booking Window chart, and a split by Booking Window on the LOS chart. This can help identify what kind of cascading min-stay settings might be useful. Do note that your own data will only show reservations that are allowed, so there might be benefit to reducing min-stay to 2 nights last minute, but you won't see it here if you don't allow 2 night stays. It is super handy to compare this against a Market Dashboard for your area to see where the differences stem from and where there's a revenue opportunity that you might be missing.


Comparing Against Market

This section is one of the coolest part of the Portfolio Analytics dashboard - you can look at your listed rates and occupancy for future dates, but also overlay it with the same data from a Market Dashboard to easily identify where your prices stand against the market, and how your occupancy relates to the market! You do need to have subscribed to a Market Dashboard to be able to choose it from the dropdown.

Even if you don't compare against market data, t
his can help you easily spot if there are dates that are under/over performing and may need any pricing adjustments (if you use portfolio occupancy rules in PriceLabs, those should already be accounting for it!).
Pacing information: In addition to total occupancy, we also show

Pickup: how much of your occupancy came in the last 7 days.

Market pickup: same as above but from the market dashboard you selected.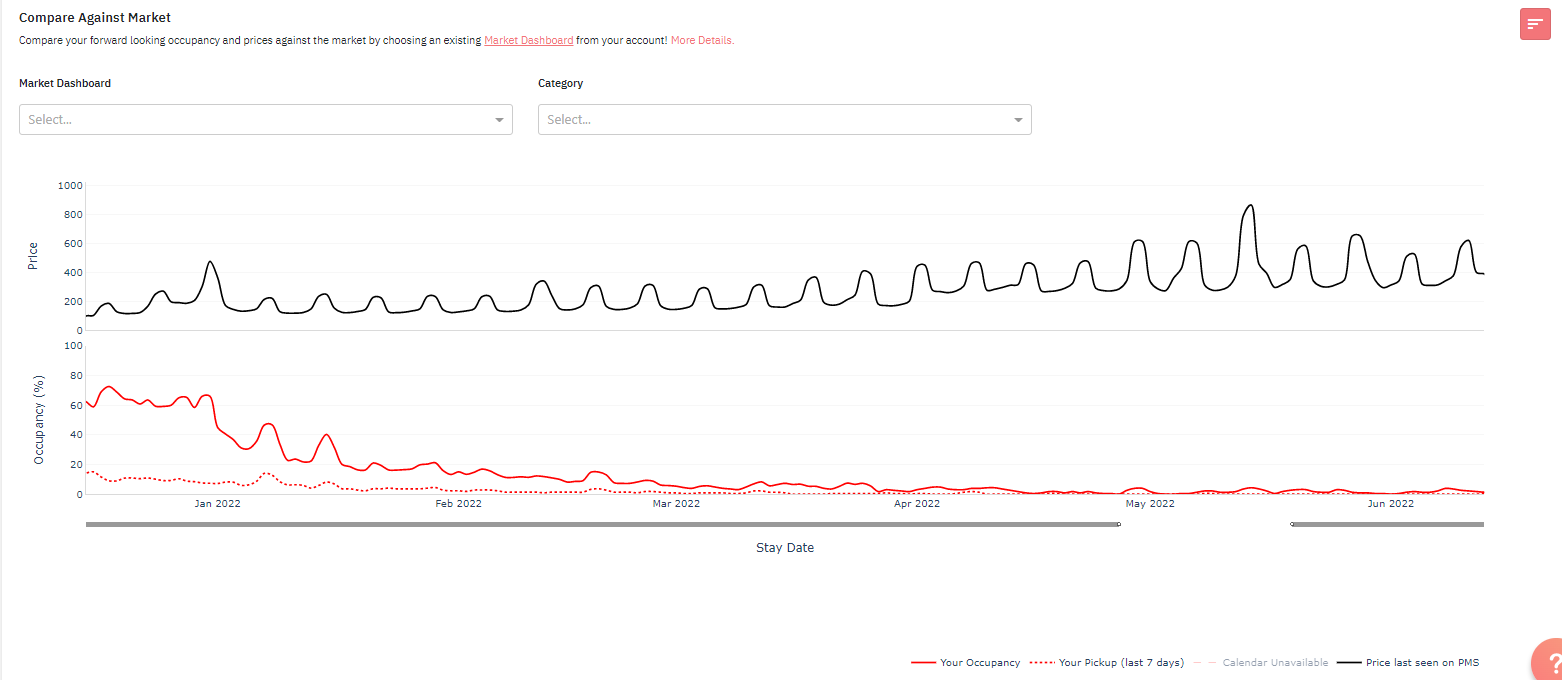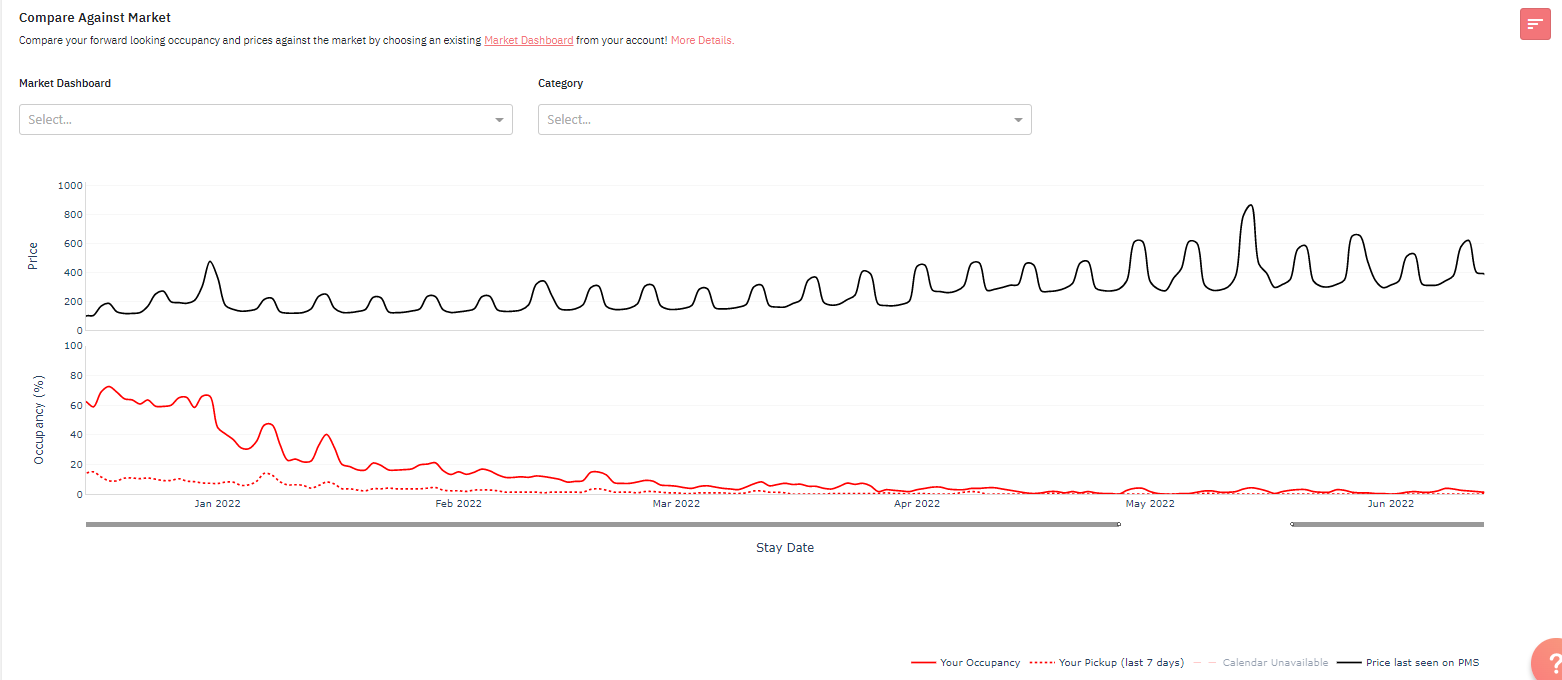 Lastly, there are links at the right of the page to let you easily download a listing level report or the date level insights (including market data)!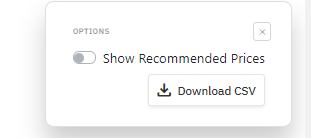 Read more about how you can
make the most of data visualizations in PriceLabs.
We hope you will find this new page a valuable resource - do let us know if you have any feedback on how these can be improved!