How to Integrate PriceLabs with VR Bookings
When successfully syncing rates to VR Bookings listings, PriceLabs can update daily rates, minimum stay and check-in restrictions. It only takes a few minutes to connect your VR Bookings account to PriceLabs, we have detailed the steps for connecting your VR Bookings listings with PriceLabs below:
Importing VR Bookings listings in PriceLabs:
Step 1 : Create a PriceLabs account and Add your listings
Once in your PriceLabs account, click on the upper left gray button "+ Add/Reconnect listings"


A popup window will appear and offer you to choose your PMS within the list. Search for "VRBookings". Then be sure to check "Allow VRBookings to add listings to your PriceLabs account". Then click Save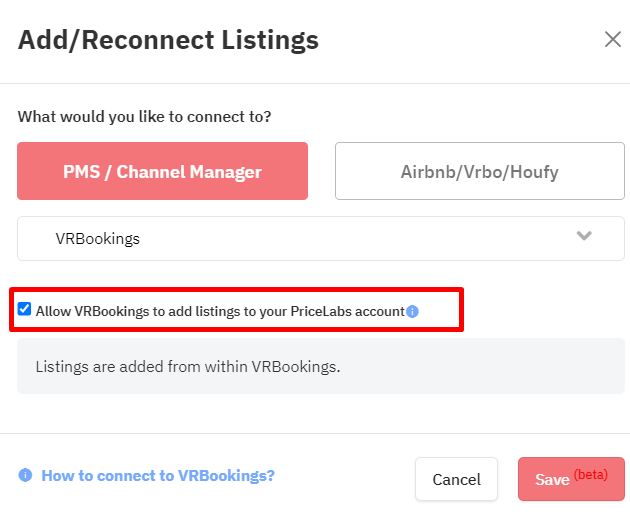 Step 2: Connect & setup in VR Bookings account
Step 3: Allowing listings to be imported & sync with PriceLabs:
1. The option to activate PriceLabs will be shown on the VRBookings menu. Click on PriceLabs: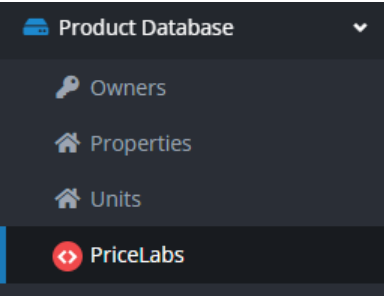 2. After clicking on PriceLabs button, this page will be shown:

3. If you don't have existing PriceLabs account, click on 'Register Now' to sign up. Else,
click on the "Enable PriceLabs Integration" button, the system will
ask for the email used for the creation of PriceLabs Account. Please provide your PriceLabs registered email ID and click on 'Enable'

4.
After entering the email, the units to be
synchronized with PriceLabs can be added via the Add Synchronization
button and then managed from the list as shown: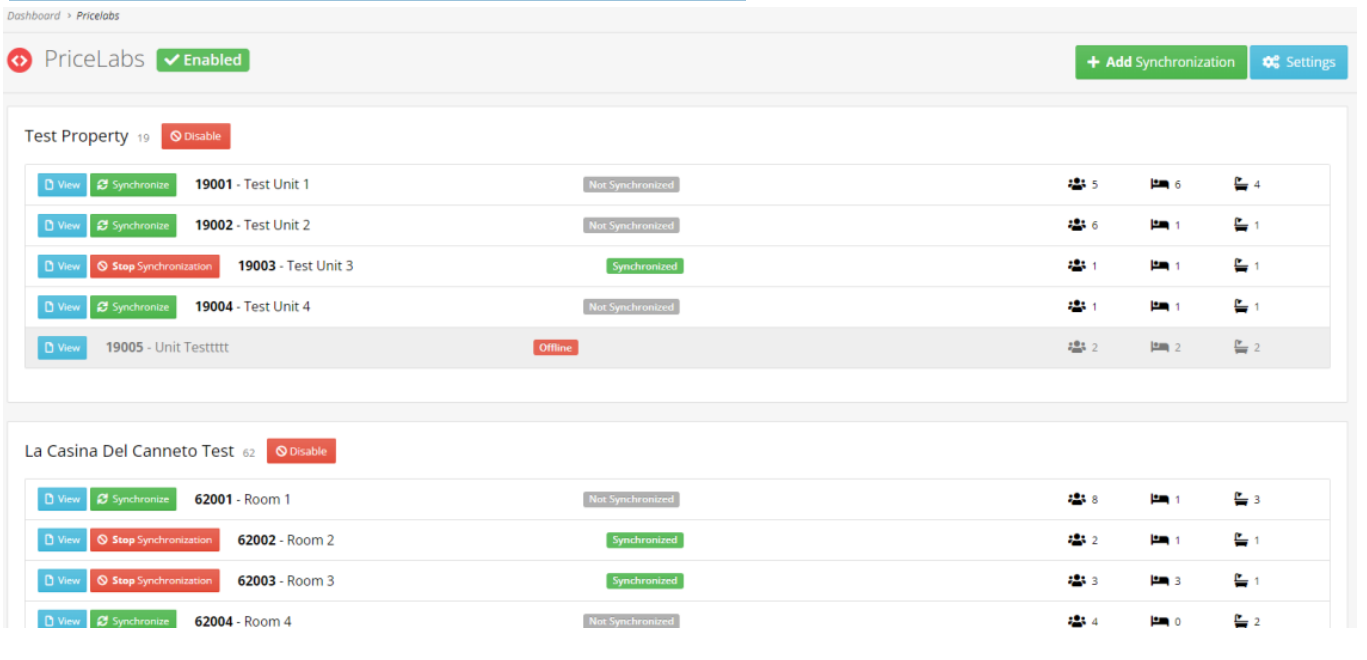 Step 4 : Finish the setup of your listing in PriceLabs

Now you can go into your PriceLabs account, click on "Review Prices" for the listing you want to set up, then set a minimum and base price.
To save your settings, click on "Save & Refresh. When you're satisfied with the rates on your PriceLabs calendar, you can toggle on the sync switches for your listing(s) and wait for our regular nightly sync, click "Sync Now!" to send prices immediately for individual listings or go to the Customizations page to sync your entire account at once.
Once you have successfully imported your listings, you can go through our Getting Started guide or join one of our live onboarding training sessions during office hours to get a good overview of the system and all of the available customizations.
Related Articles

How to Integrate PriceLabs with Estar Booking

When successfully syncing with Estar Booking, PriceLabs can update prices and minimum stay requirements for your listings for up to 540 days from today (see our article here on extending your pricing calendar beyond that point). Before connecting ...

Customer API

Why use Customer API? Our API allows customers to receive prices from PriceLabs & edit settings in PriceLabs for the listings that are actively syncing to other channels/PMS. Some of our customers use our API to read our recommended rates and: Direct ...

Portfolio Analytics: Spot Actionable Trends In Your Bookings

Note: Portfolio Analytics is available for users of the following PMSs: 365Villas, Airbnb, Apaleo, Avantio, Bedloop, Beds24, Booking Automation, BookingSync, Brightside, CloudBeds, Deskline, Direct, Elina PMS, Escapia, FantasticStay, Guesty, Guesty ...

BookingAnalyzer: Understand Booking Trends in Your Listings

Note: BookingAnalyzer is a stand-alone excel tool that can be downloaded here. It is completely free, and does not require creating an account. It can help you find actionable trends in your bookings that can increase your revenue. We frequently get ...

How to Integrate PriceLabs with Kross Booking

When actively syncing, PriceLabs can send dynamic rates and minimum stay requirements to Kross Booking listings for up to 540 days from today (for more on extending your pricing calendar, see our article here). Before connecting Kross Booking to ...