When successfully syncing rates to Update247 listings, PriceLabs can update daily rates and minimum stay requirements. It only takes a few minutes to connect your Update247 account to PriceLabs, we have detailed the steps for connecting your Update247 listings with PriceLabs below.

Importing Update247 listings in Pricelabs
Step 1 : Create a PriceLabs account and Add your listings
Once in your PriceLabs account, click on the upper left gray button "+ Add/Reconnect listings"


A popup window will appear and offer you to choose your PMS within the list. Search for "Update247". Then be sure to check "Allow Update247 to add listings to your PriceLabs account"
Then click Save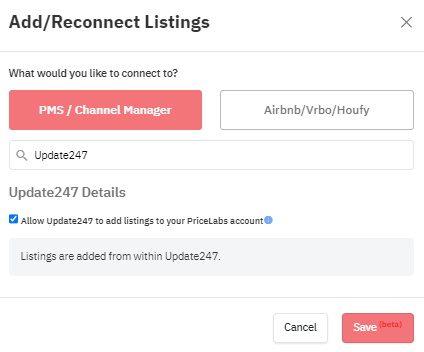 Step 2 : Properly setup your listing in Update247
Create Listings in Update247 for PriceLabs :
Visit : https://www.update247.com.au/update_v2/pricelabs_room_listing.php

Add Listing Name.

Select Number of Bedrooms.

Fill information for a number of listings according to your need.

Click on Save to Create PriceLabs listings in Update247.

Activate Listing in Update247 for PriceLabs.
Visit : https://www.update247.com.au/reservation_system/map_ratemanager_rooms.php
Map the PriceLabs room with respective room in Update247
Select Update247 Channel Manager Room for particular PriceLabs Listing Created in Update247.

Click on the SAVE MAPPING button.

STEP 3 : Activate the room that you want to sync with PriceLabs
Change Active to Yes for a particular PriceLabs Room.

Click on SAVE ROOM ACTIVE STATUS to activate the selected for PriceLabs.

After you click on SAVE ROOM ACTIVE STATUS these listings will be created on PriceLabs.
Step 4 : Finish the setup of your listing in PriceLabs

Now you can go into your PriceLabs account, click on "Review Prices" for the listing you want to set up, then set a minimum and base price.
To save your settings, click on "Save & Refresh. When you're satisfied with the rates on your PriceLabs calendar, you can toggle on the sync switches for your listing(s) and wait for our regular nightly sync, click "Sync Now!" to send prices immediately for individual listings or go to the Customizations page to sync your entire account at once.
Once you have successfully imported your listings, you can go through our Getting Started guide or join one of our live onboarding training sessions during office hours to get a good overview of the system and all of the available customizations.