When actively syncing with Guesty, PriceLabs will send rates and minimum stay requirements, along with weekly and monthly discounts, and extra guest fees, to single and multi-unit Guesty listings for 540 days from today.
This easy integration allows Guesty users to import their properties to PriceLabs and see the recommended prices almost instantaneously.

When using Guesty with PriceLabs, please do not make manual pricing or min-stay adjustments directly on your channels. If you need to make a manual adjustment to your price or stay requirement, please use the
Date Specific Overrides
on PriceLabs
Connecting Guesty to PriceLabs

Step 1.
To get started, log in to Guesty and click Marketplace on your dashboard. If you don't already see the PriceLabs panel, you can click to expand the Marketplace menu and select Pricing. Then click Connect on the PriceLabs panel
Step 2. Click to copy the API token that you will use to get connected with PriceLabs

Step 3. Log in to PriceLabs and click the "Add your listings" or "Add/Reconnect listings" button, choose Guesty and enter the API token you copied. The listing nicknames set in Guesty will automatically transfer into the PriceLabs tags field, you can untick this box if you do not want to import nicknames for your listings.


V
oila! Your Guesty listings should now show on your PriceLabs dashboard. You can now review and customize prices (more on that
here
) or join one of our
Intro to PriceLabs
Live training sessions to get a guided overview of the system. Once you're satisfied with your recommended rates, synchronize those prices with Guesty. You should also be able to see the PriceLabs integration in Guesty by going to Account > Integrations > My Integrations > PriceLabs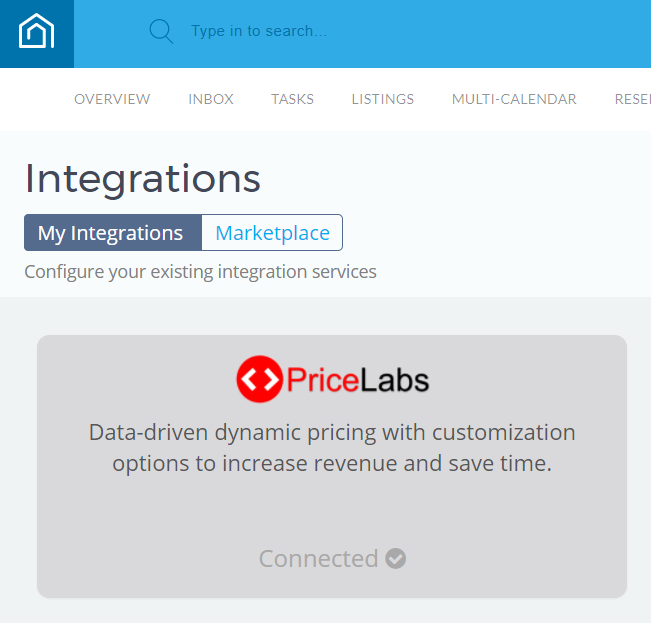 Now you are free to spend your time improving your operations and taking care of guests instead of spending several hours trying to calculate competitive prices or syncing prices across multiple channels.

Adding new listings to Pricelabs after the first connection

If you add new listings in Guesty, please make sure to go through the following steps to import them to Pricelabs.

Sign-in to your Guesty account

Sign-in to Pricelabs and click on 'Add/reconnect your listings'.

Select 'PMS' + 'Guesty', and click on 'Guesty API key' - You will be automatically redirected to Guesty after this.

In Guesty, click on 'Copy to clipboard' to copy the key. (If you don't see an API key, click on 'Generate new key').

Paste the API key in Pricelabs + 'Connect'

That's it! Your new listings will be imported to Pricelabs.

Screenshot below shows where to copy and generate new API key in Guesty.

Questions? Please reach out to us at support@pricelabs.co