Account settings page is where you can make changes to your account, be it changing the associated email address, updating password, payment method, etc.

Read on to understand the different tabs and how you can use them.

To access your account settings, click on your initials in the top-right corner as shown below: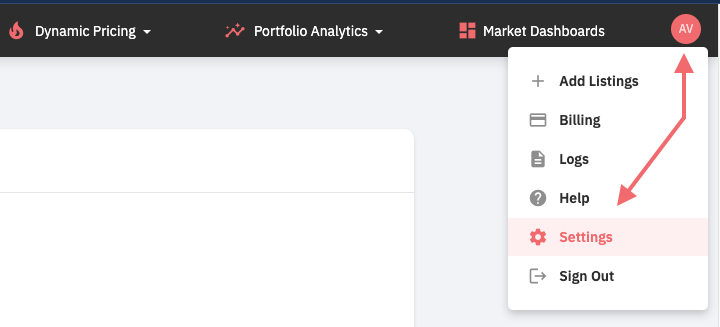 Profile Settings

Any changes that need to be made to your personal details can be made here. Read on to find out about various numbered tags: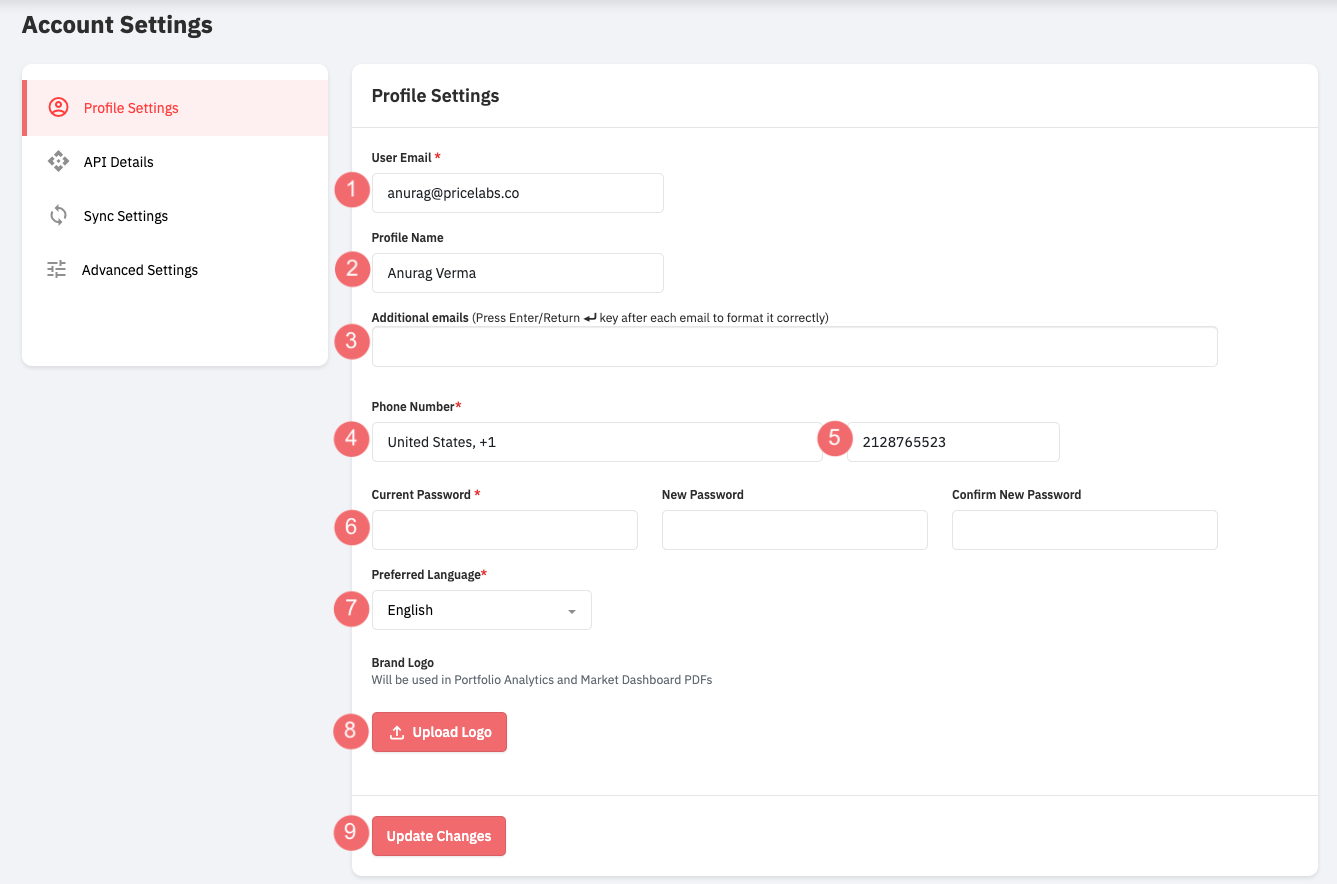 1. User Email: If you wish to change your account's email address, simply enter it here. This will be your primary email we contact you on.

2. Profile Name: To change the name on the account, enter it here. This will be the name displayed on your invoices.

3. Additional emails: You can add more email addresses to your profile and we will also send error alerts to these addresses. Please press Enter/Return after each email address to format it correctly.

4. Phone Number (country): Use this dropdown to choose the country prefix for your phone number.

5. Phone Number: Enter the rest of your phone number as a string of digits. Please do not use spaces, hyphens or any other characters.

6. Password:
If you wish to update your password, please enter your current password first, followed by your new password, and then confirm by putting in your new password again. You can read more in detail about updating your email and changing your password
here
.
7. Preferred Language: You can change the language in which PriceLabs is displayed.


PriceLabs is now fully available in Spanish! You can choose it using the dropdown menu in Preferred Language.
8. Brand Logo: Use this feature to upload your logo to PriceLabs. This will be displayed in exported to PDF reports from Portfolio Analytics and Market Dashboards.

9. Update Changes: Click to save all your changes on this page.
API Details

If you would like to use the PriceLabs Customer API to send your rates to a custom built website, you can enable it and access your API key here. You can find out more in detail about the API in
this article
.
Sync Settings

We automatically sync your prices every night between 6PM and 6AM Chicago Time.

You can change the default times as well as add additional times when PriceLabs updates your rates, in this section.

You can find out more in detail about changing or adding additional sync times
here
.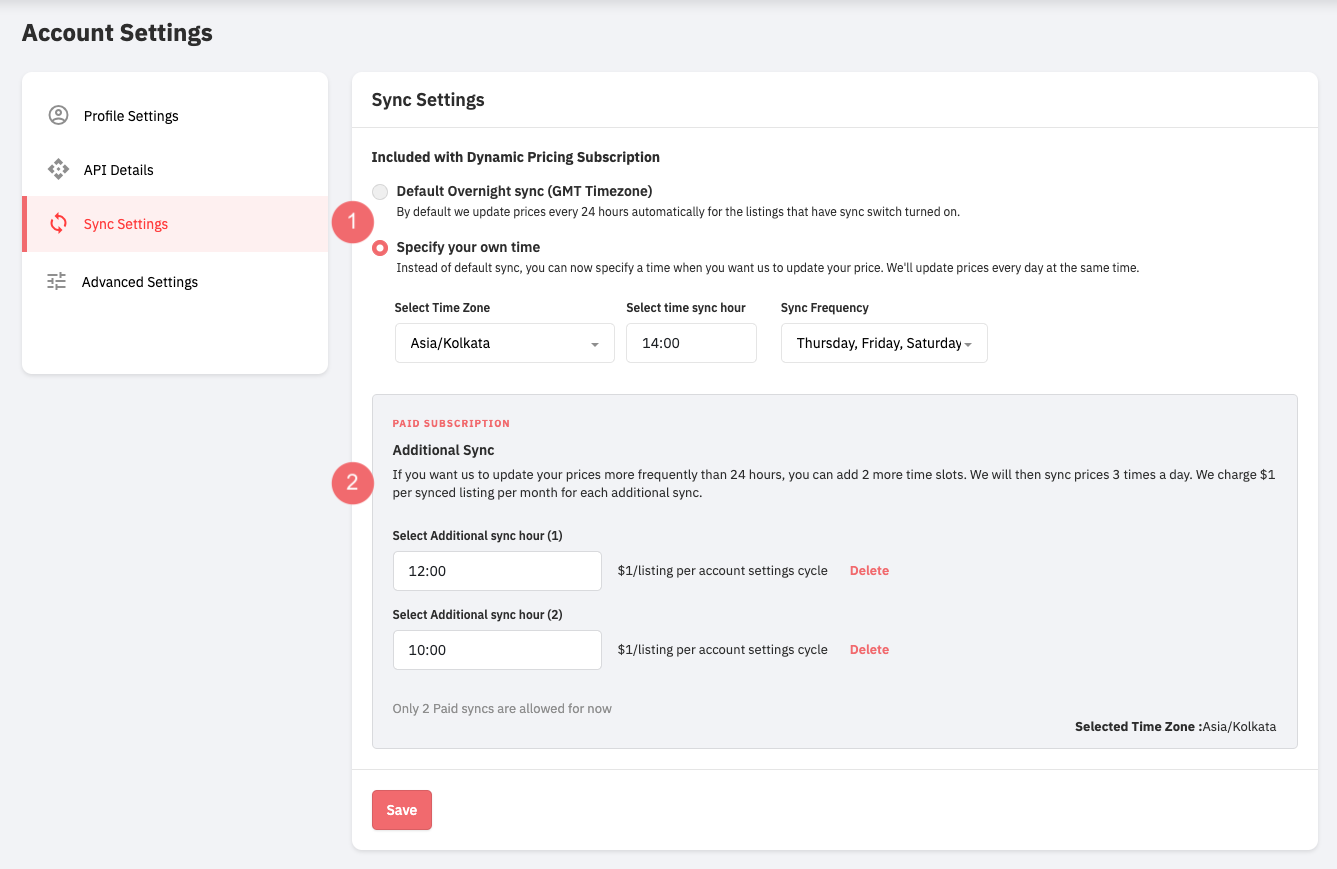 Advanced Settings

This section allows you to change certain display settings on your account. These are recommended for users with large numbers of listings, 500 or more.
You can find out about these options in detail
here
.