Advanced Dashboard Display Settings
If you navigate to the
Settings page
from the Account menu and expand the option to show the Advance Settings, you'll see a few switches that are designed to help out users with larger portfolios.
​
1. Display full year calendar:
When this toggle is on (green), the full year navigation calendar is displayed at the bottom of usual "monthly" pricing calendar, and the calendar is hidden when the toggle is off (red). Displaying the full year calendar (screenshot below) can add 3 to 4 seconds when you review prices for a listing, so we recommend keeping it off to speed things up unless you use it frequently.

You will also find the option to show/hide this feature in Review Prices Calendar as seen below-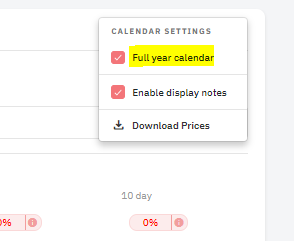 2. Review Prices and Manage Listings Filters: These settings are especially useful if you have 500+ listings in your account (we don't recommend turning them on if you have fewer, as they won't be as useful). When these toggles are on (green), a series of filter options are displayed at the top of the Review Prices/Manage Listings page instead of your listings, allowing you to only load listings you choose using filters on the PMS, Group, Listing, Sync status, and Availability.


To view all of your listings, simply click "Show listings" without selecting any filter criteria.

To view a subset of listings, choose the right filters and click "Show listings".


When the toggles on the Settings page are red, your listings display on your dashboard as usual.
Related Articles

Understanding Your Pricing Dashboard

From your Pricing Dashboard you can see your imported properties from all the different accounts you've connected to PriceLabs. You will notice multiple columns, as well as a search field that you can use to quickly find the listing you want to look ...

Understanding the Manage Listings Page

The Manage Listings page allows you to make changes to your listings, and as the name suggests, manage them under one page. This includes mapping or un-mapping the listings, hiding them from the dashboard, deleting them permanently, or performing ...

How to delete listings from PriceLabs?

Before proceeding to hide/delete your listing(s), please make sure to turn off the Sync Prices switch first. How to HIDE a Listing from your Dashboard If the listing is still available but is currently snoozed or temporarily unavailable, you can hide ...

Creating a Market Dashboard

You can create a Market Dashboard by following the below steps - Step 1: To start, click "Create Dashboard" on the Market Dashboard page and enter a location and search radius for your report; your radius can be anywhere between 0.1 Km and 50 Kms. ...

Listing's health on PriceLabs Dashboard

The Performance Metrics (Listing's Health) helps you stay more informed about how your listings are performing relative to the market easily, and also helps in making adjustments to your settings. This is available on the main Review Prices and ...