Using Group Customizations to Help Manage Multiple Listings
PriceLabs provides a framework where you can manage customizations and date-specific overrides for each listing, or you can group multiple listings together and manage them at once! These groups can be anything:

City Names: If you have listings in multiple cities




Listing Type: You might want to create separate groups for 1/2/3/4+ bedroom listings




Neighborhood: If your listings are in different parts of the city, and you want to manage them separately




Owner/Legal Restrictions: Some of your listings might allow for a short 1 night stay, while others might not be allowed to take bookings shorter than a week



For each group, no matter the reason you have these group for, This requires three simple steps:

Step 1: Make your way to the 'Customizations' page using the Dynamic Pricing menu on your PriceLabs dashboard and create a new group by using either of the "Create" buttons on the page


Give the group a name:





Step 2:

Head over to the

Manage Listings

page and assign listings to groups using the drop down in the Customization Group column

Or add your listing to a group directly from the Review Prices calendar view here


Step 3: Review prices to see the group customizations in action! Now, you can head to the main Review Prices dashboard, and:


Use the group name to filter listings (yes! the dashboard is searchable by listing ID, listing name, tags, and customization groups!)

Review prices for a listing that you just assigned to a group. When adding or changing customizations at the group level, you will need to click Save & Refresh to see those changes on your listing calendar.

Keep in mind that the customization hierarchy rules will apply. In general, for each customization, listing level settings override group level settings, which in turn override account level settings. We highly encourage you to read through the customization hierarchy help article to make the full use of this powerful feature.

If you are going to be using these customization groups, we highly encourage removing any account level rules for better clarity on what rules are applicable to each listing.

We sincerely hope that these capabilities save you a ton of time! When group settings are being used, you will see them on the listing customizations panel as shown here: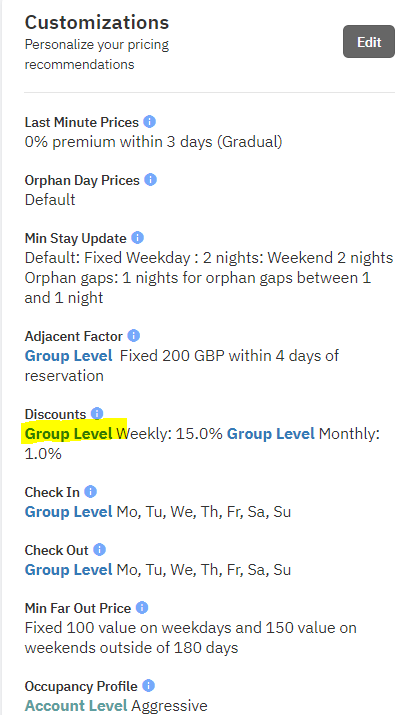 Setting group customizations video tutorial

Related Articles

How to set Account/ Group level overrides and customizations

If you want to apply a certain customization for all listings in your account or groups of listings, you can use the customization page. For listings that have their own specific customization, the group/account level settings will be ignored. The ...

Pricing Customizations

At PriceLabs we strive to recommend the best data-driven prices for your vacation rental and Airbnb listings to get bookings and drive revenue. While that works for most hosts and vacation rental managers, we recognize that you may want to customize ...

How to delete listings from PriceLabs?

Before proceeding to hide/delete your listing(s), please make sure to turn off the Sync Prices switch first. How to HIDE a Listing from your Dashboard If the listing is still available but is currently snoozed or temporarily unavailable, you can hide ...

Guide for using both Airbnb and VRBO with PriceLabs

Please follow these steps to set up your PriceLabs account for using both Airbnb and VRBO. Step 1: Import your listings from Airbnb by following the steps here- How to Integrate PriceLabs with Airbnb Step 2: Import your listings from VRBO by ...

Frequently Asked Questions

Can I add multiple Airbnb and/or PMS accounts on the same PriceLabs account? Absolutely! You can add as many accounts as you want. Just use the 'connect your Airbnb/PMS account' button and enter the credentials for the new Airbnb account. The ...