If your VRBO is already connected to a PMS or Channel Manager, you will need to connect your PMS or Channel Manager to PriceLabs instead. The data flow will then be PriceLabs => PMS/Channel Manager => VRBO.
When syncing with Vrbo or any of the other Vrbo family of sites, PriceLabs can update daily rates and minimum stay requirements for dates up to 365 days from today (see our article
here
on extending your pricing calendar beyond that point).
along with check-in and check-out restrictions, and weekly and monthly discounts.
Connecting to Vrbo
To import your Vrbo listings to PriceLabs, follow these simple steps:

Step 1. Log into PriceLabs and click the "Add/Reconnect listings" button on your dashboard. Select Airbnb/Vrbo/Houfy then Vrbo from the dropdown, enter your Vrbo credentials (or the credentials of the associated site your listing is hosted on), then click "Connect"

Step 2.
Review your contact information and click "Send Code" to have a verification code sent. The contact information shown here is what is entered in the two-factor authentication settings for your Vrbo account, if you would like to change the number shown here you can find instructions on how to do so in the Vrbo article
here
.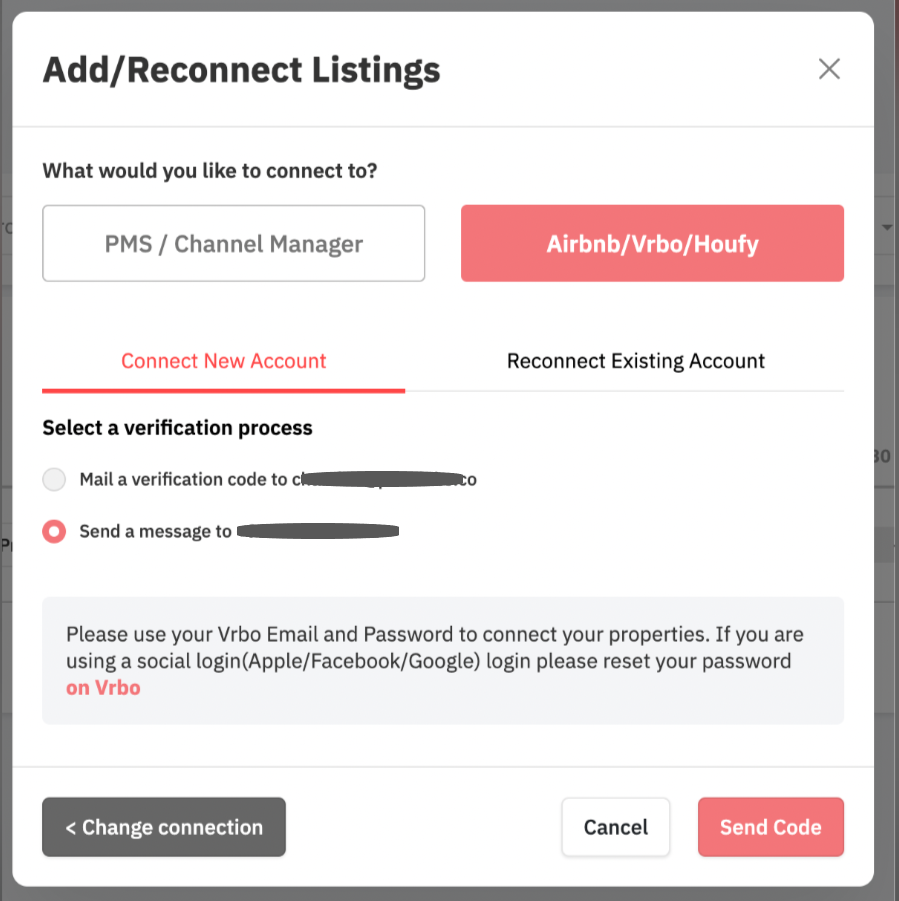 Step 3. Enter the code sent by Vrbo and click "Verify Code" to import your listings.

Before syncing prices, do take some time to go through our
Getting Started Guide
or join one of the live onboarding
training sessions
to get a good overview PriceLabs and our available customizations. When you're ready to sync, toggle on the sync switch for your listing and wait for our regular nightly sync, or click the "Sync now!" button to update rates on Vrbo immediately.
Please note that due to restrictions on Vrbo, updates can take up to 40 minutes per listing. After a few minutes, you can head to your Vrbo rates calendar to check that your PriceLabs rates and stay requirements appear there correctly.

Notes for Syncing to Both Airbnb and Vrbo
Please note that if you are connecting both Vrbo and Airbnb to PriceLabs, PriceLabs will not coordinate calendars for the two listings. You must create an iCal connection between your Vrbo and Airbnb accounts in order to make sure reservations booked on one platform appear as blocked dates on the other. You can read our detailed guide on how to do that in our blog
here
.
You can also map your listings together so that you are not double invoiced for the same property, please read through our guide to
mapping listings between channels
for instructions on how to do that. Once listings are mapped, you can use the
pricing offset customization
to account for the difference in commissions between channels. Please remember to set a base price for the parent listing if you are still using the PriceLabs estimated base price. Estimated base prices do not copy from parent to child listing.

Reconnect your Vrbo Account
Any time listing information needs to change, that change has to happen on Vrbo first and then the accounts must be reconnected for the change to take effect on the PriceLabs side. This could include changing the name of the listings, address or even number of bedrooms.

Also, whenever you need to import newly added listings from Vrbo, you will have to reconnect your account using " Add/Reconnect listings" button.
Here you can click on " Reconnect Existing Account" so that you do not have to enter the API key details again -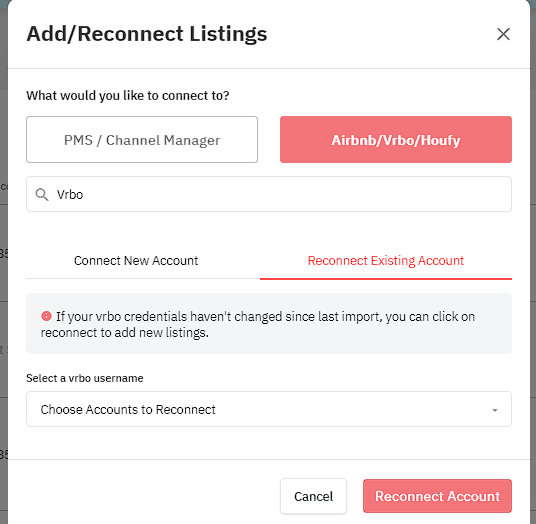 Please note: If you have changed your Vrbo password, you must use "Connect New Account" and enter the new credentials so that the connection is updated again.

Vrbo Delta Push Implementation
To reduce API Calls and maintain a smooth integration with Vrbo, we have implemented the
Delta Push
.
With this process, we no longer update rates if the difference in our calculated rate from the last pushed rate is less than $5.
So if, for example, today is January 1st, and the rate for January 5th is $100, and let's consider the calculated rate tomorrow (January 2nd) for January 5th is only $104, we will not update the rate on Vrbo. However, if the following day (January 3rd), the calculated rate for January 5th is now $108, then we will push $108 for January 5th to Vrbo as the difference between the two recommendations is more than 5$.
Rounded Pricing

By default, the calculated rates for VRBO are rounded to the nearest 5.

If you wish to have same rates for other platforms ( lets say Airbnb), you need to turn on rounding for other listing. You can follow
this guide
.
Pricing for unavailable dates

We do NOT update prices for unavailable dates for VRBO. So if a date is unavailable on VRBO, those dates rates will not be updated. Please note that this is an exception for VRBO, and we update rates for unavailable dates for most property management systems.