There are markets where depending on the season, you might want to have a different (and still dynamic!) min-stay setting. This can be achieved by editing your Custom Seasonal Profile and selecting a min-stay profile for each setting. If you leave any season with "None" as the min-stay profile, it'll default to the listing/group/account level setting as appropriate.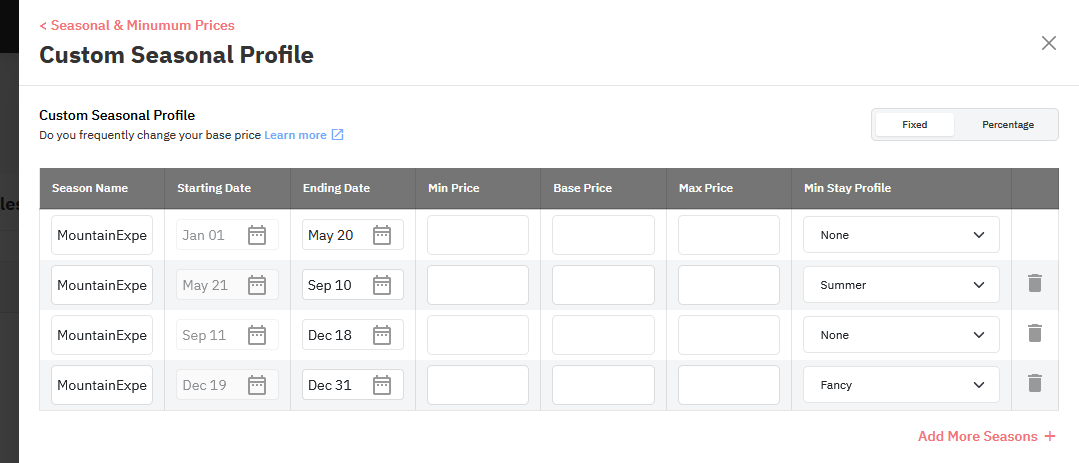 Creating minimum stay restrictions for specific dates/events

Like always, you can click on certain dates and override these custom settings using
Date Specific Overrides
. Setting a minimum night requirement here will override all of your regular rules except the orphan day minimum stay setting. If you setup a custom four day minimum stay for certain dates, and two bookings result in a 2-day gap, we will apply the orphan day setting to ensure that you are able to get a booking in that gap as well.
Hierarchy of the Customizations
From highest to lowest priority, the rules are:
Orphan Day Minimum Stay
Date Specific Override Minimum Stay

Adjacent Day (after booking) Minimum Stay

Adjacent Day (before booking) Minimum Stay

Far out Minimum Stay

Last Minute Minimum Stay

Default Minimum Stay

Example - According to these rules, if a Last minute day is also an Orphan day, then the Orphan day Minimum stay restriction will apply as it has higher priority.
Video Tutorial

You can find a 5-min summary of the min-stay capabilities
here
!
Min Stay Recommendation Engine

If you are not sure what Minimum Stay Restrictions would work for your listing, you can use our Min Stay Recommendation Engine which helps you create minimum stay rules either Short-term or Mid-term based on the market data of your hyper-local area.

You can learn more about how this tool works
here
.
Advanced features only available by request

There are a few settings that are only available by request. Feel free to contact our support team and ask us to enable them on your account.
Allow Minstay Increase: You can use this feature to allow minstay increases through Orphan and Adjacent rules. Users with this customization will see a checkbox on each level of the rule that enables minstay increases.
Don't overwrite date overrides: an option for Orphan Minstay that prevents it from reducing the minstay where there is a DSO. Users with this customization will see a checkbox that applies to all Orphan Minstay levels.

Flexible range for Orphan gap minstay rules: an option for Orphan Minstay that restricts the rule to a certain booking window. Useful for users who only want to have Orphan Minstay rules last minute for example (useful in markets where cancellations are common).
PMS specific notes

Please review the following system-specific notes before continuing:


For connections to Lavanda, Lodgify, Stays, VRM, and Yield Planet, and when uploading rates using our extension, min-stays must be set in PriceLabs or sync will fail

For connections to Airbnb, Guesty, and Tokeet, PriceLabs will overwrite all minimum-night settings you might already have in place with what you have set on PriceLabs.

For connections to Beds24, you must first make sure your min-stay in Beds24 is set to 1 or none in SETTINGS->PROPERTIES-ROOMS-SETUP and/or in SETTINGS-PROPERTIES-ROOMS OFFERS or PriceLabs min-stays will not appear on the Beds24 rates tape.

For connections to Vreasy, if a minimum night requirement is not sent from PriceLabs then all min-stay values will become 1

These features are currently not available for Host tools, Kigo, Maxxton, and MyRent.