Length of Stay Pricing Adjustments
Length of Stay pricing is a flexible pricing strategy that takes into consideration the number of nights the guest is planning to stay at the property.
Based on the stay length, this customization sets a "Percent" price change on the final Recommended Price (after all other customizations have been applied).

Note: Length of stay pricing is available for users of the following PMSs only:
Stays.net




Rentals United



We will be adding more PMSs in the coming months. If you don't see your PMS on the list, please reach out to us at
support@pricelabs.co
Common scenarios where it's helpful

You want to accept shorter bookings at higher rates - e.g. 1 night stays at 30% extra, 2 night stays at 10% more, and so on.

You want to apply a different discount for longer stays of different lengths - e.g., 7+ night stays at 10% discount, 14+ night stays at 15% discount (Note: in many PMSs, weekly and monthly discounts can be used to achieve this even when LOS pricing isn't available).

How to add Length of Stay Pricing Adjustments
To apply this setting, go to Review Prices-> Customizations Edit -> Advanced Customizations and turn the toggle on for " Length of stay pricing adjustments" -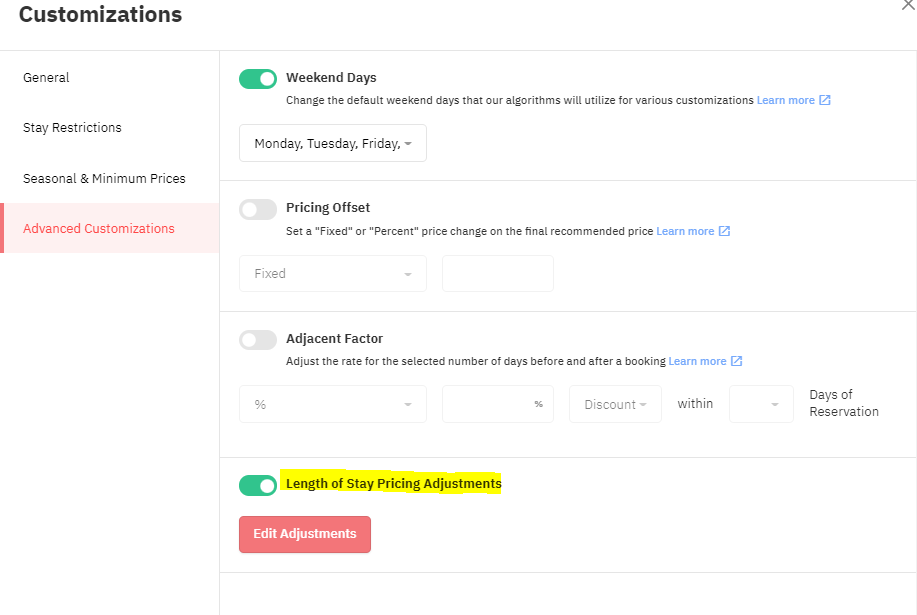 Next click on " Edit Adjustments" and enter the percentage discount/premium for the stay length as seen below. Please note that the all the fields for premium and discount are required to be entered, and that the adjustment for a longer stay length should be lower than a shorter one (so you can't have 2 night stays at 20% premium, and 3 night stays at 25% premium).

If you have many listings then making Length of Stay Pricing adjustments to each listing one by one might be pretty time consuming. In such cases, we highly recommend using the account/PMS-level adjustments (or group-level adjustments if you have different sets of properties needing different changes!), you can find this on the
Customization page

As mentioned above, this setting is applied on top of all your price customizations, which includes Fixed Price Overrides, Orphan Discounts, etc.
This means that the Recommend Price of a listing that uses this customization may go above your Maximum Price or below your Minimum Price.
This customization is now available under "Advanced Customizations" as seen in the above screenshot.

Related Articles

Pricing Beyond 1.5 Years

By default we send prices for 1.5 years(540 days) for most listings. Not as many bookings are made more than one year in advance which makes it hard for our system to detect events. If we extend price beyond 1.5 years, you should manage pricing and ...

PriceLabs Dynamic Pricing: Billing, Subscription and Invoices

How does PriceLabs calculate your invoices? PriceLabs is full of features and bells and whistles, but the one thing we've kept simple is our pricing plans; there are no commissions, and in every billing cycle you only get charged for the listings ...

Setting Dynamic Minimum Stay Restrictions in PriceLabs

With PriceLabs you can set up rules for applying default minimum night requirements, and apply special minimum night rules for last-minute bookings, for orphan-day / gap-day bookings, and for far-out bookings. Before we get started users should know ...

Portfolio Occupancy Based Adjustments

Are you property manager with many listings and you'd like a holistic approach to revenue optimization? Do you have groups of listings in the same location or even in the same building, and would like to change prices based on their combined ...

Pricing Customizations

At PriceLabs we strive to recommend the best data-driven prices for your vacation rental and Airbnb listings to get bookings and drive revenue. While that works for most hosts and vacation rental managers, we recognize that you may want to customize ...