When you remove a customization from PriceLabs, it's crucial to understand that the system won't automatically revert to the default settings on your OTA or PMS. Instead, the platform will continue to apply the last pushed customization until you change the settings manually. Therefore, before removing a customization, you need to ensure that you're making the necessary changes first to avoid potential issues.

This is specifically for restriction based customizations, when you remove minimum stay settings (default or overrides) or check-in and check-out restrictions that were initially set on PriceLabs, by turning it OFF, the last pushed min-stay or the check-in/check-out restriction would still remain on Airbnb or your PMS.
In case you wish to remove any setting on PriceLabs please follow the below steps -

Make the desired customization changes on PriceLabs first
Sync it using "sync now" button This step is critical because it ensures that the platform has the latest pricing information and prevents any discrepancies in your rates.




Only then turn off the customizations. (examples provided below)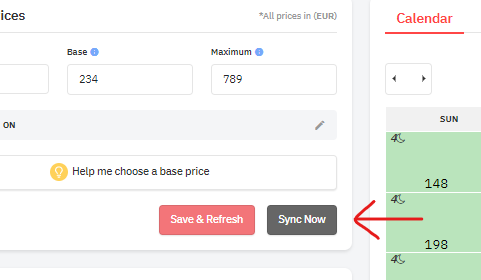 This is important
because if you do not push the new requirement, the old customization will continue to exist on your platforms. Simply removing it from PriceLabs won't work; hence the above step is essential.
Let's understand this in more depth.
Example 1: Removing/Updating Minimum Stay Customizations
There are different ways of applying minimum stay in PriceLabs. It can be applied on listing, group, or account levels, as well as on specific dates using Seasonal Profiles or Date Specific Overrides.

You can use date-specific override at the listing level for setting minimum stay only when you have a default minimum stay on the listing level!

If you wish to use the date-specific
override
without a default minimum stay, you can still do it on the group/account level. This is not advisable but shall work nonetheless.
a) If you had a default minimum stay as shown below:


You want to now remove it so that you can have a different setting on your platform/PMS, say 1 night for weekday and weekend.

Make sure to change the setting on PriceLabs first, to 1 night weekday and weekend, as shown below:


Then "sync now" to push this current minimum stay and then turn the customization off.

b) If you set up a date-specific override to push a different min stay for a certain date, the same rule as above follows.
For example, there is an erroneous override of 250 nights set on a certain date that was pushed to the PMS with the last sync:


When you click on the override and then click remove, the min stay would still stay the same (what was last pushed, i.e. 250), unless it syncs.

Hence, make sure to sync it after removing the override so that the default min stay setting of 4 nights can now be updated. Below screenshots show the settings before and after sync, after the override was removed.

Before:

After:



If the date-specific override
is removed, the default min stay setting will be pushed anyway during the next sync. But it is best to sync immediately to rectify the issue.
Example 2: Removing/Updating check-in check-out restriction
Removing check-in and check-out restriction set on PriceLabs works in similar way how removing min stay works.

Let's say you have check in and check out applied on PriceLabs as shown below: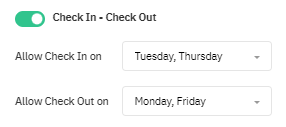 Now you want to allow check in and check out on all days of the week, so you turn the toggle off.
However, these restrictions would still continue to apply on your PMS and booking channels.

Hence, instead of turning it off, rectify the rule as shown below:


Make sure to sync this update and only then proceed to turn it off.