When syncing with HostHub, PriceLabs can update daily rates and minimum stay requirements for dates up to 540 days from today (for more information on extending the pricing calendar for your listings, see our article
here
), along with Extra Person Fees, and Weekly and Monthly discounts.
Connecting PriceLabs to HostHub:
Step 1.
Log in to PriceLabs, and click the "Add/Reconnect listings" button, select HostHub from the drop-down, enable the ''Allow HostHub to add listings to your PriceLabs account'', and click "Save."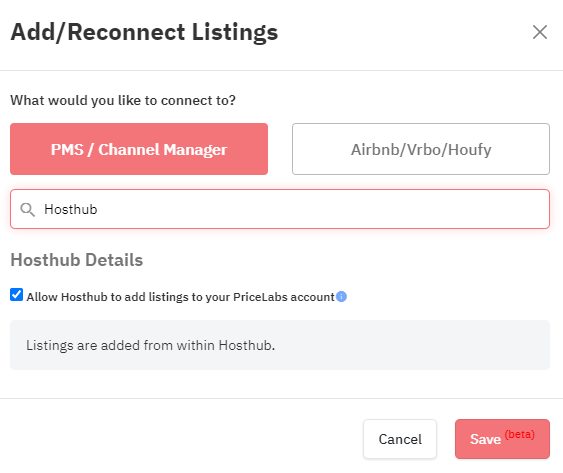 Step 2. To connect your PriceLabs account with HostHub, log in to your HostHub account and go to Marketplace > Smart Pricing > PriceLabs.



Step 3. Click on ''LEARN MORE,'' and you will see a prompt with an ''ACTIVATE INTEGRATION'' button that you can click, which will open a chat. A HostHub agent will ask for your token, which will be the email address you have used to register on PriceLabs.

Step 4.
HostHub
will do the rest by uploading your listing details on PriceLabs. As soon as everything is ready, you will be informed by the
HostHub
agent in the chat.
That's it! You should then see your HostHub listings on your PriceLabs dashboard. Next, head over to our
onboarding guide
or join one of our
live onboarding
training sessions
during office hours
to get an overview of the system and all of our available customizations. When you're ready to sync, toggle on the sync switch for your listing and wait for our regular nightly sync, or click the "Sync now!" button to update rates on
HostHub
immediately.
Once successful sync has happened, you can find your PriceLabs rates and minimum stay settings in HostHub .