Demand Factor Aggressiveness
Our price recommendations depend on a lot of factors, but for easier understanding, you can classify them in three buckets:

Broad trends: these are things that don't change drastically from one stay date to next: base price, seasonality, etc

Daily demand trends: these are things that can change quite a bit from one stay date to the next based on how much more demand we're seeing for a certain stay date compared to another - these fluctuations could be because of holidays, events, day of week fluctuations, etc. All together, we show them as "demand factor" when you hover over a date on the calendar.

Lead time based trends: these change the price depending on how far out a stay date is: some examples include last minute discounts, far out premiums etc.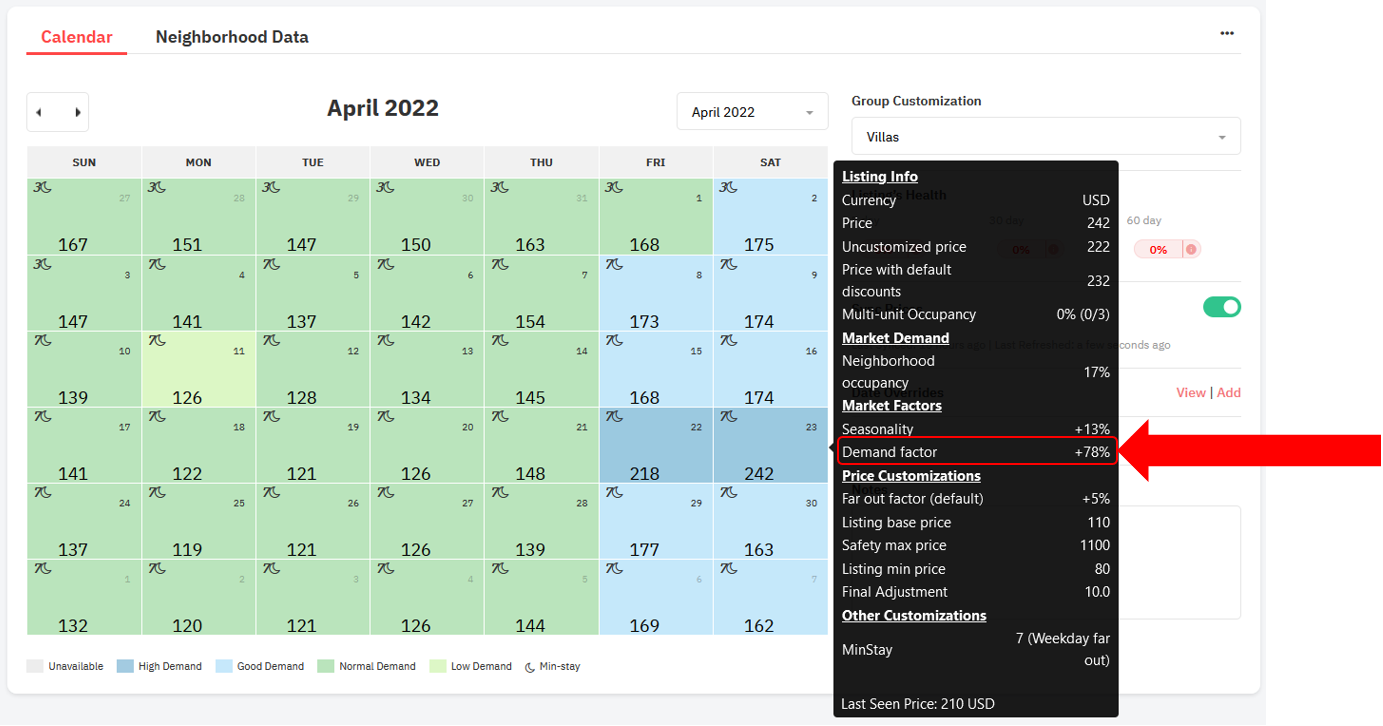 Many of our customers understand and have used seasonal pricing (broad trends) before using dynamic pricing, but might be new to daily demand based trends. Our algorithm is pretty adept at understanding how much to raise prices by for different dates within a season, but we also have a couple of ways for you to fine tune how much variation you want in your prices for big holidays and events.

Here's how you can use the options available
Recommended: The recommended setting is what our pricing algorithm uses by default - for some holidays and events, you might book a bit closer in (but at a higher rate) rather than getting booked far out (at a potentially lower price)!

Conservative: The conservative setting is useful to customers who think the daily fluctuations are too much, and that some event prices are going much higher than what they're comfortable with. This is also useful if you prefer taking bookings farther out for the peace of mind.

Aggressive: The aggressive setting is useful for customers who want their holiday and event rates to be even higher than what our default algorithm comes up with. This is useful for customers who have a higher risk tolerance, and are willing to waiting out a bit before they get booked for major holidays or events.

The image below shows an example of how the conservative and aggressive settings might change your price recommendations: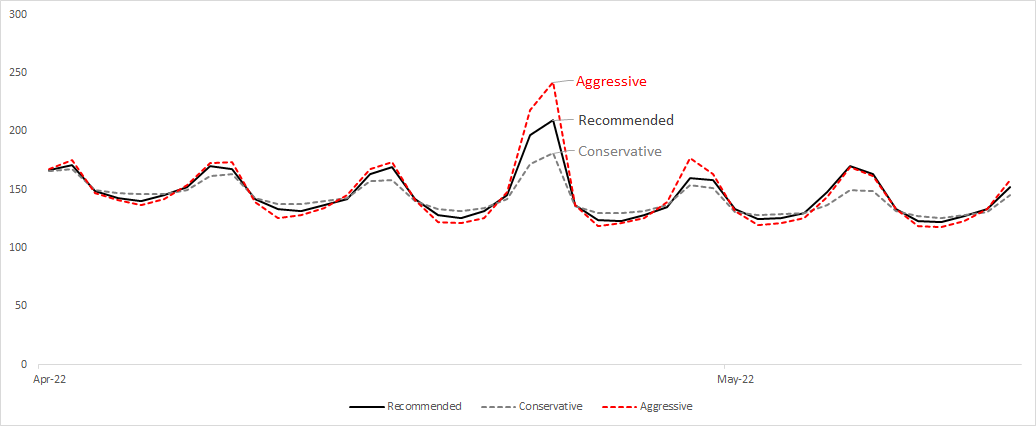 This customization is available under Customizations ( Edit) -> Advanced customization as seen in the screenshot below -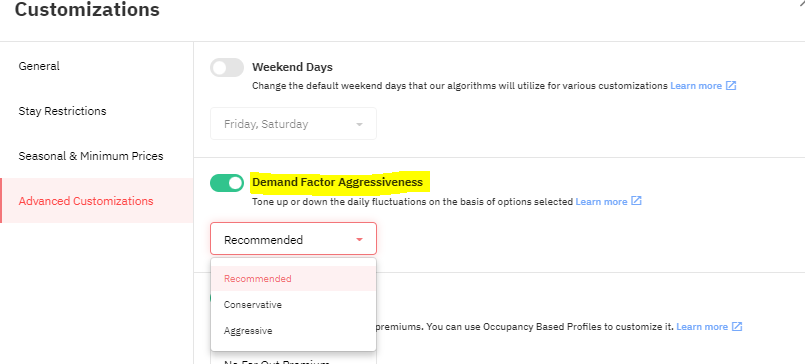 Related Articles

Adjacent Factor Customization

The Adjacent Factor customization will adjust the rate for the selected number of days before and after a booking. Please note that rates will only be adjusted the next time a sync happens after a booking is made. So if a reservation is made in the ...

2022-02 ( February) : Latest Product Updates to Keep Your Prices Competitive 💪

Hey there! Pricing decisions can have a very big impact on your bottom line. At PriceLabs, we worked on a lot of new updates last month to help you take your short-term rental business to the next level, and we want to introduce several exciting new ...

2021-06 (June) : 📣 Base Price Recommendations & Enhanced Portfolio Analytics

As we approach the strongest summer season for vacation destinations in history, you'll be happy to know our team has been hard at work on product updates meant to help you set the perfect price and validate your portfolio's performance! Read on to ...

How should you price compared to your competition?

We sometimes get requests from our customers asking if it would make sense to have their pricing/rates always hover at the median price (or some other percentile to reflect their home's desirability) of the comparable neighborhood market. While ...

Different Prices on Your Calendar - Tooltip Explained

Whenever you hover over any date on your calendar (single listing or multi-calendar), you will see a tooltip. This tooltip will help you understand how every rate in your calendar is calculated along with the customizations applying to that date! ...