First things first, if you use a PMS (Property management system) or a Channel Manager, do note that you'll need to integrate PriceLabs with your PMS, and NOT directly with Airbnb/Vrbo.
What settings you should keep on Airbnb?
Length of stay discounts
You should keep your weekly, monthly and any custom discount based on LOS, as these can't be set on PriceLabs.
Fixed Price per month
If you set fixed prices per month, you can leave this setting on Airbnb. Pricelabs won't override it.

What you should remove from Airbnb?
Early bird / Last minute discounts
We recommend you to remove these discounts from Airbnb, as by default, PriceLabs already applies a Last-Minute discount and a Far-Out Premium (opposite to 'early bird').
You should check if you have rule-sets, discounts, or promotions on your Airbnb calendar and remove them, since these apply over the prices pushed from PriceLabs, and can make your prices different from what you see in PriceLabs.
Here is what you need to check:
Go to the Multicalendar in Airbnb, click on the dates where you are seeing that prices don't match with Pricelabs, and check on the right-hand side if any rule-sets are applying. Next, remove the rule-sets, they take precedence over the prices we send, and thus overrides our settings.

You can also check this from the individual listing calendar and the dates in question. After clicking on the dates in question, on the right-hand side, you'll see if a rule-set is applying.

Airbnb multicalendar view: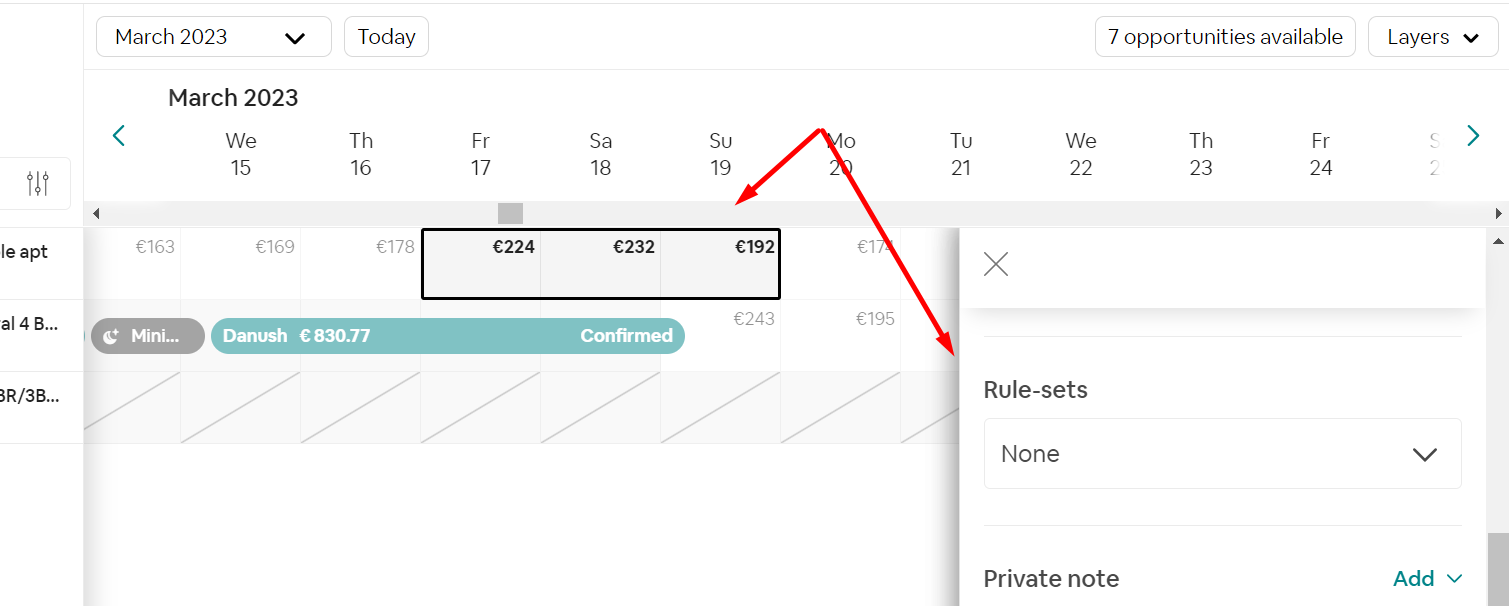 Airbnb individual calendar view: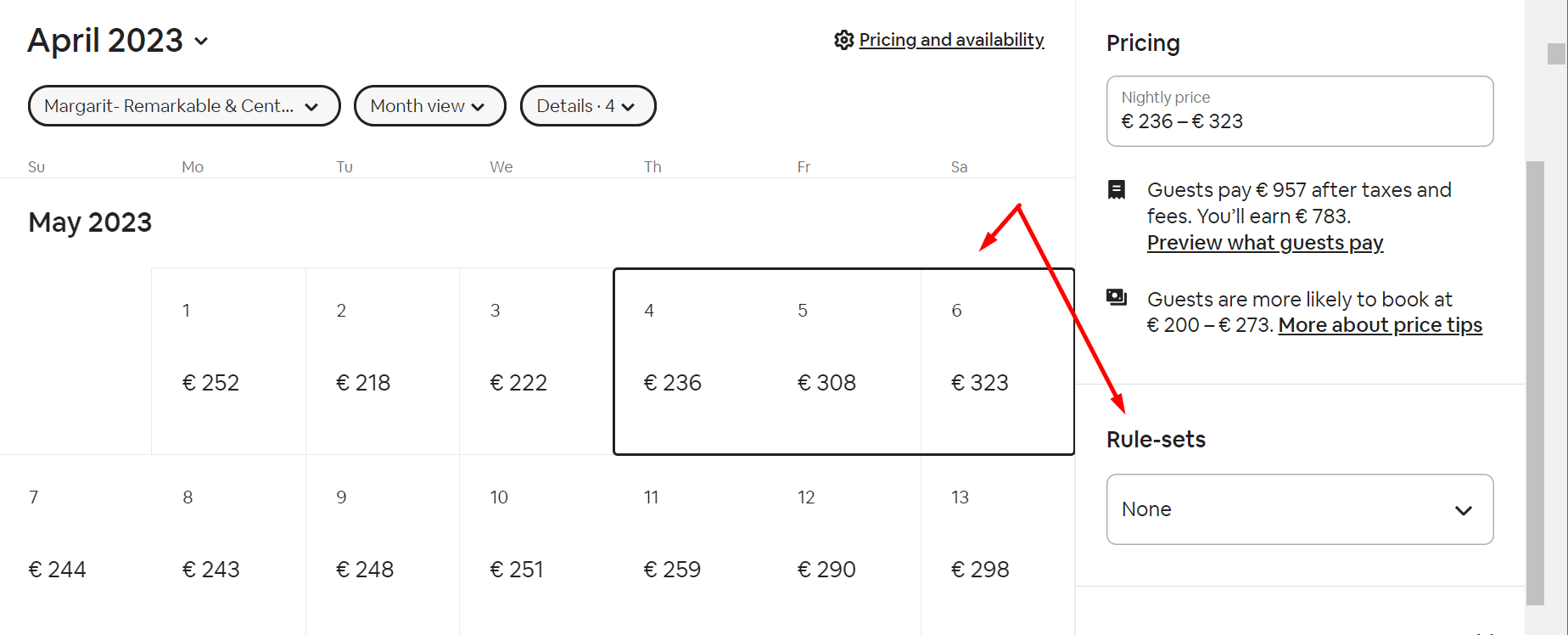 Airbnb FAQs and Connection Issues
Should Airbnb's Smart Pricing be on or off?
If PriceLabs is pushing rates directly to Airbnb, we will overwrite rates there even if Smart Pricing is on or not. We do think it's best to keep Smart Pricing off while sync from PriceLabs is on, so you can be sure your guests are booking at the most competitive dynamic rates. When syncing through a PMS or channel manager, Smart Pricing must be off for rates to be successfully updated on Airbnb (

see the respective guide for your PMS for more details on this

).

For any questions on how Smart Pricing effects your ranking in Airbnb search results, see Airbnb's help article
here
.
There was an error while updating pricing to your Airbnb listings!
If you have recently changed your Airbnb password, or if Airbnb requires you to re-authenticate your connection to PriceLabs you'll need to go through the integration steps again to re-establish the connection. Follow the connection steps

here

.

If your Airbnb listing has been snoozed, delisted, or the calendar has been blocked for the next 365 days, PriceLabs will not be able to successfully update rates for that listing. Please toggle off the PriceLabs sync switch for this listing until the calendar is available to update. If your calendar is not blocked on Airbnb and you are getting this error message, please submit a support ticket.
An easy way to check on your calendar's status is to visit your listing page from a private browsing window and check the calendar there! Sometimes, listings will appear blocked to us, but not on the host view.
You've set a maximum stay of 28 nights. Choose a minimum stay less than that.
If you're seeing this error and don't have a stay requirement longer than 28 days, please check your list of Date Specific Overrides. This error is most frequently generated when a fixed rate is accidentally entered into the min-stay requirement section when setting an override.

You do not have permission to access this resource.
If you're not live on Airbnb -- either because your listing is snoozed, or it's a new listing where you are live based on your host dashboard, but Airbnb hasn't published it to guests yet -- you might encounter an error that says one of the following in PriceLabs:
This listing is no longer available.




You do not have permissions to access this resource.



To find out if your listing is unlisted on Airbnb, please do the following:
Open a private browsing window in Chrome or Firefox




Enter your listing as

https://www.airbnb.com/rooms/XXXXXX

and replaced the Xs by the listing's ID.



You should see a banner that says your listing isn't available by the banner from Airbnb (This listing is no longer available) or Airbnb will do a redirect to the Home page.
If this happens, make your listing live on Airbnb and wait for a few hours while this is updated on Airbnb's API, and you should then be able to review prices.
Custom Trip Lengths
'We have set up some minimum stay restrictions on PriceLabs and synced the listing. After that, I realized that it created hundreds of rules in Airbnb for different dates'.

When PriceLabs syncs with Airbnb, the minimum stays are saved in Airbnb as 'Custom Trip Lengths' that you can find in your listing details, under 'Pricing & Availability'. This is not an issue, and you shouldn't remove them, since they will be created or overridden every time that PriceLabs syncs with Airbnb.
Ruby sign-in:
After signing in with PriceLabs, I received an email from Airbnb Saying that someone called 'Ruby' logged into my account. Is this PriceLabs?

Yes! Ruby is the name of our servers (not a real person). The message indicates that PriceLabs is now connected to your Airbnb account!
Crossed out prices on Airbnb:
By looking at the median price over the previous 30 days, Airbnb work out each Host's average price. If a Host drops their price by 10% or more below the median for a particular date, Airbnb highlights the saving by crossing out the original price. For more details on this, visit Airbnb's guide
here
.
Last-minute discounts, orphan day discounts and date-specific overrides set in Pricelabs can make your prices on Airbnb to be crossed-out.