When actively syncing with iPro, PriceLabs will send rates, check-in and -out restrictions, and minimum stay requirements to your listings for up to 540 days from today (see our article
here
on extending your pricing calendar).

Check-in and -out restrictions must be set in PriceLabs for iPro listings or sync will fail.

Connecting to iPro

Before connecting to PriceLabs you must contact iPro support to request the connection.

Step 1. Once you've been notified the connection to PriceLabs has been made, you can go to "Tools" from the main iPro menu, click "API Configuration" and copy the key shown on the PriceLabs line.

Step 2. After fetching your Client ID and Secret, return to PriceLabs and click the "Add/ Reconnect listings" button, select iPro from the drop down, and paste your ID, Secret, and iPro URL in the spaces provided. Once you click "Connect" your iPro listings will appear on your PriceLabs dashboard!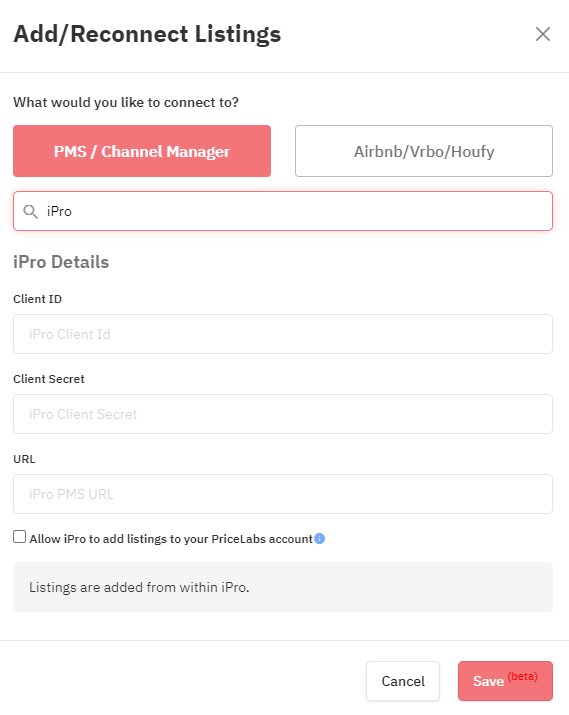 Once you are satisfied with our prices then you can turn sync on for each of your properties with PriceLabs so our servers can start updating your prices daily. After your listings have successfully synced, you'll be able to see your PriceLabs rates on the rates table for each property. PriceLabs will push a rate for each day as its own season, including min-stay and check-in and -out requirements