Setting monthly discounts can be a powerful pricing strategy for property managers to attract more mid-term bookings, specially during slower months or off-season periods. In this article, we'll discuss how to think about monthly discounts and provide guidance on setting them up in PriceLabs.

Monthly discounts are applied on stays of 28 days or longer
When setting monthly discounts, there are some key things to consider:

Depending on the PMS you use, you might be able to set this up on Pricelabs itself, or in the PMS.



The monthly discount will apply directly on the OTA (Airbnb, VRBO, etc) to potential guests looking for stays of 28 nights or more. You'll need to check there what the final price is, on any given date range.

Protection for low season: During low season, or last minute dates, your daily prices might be close to the minimum price you've set on Pricelabs. Considering that the monthly discount will apply over the sum of the daily prices, you might want to double-check your minimum in Pricelabs, to ensure your monthly price won't drop below a certain threshold.

Using Market Dashboards to come up with your monthly discount
There is important data you can get from the market dashboards that will help you to set up the monthly discounts.
First, It's always recommended to create your custom comp-set, to make the data even more relevant.

Once you've filtered the dashboard to show the custom comp-set data, navigate to the 'Policies and fees' section and check the monthly discounts chart. This chart shows the percentage of occurrence of different Monthly discounts in the listings (supply) and bookings in the last 30 days (demand). It only considers bookings where monthly discount would apply.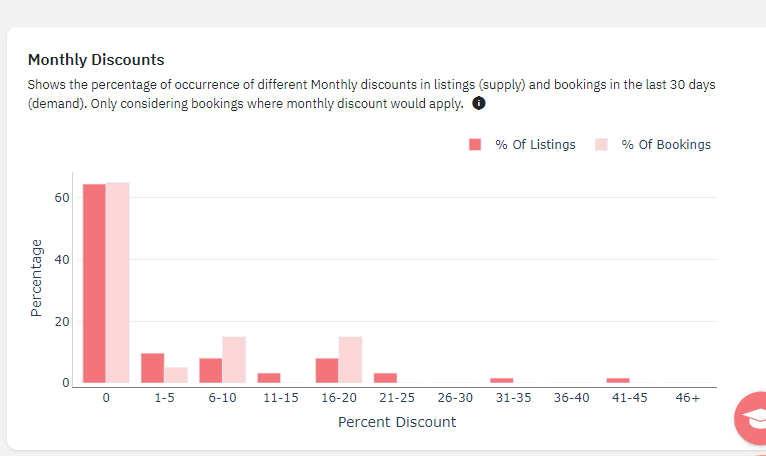 You can also navigate to the Summary table to check what's the median daily price for stays of 28+ nights for this particular comp-set.

Length of stay chart
You can use this chart to understand if there are bookings longer than +28 nights in the market, and at what time of the year they are more common.

Click on the legends above the chart to filter bookings of +29 nights, and the bar at the bottom to see past dates.
How to set up monthly discounts in PriceLabs



Setting up monthly discounts in PriceLabs is a simple process. Here's how to do it:
Log in to your PriceLabs account and navigate to the listing's customizations panel.

Under the 'General' tab, turn on the 'Monthly discounts' toggle

Enter the percentage discount you want to offer and save changes.