Airbnb's search engine plays a crucial role in helping travelers find the perfect accommodation for their needs. To ensure that guests are shown the most relevant listings, Airbnb uses a complex algorithm that takes into account a wide range of factors. These factors can be broadly divided into three categories: quality, popularity, and pricing.
Quality factors include elements such as photos, guest reviews, size, location, description, amenities, services, and more.

Popularity factors

involve conversion and booking request rates, host data (superhost status or not, number of reviews, review score, flexibility on cancellation policies, response time ratio), and more.



Pricing

factors determine how competitive a listing is compared to similar properties (in terms of guest capacity, amenities, and location i.e., competitive set)



By utilizing a dynamic pricing strategy, Pricelabs adjusts your pricing according to demand and real-time market trends, helping to optimize your revenue while also impacting in your position in the search rankings. According to Airbnb's help articles, one of the ways Hosts can most affect the performance of their listing in search is by changing their prices or offering discounts.
By using Pricelabs' dynamic pricing strategy, hosts can stay ahead of the competition and maximize their revenue potential while still maintaining an ideal position on the Airbnb search engine.
Since using Pricelabs I don't see my own listing on top of search results anymore, why?
It's important to keep in mind that Airbnb's search algorithm is personalized and takes into account each guest's search criteria and past booking history. This means that if a guest has booked listings with certain characteristics in the past, the algorithm may rank listings with similar characteristics higher for that guest.
Airbnb's goal is to show guests the listings that they are most likely to book, in order to increase the chances of them making a reservation through the platform (which is how Airbnb generates revenue).
So, just because your listing isn't showing up for you doesn't necessarily mean it won't show up for other potential guests.

However, if your base price is too high and as a result, all the prices in your calendar are too high as compared to your competitors, then that will certainly affect your Airbnb ranking. Remember that you can benchmark against your competitors in the Pricelabs
Neighborhood data tab
with the 'Future prices' chart or the 'Compare competitors' calendar.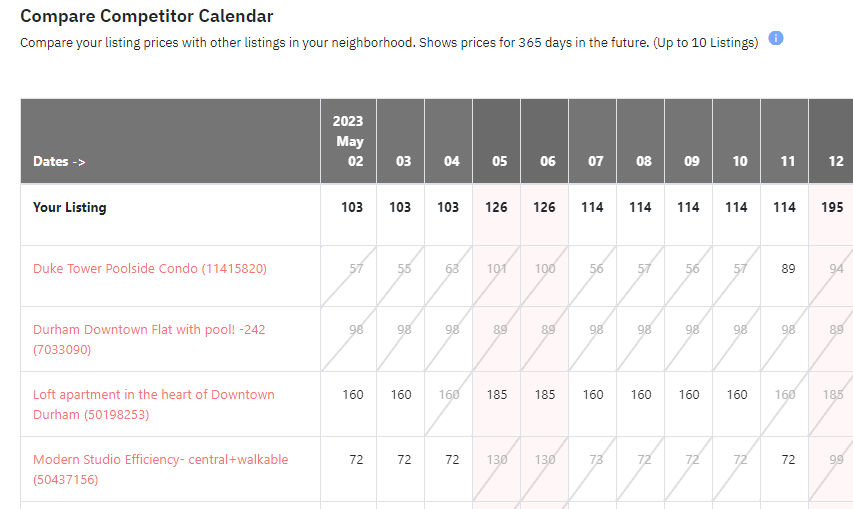 In conclusion, to ensure success, hosts should regularly monitor their performance metrics and adjust their strategy as needed, keeping an eye on both pricing and other key factors that impact their search rankings.