When actively syncing with Direct, PriceLabs can update rates and minimum stay requirements for your listings for dates up to 540 days from today (see our article here on extending your pricing calendar beyond that point).


To start the integration process with Direct, you must first reach out to
support@getdirect.io
to request your API key.
Once you have received your API key from Direct, follow these simple steps to integrate your accounts:

Step 1. From your Direct dashboard, click on your organization icon and select "Settings" from the pop-up menu.

Step 2. Click to enable the PriceLabs integration and note your Organization ID.

Step 3. Log in to your PriceLabs account and click on the "Add your listings" button (if you don't have any listings yet) or "Add/Reconnect Listings" (if you have listings on your PriceLabs account already) on your PriceLabs dashboard, select "PMS / Channel Manager" and search for Direct from the drop-down. Enter your Organization ID and API key in the respective fields and click "Connect".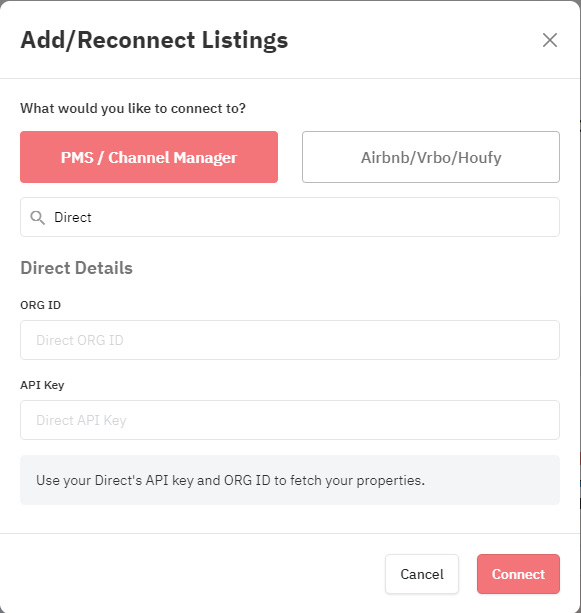 You will now see your Direct listings in your PriceLabs dashboard! Spend some time setting up your initial price and minimum stay customizations (check out our
Getting Started guide
if you need some inspiration or join one of our
Intro to PriceLabs
Live Training Sessions to get a look at everything the system can do). Once you're satisfied with your rates you can turn the Sync Prices on and wait for our regular nightly sync or use the "Sync Now" button to sync prices immediately. After everything has synced, you can head back over to your Direct listings and you'll see your PriceLabs pricing on your listing calendar.