How to add company name, billing address or tax id to the invoice?
If you want to update your billing address or add a tax ID to your invoices.
You can do this by going to the
Billing
page from the Account menu. Select "Billing Details" on the left and you'll find spaces where you can enter various bits of information, and any emails where you want invoices sent. After you've entered everything you need us to know for billing purposes, be sure to click "Save Settings" at the bottom!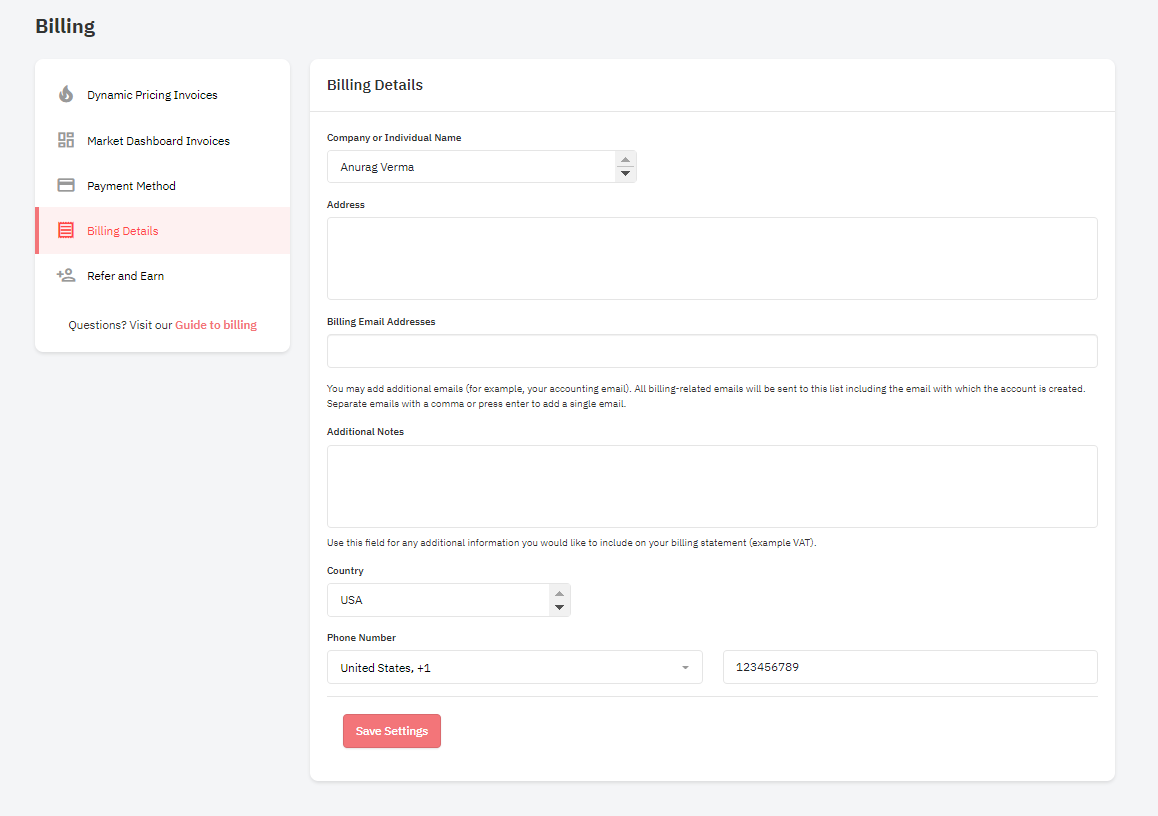 When you update details here, all your invoices (current or old ones) will include these details.

If you don't want the old invoices to have these details, download them first. You can download them by going to the invoices tab.
More on it here.
On this page you can also add additional billing email addresses. Email ids added here will get emails related to billing - when an invoice is ready, or when we charge your payment method, or if the payment fails.


Related Articles

PriceLabs Dynamic Pricing: Billing, Subscription, and Invoices

How does PriceLabs calculate your invoices? PriceLabs is full of features and bells and whistles, but the one thing we've kept simple is our pricing plans; there are no commissions, and in every billing cycle you only get charged for the listings you ...

How to reconnect listings?

Whenever you update your PMS/Channel Manager/OTA's account password, add new listings, or make changes to your listings such as updating the listing name and location, you'd have to reconnect your listings in order for the changes to apply to ...

Changing or Updating Your Email Address and Password in PriceLabs

You can change the email address associated with your PriceLabs account at any time. You may want to do this if you don't have access to the email id with which the account was originally created, or if your company name/domain has changed. Simply ...

How to add a payment method and resolve payment declines

After your 30-day trial period for Dynamic Pricing is over, you need to add an active payment method to continue your PriceLabs subscription. You can find out the monthly price break down and use the calculator where you can insert the number of ...

PriceLabs Market Dashboard: Billing, Subscription, Cancellation, and Invoices

Market Dashboards can be incredibly powerful as you set up your pricing strategies to maximize revenue. Market Dashboard Subscription There are two ways to subscribe to a Dashboard: When you create a Market Dashboard, you will start a subscription ...