Pausing or canceling your subscription
If you plan to come back PriceLabs in some weeks/months, you can pause your subscription by turning off the "Sync Prices" switch for each property and we'll stop updating prices. This way all your settings and listings will remain.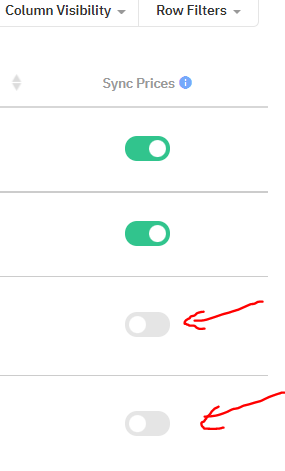 After turning sync off you will receive
one final invoice for services used -- since we bill in arrears -- but this will the be last invoice you'll see until sync is turned back on
. This last invoice will be issued on the last day of the billing cycle and your credit card will be charged three days after you receive your invoice.
Billing cycle dates and invoice details can be found on your
billing page
. Our billing policy is to invoice for all unique listings regardless of the number of days synced in the billing cycle. You can read our full
billing policy here

If you are temporarily pausing your account, please don't delete your listings. If you delete your listings, all your settings within PriceLabs associated with the listing will be lost and you'd have to start from scratch when you come back.
Deleting your account
If however, you do not want to not use PriceLabs ever again and want us to remove your data:

Please deactivate your listings by toggling off all sync switches

Please download/copy any information you need from your account including previous invoice copies. Once account is deleted, these cannot be retrieved.

Then send us an email at support@pricelabs.co from the email id you use to log in to PriceLabs

We'll delete you account after charging for any pending invoices. Details for the amount due, billing cycle dates, and copies of invoices can be found on the billing page.


While, we hope that you give us feedback regularly, any feedback that you can give us about why you're deleting your account or canceling subscription with us would be very helpful for us to improve our service.

Related Articles

Deleting your PriceLabs account

If you are looking to pause your subscription temporarily, please refer to this article: pausing your subscription If however, you do not want to not use PriceLabs ever again and want us to remove your data: Please deactivate your listings by ...

PriceLabs Dynamic Pricing: Billing, Subscription and Invoices

How does PriceLabs calculate your invoices? PriceLabs is full of features and bells and whistles, but the one thing we've kept simple is our pricing plans; there are no commissions, and in every billing cycle you only get charged for the listings ...

Getting Started with PriceLabs - A Comprehensive Guide

Welcome to PriceLabs! This article has a step by step guide on understanding PriceLabs, our products, setting up your account and understanding pricing. Every step has links to articles which explain the concept/step in detail. These articles cover ...

PriceLabs Market Dashboard: Billing, Subscription, Cancellation and invoices

Market Dashboards can be incredibly powerful as you set-up your pricing strategies to maximize revenue. Market Dashboard Subscription: There are two ways to subscribe to a Dashboard: When you create a Market Dashboard, you will start a subscription ...

How to delete listings from PriceLabs?

To remove a listing(s) from your PriceLabs dashboard, first turn off sync for that listing and then head to the Manage Listings page from the Dynamic Pricing menu. Once you're on the Manage Listings page you have two options if you want to remove a ...