What is the pacing factor?

The p
acing factor is a market factor like seasonality and demand which is calculated on a market level (E.g. Miami, Boston, London, etc). The p
acing factor takes into account the growth trend, for a given market, during the same period from the previous year(s).
A pacing factor of +5% implies that the market of 2021 is generally up by 5% as compared to the same period in the previous year(s).
Why is the pacing factor applied?

As Covid19 restrictions eased in some areas, markets saw periods of pent-up demand, extending well beyond their typical high season. The pacing factor accounts for such released demand.
On the flipside, where Covid-19 restrictions have not been eased, the pacing factor accounts for the curbed demand, and adjusts the prices accordingly.
How does the pacing factor affect my rates?

The pacing factor is always a percentage. It is similar to the seasonality factor, so it is not a part of the factors used in the calculation to get from "Uncustomized Price" to "Final Price".
The pacing factor gradually decreases with time and becomes 0 by a fixed date (not visible to the end-user), which we estimate using market data.
We update the pacing factor and the fixed date on which it expires every week to take into account changing market dynamics.

How do I know if a pacing factor is being applied to my listing?
When hovering over a date in your PriceLabs calendar, seeing "Pacing factor" in the black box under "Market Factors" means a pacing factor is being applied.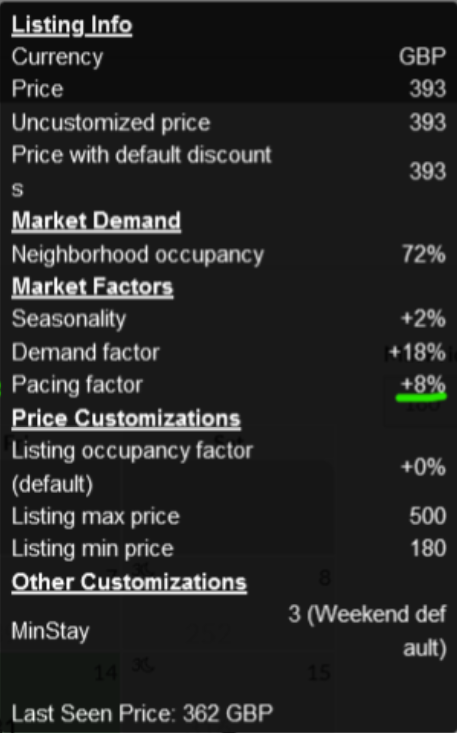 Can the pacing factor be adjusted / turned off?

The pacing factor can be turned off or adjusted on request.
Email us at support@pricelabs.co to request an adjustment for your account.