If your PriceLabs account is accessed by multiple team members in your organization, setting up users with different access levels might be a great way to ensure that your team only has access to the things they need, and actions taken by your team members are logged, so it's easier for everyone to know who made the changes!

Here is how Team Access helps:

Simplified Delegation:
Granting view/edit permissions to a group ensures team members can independently manage all listings within that group, promoting efficiency and ownership.
Transparent Oversight: Our detailed account logs let you quickly identify who made what changes and when, thus ensuring transparency and accountability!

Please note the following before proceeding:
1) Team access can be given only to company domain and not public domains like @gmail.com, @yahoo.com, etc.
2) This is a request only feature. Write to us on
support@pricelabs.co
and we shall grant you the access for the same!
For account admins: how to add a user to your account

Head over to Account > Settings > Team Settings and click "Add Member". Note that this is only available to the account admin (users added by the admin can't add new users).

Enter the team member's name and email. The team member would need to share your company's email domain. Your team member will get an email invite - please also share the "Access Code" shown on this page with them.

By default, your team members will have no access to anything in your account. You can now go ahead and choose the access level for various listings, group customizations, account customizations, and different pages mentioned below.

For listings, group customizations, and account customizations permissions:
You can choose one of three options (the screenshot below shows listing level selection options, and similar options exist for group and account customizations access):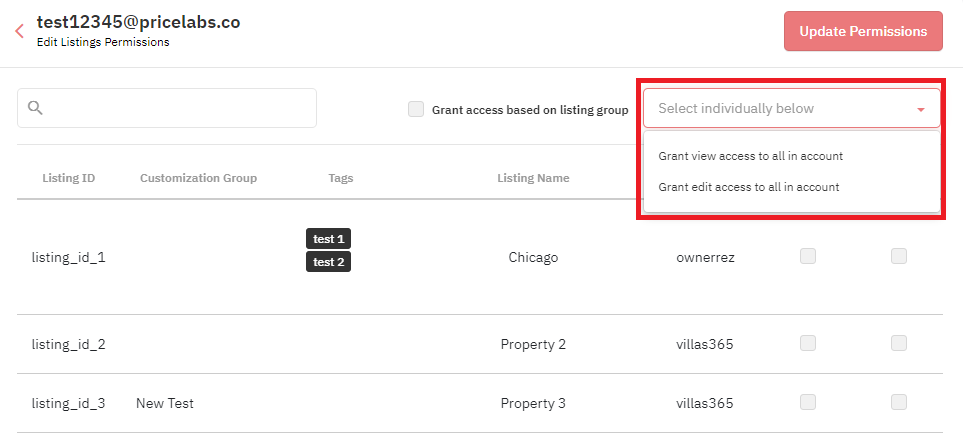 View only access to everything in the account: This is useful if you want the team member to be able to see everything, but not make any changes.

Edit access to everything in the account: This is useful if your team member is allowed to make changes to all listings or group/account level customizations in the account.

Select view/edit access for specific listings, groups and account level customizations: This is useful to grant very specific access.


Note that a team member who has imported a listing to the account, automatically gets edit access to that listing (though you can restrict your team members from being able to import listings)
For listings customization permissions based on groups:

This is specific to listing's customizations only.

Select view/edit access for specific listings with groups: This is to grant access to the listings under same group.
Select view/edit access for specific listings without groups: This is to grant access to all the listings which are not associated to any groups.

If a group is renamed, then the user who earlier had any access to it will continue to have the same access, only the name of the group will change.
If a team member has been given access to all listings under a group then, if in the future any new listings is added/removed from that group, the user's permissions to those listings will automatically change.
The change is only for groups linked to listings and not for sub-groups
For the other settings, the access levels can be granted to:

Import Listings: a team member who imports a new listing automatically gets access to edit it.
Portfolio Analytics: being able to view revenue analytics about your entire account.
Market Dashboards: being able to view existing market dashboards and order new ones.

Billing: this can be useful to provide access to your finance team just to the billing section.
If needed, you can easily clone permissions from one team member to another by clicking the "clone" link next to the member whose permissions you want to duplicate (you'll be prompted to select the team member who needs these permissions next).


If you need to remove a team member from having any access, you can click on the "Delete" link against that team member's name. Previous actions performed by this team member will still appear in your account logs for record keeping purposes.
For team members: how to gain access to your company's PriceLabs account

Once your account admin has added you as a team member on their PriceLabs account, you will get an email inviting you to create a new PriceLabs account.

It is important to follow the
link
provided in the email instead of going to our website directly.
When you open the link you receive in the invitation email, you'll be prompted to enter your email ID and the "Access Code" (which your account admin should have provided to you).

Once you create an account, you'll be sent instructions to reset the password. Please click the link in the email to set up a new password, and you'll be in!

You should now be able to see the things your admin has granted you access to!