Creating a Revenue Estimate
You can create an Estimate by following these steps:
Step 1: Head over to the Revenue Estimator homepage by clicking on Market Research from the top banner and selecting Revenue Estimator Pro.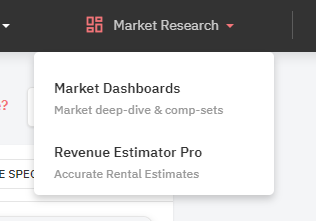 Step 2: Purchase tokens using the Add Tokens button. Skip this step if you already have available tokens.
Each token costs USD $2.00 and a minimum of 5 tokens is required to proceed with the purchase.
Step 3: Click +Create New Estimate button. Enter the name of the estimate and the Address. Then select the bedroom category and the currency that will be used for the estimate. Click Continue.

Step 4: The entered address will be pinned on the map, and we will display the number of listings that is fetched based on your criteria. Verify the location and the details, then click Create Estimate to complete the process. A new tab will open and you will be redirected to the Estimate view of your newly created estimate.


The Estimate's Address, Bedroom category, and Currency can no longer be edited once the Estimate is created.
Related Articles

Getting Started with PriceLabs' Revenue Estimator Pro

Why Revenue Estimator Pro Revenue Estimator Pro is a tool designed to estimate the potential income or revenue that a property/address might generate in a defined area. Following are the key features of the tool - Get accurate and super quick revenue ...

2023-03 (March) : New Pacing Tab + Comp Sets = Better Revenue Performance

Hello , Welcome to this month's newsletter from PriceLabs! As some short-term rental markets show signs of cooling down, it's more important than ever to stay ahead of market trends and understand your competitors' strategies. That's why we're ...

Creating a Market Dashboard

Video Tutorial You can create a Market Dashboard by following the below steps - Creating a new Market dashboard Step 1: To start, click "Create Dashboard" on the Market Dashboard page and enter a location and search radius for your report; your ...

Creating and Using Minimum Stay Profiles

Min Stay Profiles helps you to easily apply minimum stay restrictions across your portfolio and seasons! With this feature, you can now create and save different minimum stay settings and apply them to your listings, groups, accounts, or seasons with ...

Creating an Account and Importing Listings

We've designed PriceLabs to be a fairly intuitive platform to get you comfortable with dynamic pricing. That said, we do not want you to spend any time during your one month free trial trying to understand how things work - we'd rather have you get ...