You can create a Market Dashboard by following the below steps -

Step 1
: To start, click "Create Dashboard" on the
Market Dashboard page
and enter a location and search radius for your report; your radius can be anywhere between 0.1 Km and 50 Kms.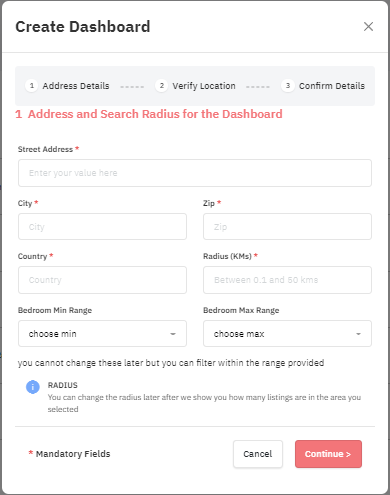 Step 2: Advance by clicking "Next" to check the location and search radius on a map, from here you can go back and adjust the address or radius if things don't look quite right on the map view.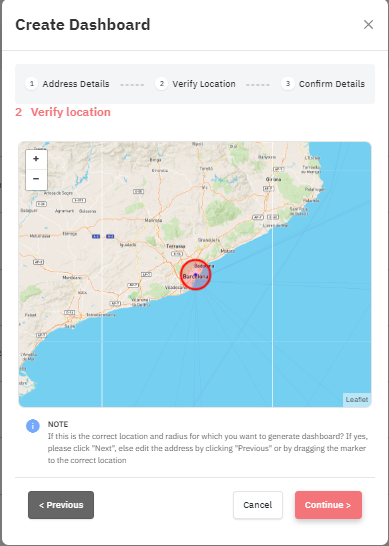 Please make sure this address is correct as address cannot be changed once the dashboard is created.
Step 3: Verify the details of your dashboard on the next screen. The system will show market data on up to 1000 a listings, but in some cases it may be useful to see fewer listings. You can click the "Previous" button to return to the first screen to adjust the radius or address. Once you're satisfied with your dashboard settings, you can enter a name and then click on "Generate Dashboard" button . Note that the default currency shown in the dashboards is the US Dollar, if you want to see a different currency you will need to select it from the drop down before continuing. Once you click the "Generate Dashboard" button this modal will close and you'll see the dashboard on your list in a few minutes!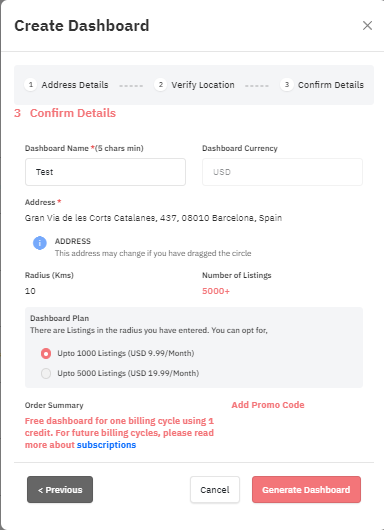 After creating a dashboard, you can adjust the name and radius by clicking the small pencil icons, and if you'd like you can receive email updates about developing trends in the area for each dashboard by selecting your preferred update day from the drop down list. Click the "Show Dashboard" button to open the dashboard and gain insights about your market! Do go through our
Market Dashboard guide
, and our
Dashboard FAQs
for more details about what you can find in the dashboards.