Changing or Updating Your Email Address and Password in PriceLabs
You can change the email address associated with your PriceLabs account at any time. You may want to do this if you don't have access to the email id with which the account was originally created, or if your company name/domain has changed.
Simply log in to your PriceLabs account and go to the
Settings page
from the Account menu.
Please follow the steps below to update you Email Id and password for your account.
To update your Email Id



Login to your account with Email using your password.

Go into settings >> Profile settings

Put a new Email Id you want under User Email section.

Put your password under current password section.

click on update changes.
If it still gives error try adding your phone number under 'phone number' section and click on update changes.

To update your password
Login to your account with Email using your password.

Go into settings >> Profile settings


Put your current password and beside it you need to add your new password and confirm it.


Once this is done click on update changes.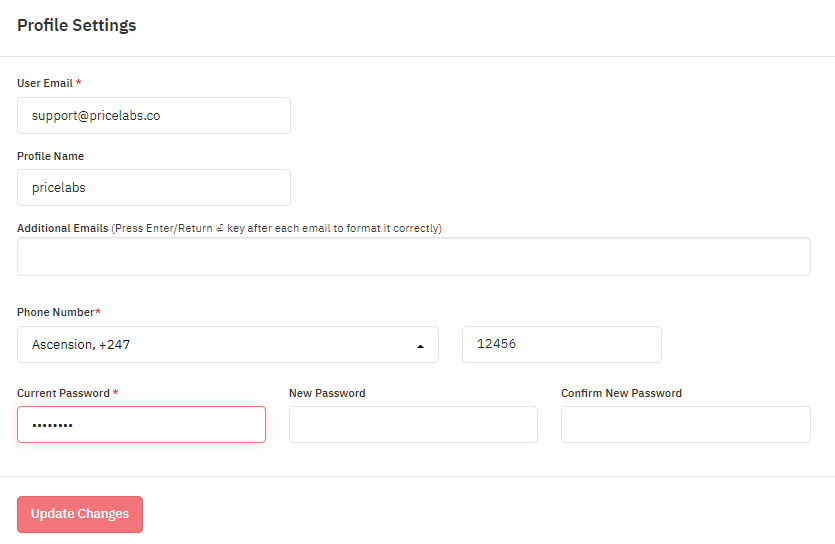 Changing password If you have forgotten your password
Please logout from PriceLabs.

While entering your credentials click on forgot password.

Enter your Email id.

You will then receive a reset password link on your email Id.


Change your password.

Do note that all of our communications are sent to the email id that is used with PriceLabs account.

Related Articles

Understanding the Account Settings Page

Account settings page is where you can make changes to your account, be it changing the associated email address, updating password, payment method, etc. Read on to understand the different tabs and how you can use them. To access your account ...

Creating an Airbnb Password

If you usually log in to Airbnb using your Facebook, Google, or Apple account, you'll need to create an Airbnb password to integrate your account with PriceLabs. To set your Airbnb password, just follow the steps below: While logged in to your Airbnb ...

How to Pause or Delete your PriceLabs account?

You can choose to Pause your subscription or Delete your account with PriceLabs. Pausing Subscription If you want to stop using PriceLabs for some time, you can pause your subscription by turning OFF the "Sync Prices" toggle. All your settings and ...

How to add company name, billing address or tax id to the invoice?

If you want to update your billing address or add a tax ID to your invoices. You can do this by going to the Billing page from the Account menu. Select "Billing Details" on the left and you'll find spaces where you can enter various bits of ...

Account Logs: Track settings changes made in your account

If you want to understand the changes in your customizations and pinpoint the specific time and date when the settings were changed or applied, you can refer to your account logs. You can search the logs at listing, group and account levels. You can ...