Can I block or unblock my calendar on PriceLabs?
PriceLabs being a revenue management tool, availability is not set/altered in PriceLabs.
PriceLabs does not handle calendar blocking at this time. We fetch your listing's availability from your Property Management System(PMS) or your platform.

Frequently Asked Questions
1. What to do if you see the dates blocked on your calendar in PriceLabs?
>> We at PriceLabs do not handle availability of your listings. It is completely handled by your PMS or channel. Please reach out to your PMS/platform in such cases.

2. How to check the current availability after getting a booking?
>> PriceLabs updates the availability once a day with the Automatic Sync. If you get a booking and cannot see it updated in the PriceLabs calendar then it means the calendar is not yet updated. To update
the current available dates
please click on the
"Save & Refresh"
button.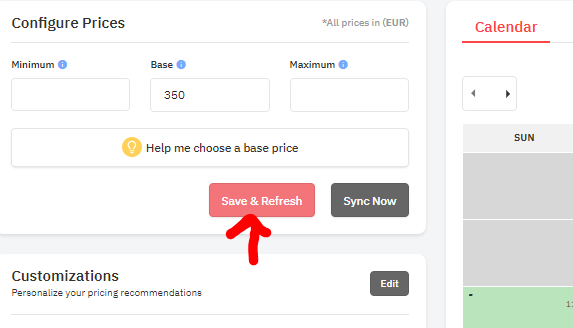 3. How to manage availability if you have same listing on Airbnb and VRBO?
Related Articles

Understanding the PriceLabs Multi Calendar

(Watch our Multi Calendar page Playlist here) The Multi Calendar page allows you to view and set pricing customizations and overrides, toggle sync on or off, perform a manual sync, or save and refresh your listings. Using this page, you can perform ...

Guide for using both Airbnb and VRBO with PriceLabs

Please follow these steps to set up your PriceLabs account for using both Airbnb and VRBO: Step 1: Import your listings from Airbnb by following the steps here - How to Integrate PriceLabs with Airbnb Step 2: Import your listings from VRBO by ...

Understanding the Pricing Calendar

(Watch our Pricing Calendar Playlist here) The calendar shows recommended prices for each available night in the future. You might notice that each day has a different price - and this is the magic of dynamic pricing! In general, the prices fluctuate ...

How to Integrate PriceLabs with OTA Sync

Connecting PriceLabs to OTA Sync When successfully syncing rates to OTA Sync, PriceLabs can update daily rates and minimum stay requirements. It only takes few minutes to connect your OTA Sync account to PriceLabs, we have detailed the steps for ...

Events, Holidays, and High-Demand Dates

The Events/Holidays feature allows you to stay informed about significant occasions in their hyperlocal market, providing insights into upcoming events, holidays, and high-demand dates. This also includes the average prices set for each of these ...