Can I block or unblock my calendar on PriceLabs?
PriceLabs being a revenue management tool, availability is not set/altered in PriceLabs.
PriceLabs does not handle calendar blocking at this time.
We fetch your listing's availability from your Property Management System(PMS) or your platform.
Frequently Asked Questions
1. What to do if you see the dates blocked on your calendar in PriceLabs?
>> We at PriceLabs do not handle availability of your listings. It is completely handled by your PMS or channel. Please reach out to your PMS/platform in such cases.
2. How to check the current availability after getting a booking?
>> Pricelabs updates the availability once a day with the Automatic Sync. If you get a booking and cannot see it updated in the PriceLabs calendar then it means the calendar is not yet updated. To update
the current available dates
please click on the
"save and refresh"
button.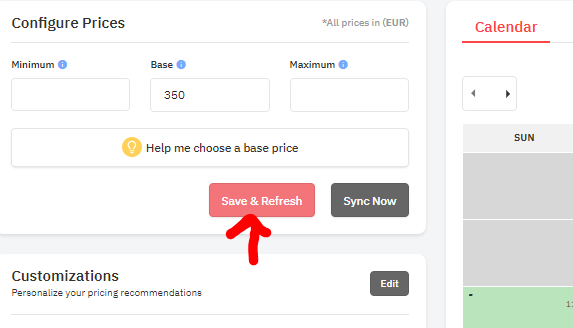 3. How to manage availability if you have same listing on Airbnb and VRBO?
Related Articles

Understanding the PriceLabs Multi Calendar

The Multi Calendar page allows you to view and set pricing customizations and overrides, toggle sync on or off, perform a manual sync, or save and refresh your listings. Using this page, you can perform most actions from the Review Prices and Manage ...

Guide for using both Airbnb and VRBO with PriceLabs

Please follow these steps to set up your PriceLabs account for using both Airbnb and VRBO: Step 1: Import your listings from Airbnb by following the steps here - How to Integrate PriceLabs with Airbnb Step 2: Import your listings from VRBO by ...

Understanding the Pricing Calendar

The calendar shows recommended prices for each available night in the future. You might notice that each day has a different price - and this is the magic of dynamic pricing! In general, the prices fluctuate around the base price (either calculated ...

Getting Started with PriceLabs - A Comprehensive Guide

Welcome to PriceLabs! This article has a step by step guide on understanding PriceLabs, our products, setting up your account and understanding pricing. Every step has links to articles which explain the concept/step in detail. These articles cover ...

Different Prices on Your Calendar - Tooltip Explained

Whenever you hover over any price on your calendar (single listing or multi-calendar), you will see a tooltip. This tooltip will help you understand how every rate in your calendar is calculated along with the customizations applying to that date! ...