How to import Airbnb listings using the Google Chrome extension
If you are new PriceLabs customer looking to connect your Airbnb listings to PriceLabs or an existing customer who has recently changed their Airbnb password - the steps below will help you connect PriceLabs to Airbnb.
Step 0: Remove the older PriceLabs Extension
If you have not installed PriceLabs extension before, skip to step 2. If you have a previous version of PriceLabs' chrome extension installed, please remove it. The latest version is 0.0.2.0
Step 1: Installing Chrome Extension
Install the extension from the Chrome Webstore by
clicking here
. Note this extension works for all chromium based browsers - Chrome, Microsoft Edge, Brave etc. This extension does not work on Safari or mobile browsers.
Step 2: Pin the PriceLabs extension for easy access!
Click the "puzzle"

icon. You'll find it in the right top corner of the screen. Pin the extension for easy access in future.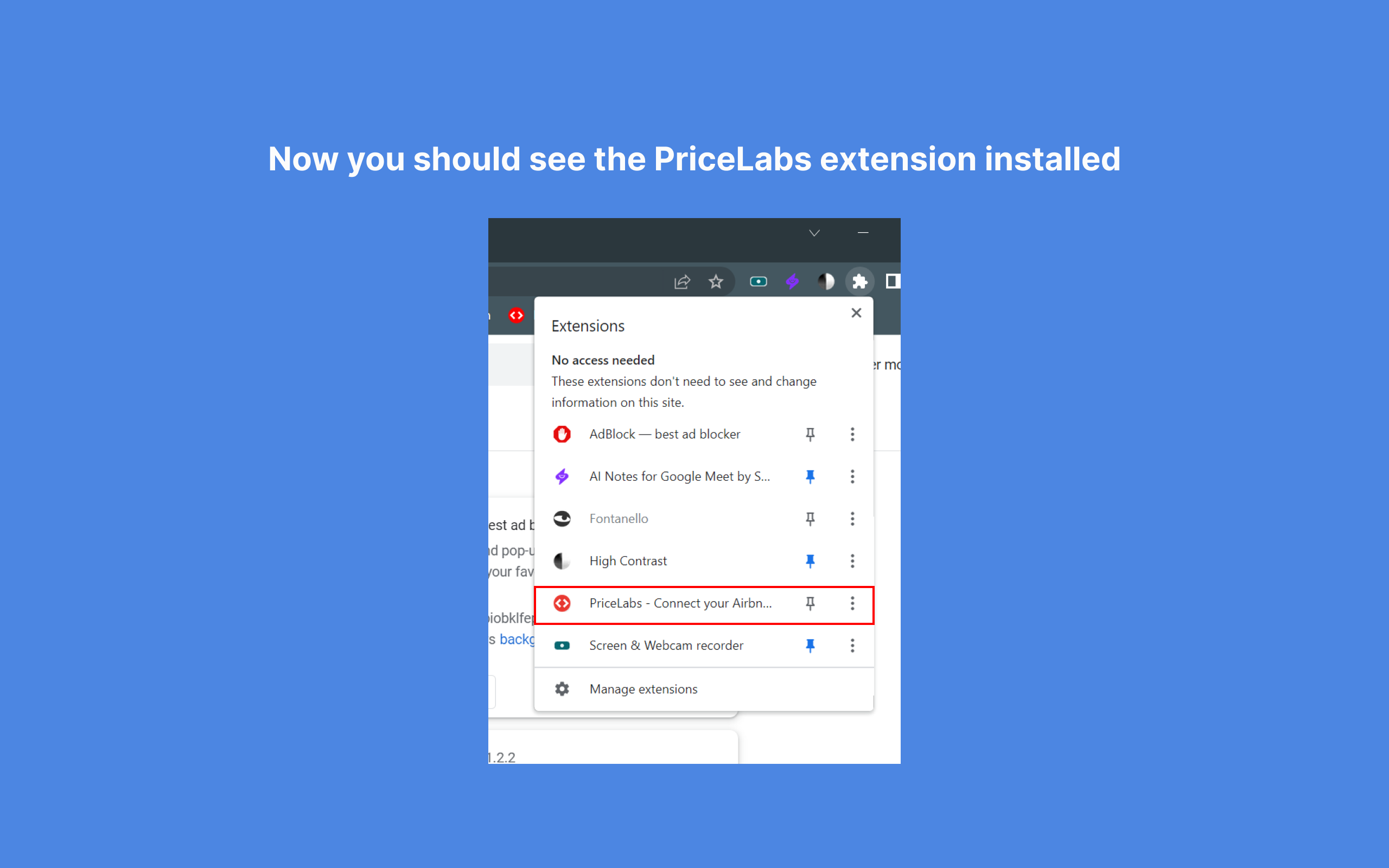 Step 3: Connect to Airbnb
Click the PriceLabs app that is now pinned on the right top corner of your browser. Now enter your "Airbnb" email and password. Do not enter your PriceLabs email and password, here you need to enter your Airbnb email and password. We will establish a connection between PriceLabs and Airbnb.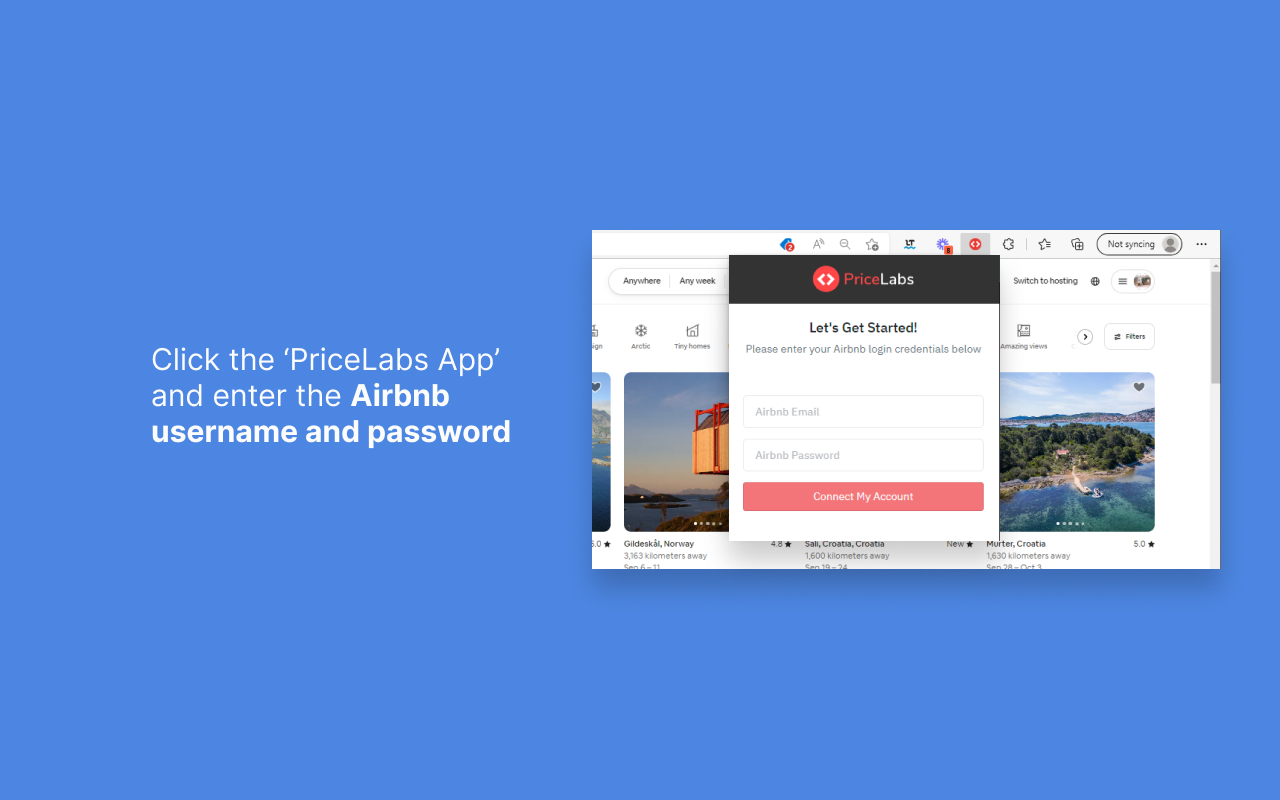 Step 4: Import to PriceLabs
Now on the app you will see the text along with the button "Import to PriceLabs".


Some users will need to verify their Airbnb access before importing to PriceLabs. In this case, you will see a screen with "Verify" and "Continue" button. Click the "Verify" button, a new tab will open and Airbnb will authenticate your access. Once that page completely loads, click the "PriceLabs app" in the top right corner again, and click "Continue" button. Follow the prompts to receive a code for verifying your Airbnb connection.
Don't click "Import to PriceLabs" button while on Airbnb page. Open
PriceLabs review prices page
in a new tab, then click the PriceLabs app from the top right corner and then click "Import to PriceLabs" button.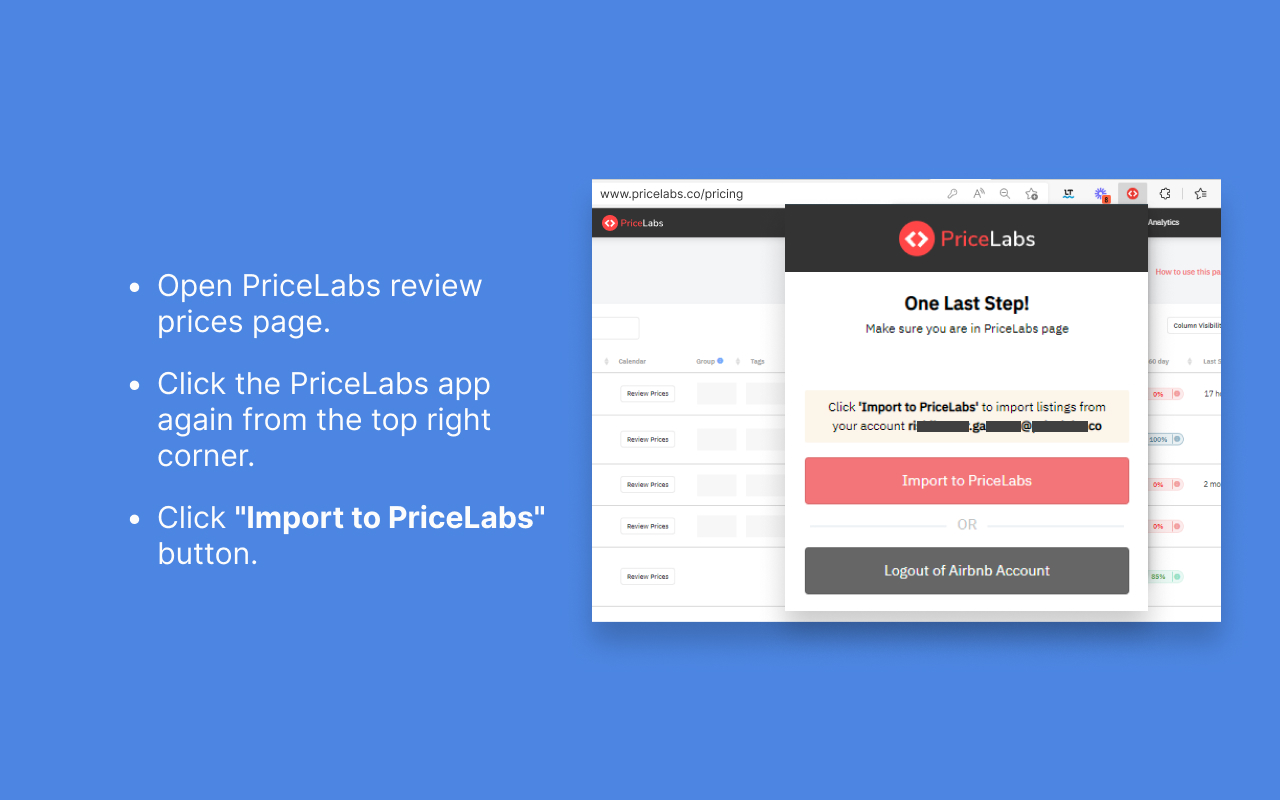 Step 5: Success!
It'll take a few seconds to a few minutes (depending on the number of listings you are adding), but after that you'll see a success check mark on the app and the PriceLabs page behind will refresh.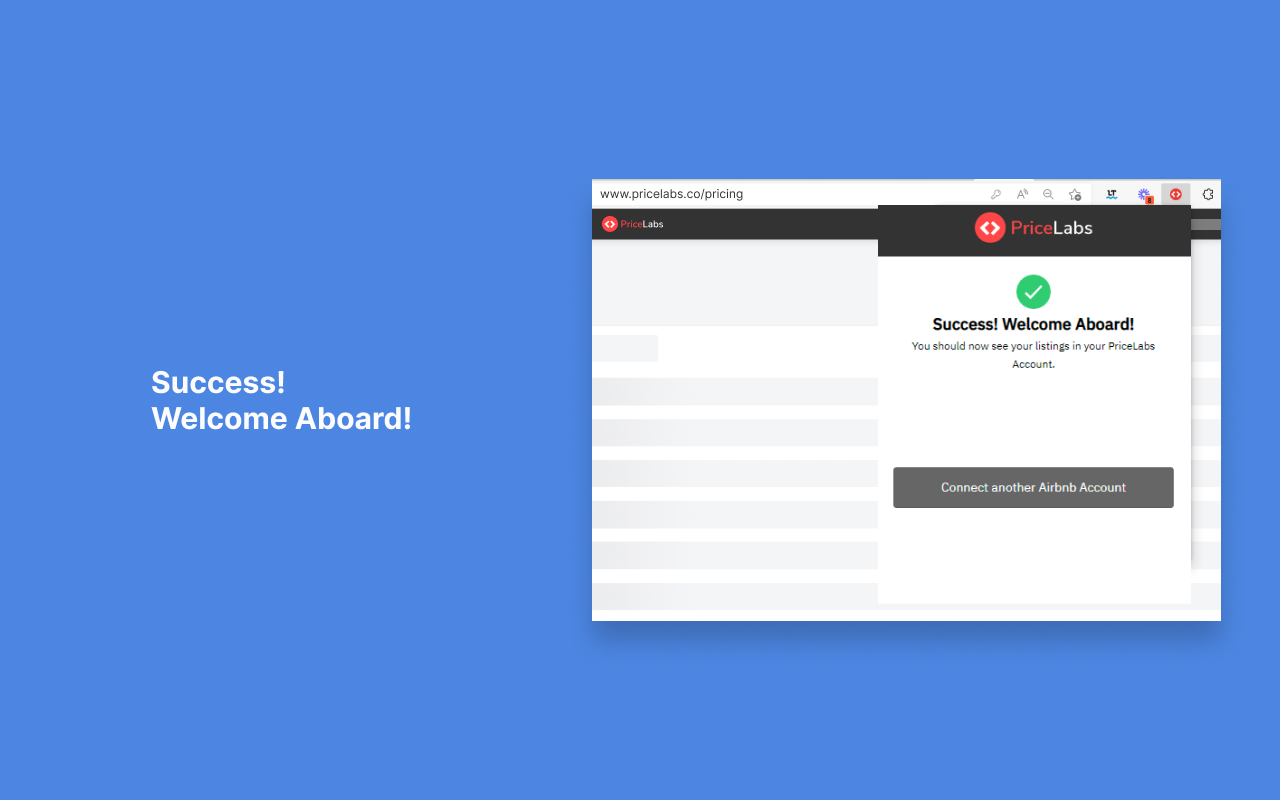 Step 6: Update your prices

If you are a new customer, we recommend attending our trainings!

If you are an existing customer and your listings were not syncing because you recently changed your Airbnb password. You can now click "review prices" button for your Airbnb properties and then click "Sync now" to sync your listings! Wait a few minutes, refresh your page and you'll see that your listings have started syncing again.
If this doesn't work, please reach out to us and we can help you with the setup.
Related Articles

How to reconnect your listings?

Whenever you update your PMS/Channel Manager/OTA's account password, add new listings, or make changes to your listings such as updating the listing name and location, you'd have to reconnect your listings in order for the changes to apply to ...

Guide for using both Airbnb and VRBO with PriceLabs

Please follow these steps to set up your PriceLabs account for using both Airbnb and VRBO: Step 1: Import your listings from Airbnb by following the steps here - How to Integrate PriceLabs with Airbnb Step 2: Import your listings from VRBO by ...

How to delete listings from PriceLabs?

Before proceeding to hide/delete your listing(s), please make sure to turn off the Sync Prices switch first. How to HIDE a Listing from your Dashboard If the listing is still available but is currently snoozed or temporarily unavailable, you can hide ...

Creating an Airbnb Password

If you usually log in to Airbnb using your Facebook, Google, or Apple account, you'll need to create an Airbnb password to integrate your account with PriceLabs. To set your Airbnb password, just follow the steps below: While logged in to your Airbnb ...

How to Integrate PriceLabs with Airbnb

First things first, if you use a PMS (Property management system) or a Channel Manager, do note that you'll need to integrate PriceLabs with your PMS, and NOT directly with Airbnb/Vrbo. When using a PMS, the flow of data goes from PriceLabs -> PMS -> ...