When actively syncing with Airbnb, PriceLabs will send rates and minimum stay requirements, along with check-in restrictions, to Airbnb listings for 540 days from today (see our article
here
on extending your pricing calendar beyond that point). You can connect as either a host, or a co-host but a listing can only be managed from one PriceLabs account, you must submit a support ticket to have a listing transferred between PriceLabs accounts. Weekly and monthly discounts, check-out restrictions, and maximum stay length are not set by PriceLabs for Airbnb listings, they must be managed through Airbnb.
Creating an Airbnb Password

If you usually log in to Airbnb using your Facebook, Google, or Apple account, you'll need to create an Airbnb password to integrate your account with PriceLabs.

To do that you'll need to log out of your Airbnb account and then follow the steps to reset your Airbnb password. You can then use your email address associated with your Facebook or Google account and your new password to integrate your Airbnb account with PriceLabs. Once you create an Airbnb password, you'll no longer be able to log in using Facebook or Google. However, your Airbnb account will still be connected to Facebook/Google.

Importing Airbnb listings into PriceLabs

Before getting started make sure the listings you are trying to connect are live and bookable on Airbnb. Listings that are snoozed, have no availability, or have just been created can not be imported into PriceLabs. See our
note below
on importing listings that have just been created on Airbnb.
To begin, log on to PriceLabs and click the "Add your listings" button on your dashboard. Select Airbnb from the drop down list, enter the email address and password associated with your Airbnb account, and click the "Connect" button. When entering your information please do not use your browser's auto-fill feature, manually type in your Airbnb credentials each time.


If you usually sign in to Airbnb using your Facebook, Google, or Apple account, you'll need to create an Airbnb password. Instructions on how to do that are in the video above.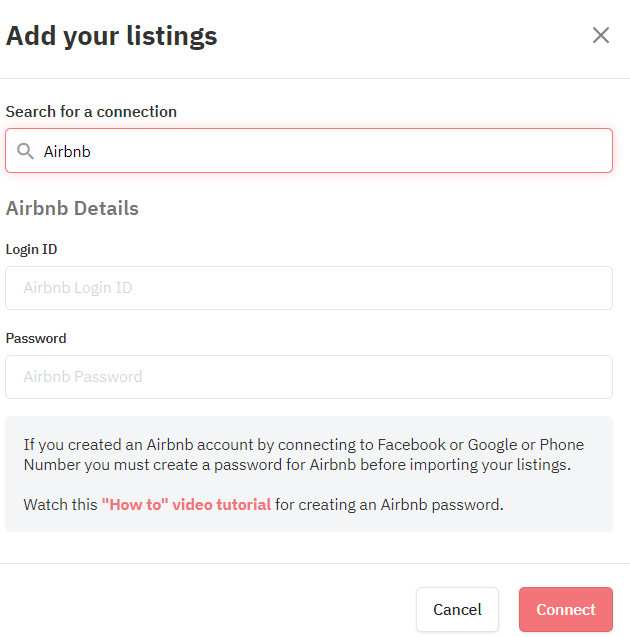 After clicking "Connect" either your listings will import (hooray!), or you will get one of two verification checks.

Airbnb Verification Link:

If you see a link like the one below, please first log out of Airbnb and close all open browser tabs/windows where you're viewing Airbnb before clicking the link. Once you've logged out of Airbnb, come back to PriceLabs to click the link, validate your account through Airbnb, then return to PriceLabs to confirm that you've verified your account. You should then see your listings import OR get the 4 digit code option.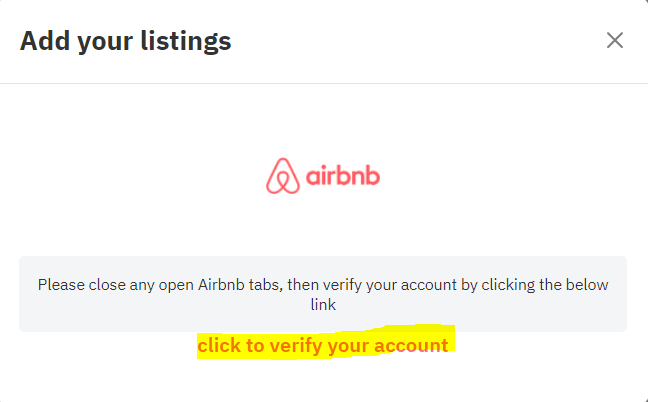 Head back to PriceLabs to confirm that you have verified your account.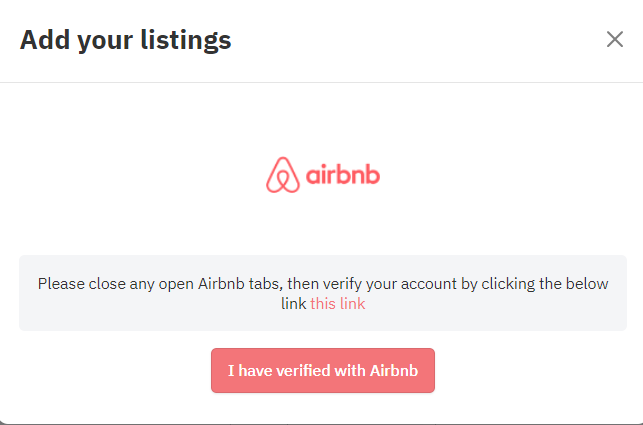 Four Digit Verification Code:

Airbnb sends over the contact information associated with your account. Please select the method of contact where you prefer to receive the code and click the "Generate Code" button to have it sent. If you do not see your preferred method of contact here, or you need to add a new contact method, that can be done on your Airbnb account settings page here
https://www.airbnb.com/account-settings/personal-info
Once the "Generate Code" button is clicked, retrieve the code from your phone or email, enter it in PriceLabs and click to verify the code. Once this is done, you should see your listings appear on your PriceLabs dashboard!


If the code is not verified within 10 minutes it will expire and a new code will need to be generated.

Once you have successfully imported your listings, you can go through our
Getting Started guide
or join one of our
Intro to PriceLabs live trainings
to get a good overview of the system and all of the available customizations. When you're satisfied with the rates on your PriceLabs calendar, you can toggle on the sync switches for your listing(s) and wait for our regular nightly sync, click "Sync Now!" to send prices immediately for individual listings or go to the
Customizations page
to sync your entire account at once.
Adding new Airbnb listings

It can take up to 24 hours for a new listing to be added to Airbnb's API. Please wait 24 hours after creating a new listing before attempting to import it into PriceLabs. If you have trouble importing a new listing after that 24 hour period, please submit a support ticket.
Notes for Syncing to Both Airbnb and Vrbo
Please note that if you are connecting both Vrbo and Airbnb to PriceLabs, PriceLabs will not coordinate calendars for the two listings. You must create an iCal connection between your Vrbo and Airbnb accounts in order to make sure reservations booked on one platform appear as blocked dates on the other. You can read our detailed guide on how to do that in our blog
here
. You can also map your listings together so that you are not double invoiced for the same property, please read through our guide to
mapping listings between channels
for instructions on how to do that. Once listings are mapped, you can use the
pricing offset customization
to account for the difference in commissions between channels.
Should Airbnb's Smart Pricing be on or off?



If PriceLabs is pushing rates directly to Airbnb the system will overwrite rates there if Smart Pricing is on or not. We do think it's best to keep Smart Pricing off while sync from PriceLabs is on so you can be sure your guests are booking at the most competitive dynamic rates. When syncing through some PMSs or channel managers Smart Pricing must be off for rates to be successfully updated on Airbnb (see the article for
your PMS
for more on this). For any questions on how Smart Pricing effects your ranking in Airbnb search results, see Airbnb's help article
here
.
Common Airbnb Connection Issues

There was an error while updating pricing to your Airbnb listings!

If you have recently changed your Airbnb password, or if Airbnb requires you to re-authenticate your connection to PriceLabs you'll need to go through the integration steps again to reestablish the connection. Follow the connection steps above and the issue should resolve.

If your Airbnb listing has been snoozed, delisted, or the calendar has been blocked for the next 365 days PriceLabs will not be able to successfully update rates for that listing. Please toggle off the PriceLabs sync switch for this listing until the calendar is available to update. If your calendar is not blocked on Airbnb and you are getting this error message, please submit a support ticket.


An easy way to check on your calendar's status is to visit your listing page from a private browsing window and check the calendar there! Frequently listings will appear blocked to us, but not on the host view.

You've set a maximum stay of 28 nights. Choose a minimum stay less than that.



If you're seeing this error and don't have a stay requirement longer than 28 days, please check your list of Date Specific Overrides. This error is most frequently generated when a fixed rate is accidentally entered into the min-stay requirement section when setting an override.

You do not have permission to access this resource

If you're not live on Airbnb -- either because your listing is snoozed, or it's a new listing where you are live based on your host dashboard, but Airbnb hasn't published it to guests yet -- you might encounter an error that says one of the following in PriceLabs:

This listing is no longer available.

You do not have permissions to access this resource.

To find out if your listing is unlisted on Airbnb please do the following:

Open a private browsing window in Chrome or Firefox

Enter your listing as https://www.airbnb.com/rooms/XXXXXX and replaced the Xs by the listing's ID.

You should see a banner that says your listing isn't available by the banner from Airbnb ( This listing is no longer available ) or Airbnb will do a redirect to the Homes page

If this happens, wait for a few hours while Airbnb makes the listing live to guests and you should then be able to review prices.

Airbnb recently released the option to have hosts give special offers or promotions on specific dates. These offers are set by selecting dates on the listing calendar and setting a specific discount to offer a specific number of guests. When syncing directly to Airbnb your rates will appear to be set by Airbnb for dates with promotional pricing, but minimum stays, and rates and min-stays on other dates, will be updated as usual.

Guesty for Hosts and Airbnb

If you are using Guesty for Hosts to sync rates between Airbnb and other channels, and you aren't seeing your rates and min-stays update on Airbnb, note that you must now connect PriceLabs directly to Guesty for hosts in order for updates from PriceLabs to sync successfully. Please see our
Guesty for hosts article
and our guide to
transitioning systems
for more information on this issue.