Dive into the freshest edition of the PriceLabs newsletter!

Discover how our enhanced Min Stay Profiles can boost your short-term rental business
, and learn about our simplified Multi-Calendar page
for improved usability. We're also thrilled to introduce our extended 10,000-listing plan for the Market Dashboard
.
Plus, exciting integrations with PMSs HomHero, Hosty, LosjiTech, Silverbyte, and ZAK are broadening our horizons for seamless connectivity
.
By the way, did you know that PriceLabs was now available in English
, Spanish
, and French
? Next will be Italian
and Portuguese
!
This month's updates: Improved Min Stay Profiles, Multi-Calendar Page, Market Dashboards + 5 new PMS partner with PriceLabs
You will find a summary of our updates below. If you want more information, you can do the following two things:
PriceLabs' Improved Minimum Stay Profiles: New Features & Enhancements
The twin pillars of revenue management are pricing
and minimum stay restrictions
. While choosing the right prices is seen as crucial for revenue growth
, the importance of optimizing minimum stay settings is sometimes overlooked
. However, tailoring these settings to match demand, seasonality, or existing bookings can significantly boost occupancy
and revenue. Moreover, it helps in avoiding costly mistakes
like prematurely accepting 1-night bookings that block longer, more profitable stays
.

PriceLabs is here to assist you in making the right decisions
and automating your stay restrictions adjustments
.
1. Leverage PriceLabs' Min Stay Profiles
Minimum Stay Profiles allow easy and powerful customization of minimum stay requirements

Benefits include flexibility, efficiency, optimized occupancy, and seasonal adjustments
2. New Ways to Create Min Stay Profiles
Classic creation: Apply same restrictions across different listings

Specific customization level: applicable on different levels, such as listing, group, and account

Custom Seasonal Profile: to include season-specific stay restrictions
3. Improved Min Stay Recommendation Engine
Our Min Stay Recommendation Engine now detects deviations from annual patterns for specific months and proposes seasonal Min Stay Profiles

Offers more accurate, tailored minimum stay settings
4. New Archiving Feature
Better User Experience: Multi-Calendar Page updated
Introduction of a context menu (three-dot menu) on every row, offering additional options.

'Customizations', 'Overrides', and 'More Actions' columns relocated to the new editing menu, accessed via the three-dot icon.

'Neighborhood Data' and 'Base Price Help' moved for easier access.

Removal of 'More Actions', 'View', 'Add Override', and 'Edit Customization' columns to reduce clutter and streamline operations.

Addition of 'Hotel Data' to the context menu, enhancing information accessibility.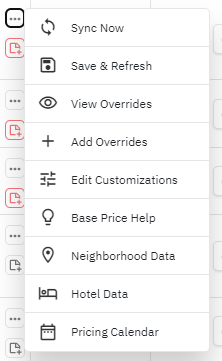 New 10,000-Listing Plan for the Market Dashboard: Enhanced Market Insights
Expanded Data: Access to 10,000 listings for comprehensive insights.

Benefits of a larger Market Dashboard:

Enhanced Analysis: Detailed study of markets and investment properties.

Optimized Pricing: Informed pricing decisions based on larger data set.

Performance Comparison: Accurate understanding of market position from larger comparison pool.

Trend Analysis: Complex trend identification for strategy optimization.
PriceLabs Integrates with HomHero, Hosty, LosjiTech, Silverbyte, and ZAK Integrations
PriceLabs now integrates with five new Property Management Systems (PMSs), HomHero, Hosty, LosjiTech, Silverbyte, and ZAK , allowing their users to harness powerful dynamic pricing and revenue management alongside seamless functionality.
Unlock PriceLabs' Full Potential during Live Training Sessions
Did you know PriceLabs offers free live training and group onboarding sessions every weekday? So whether you're a beginner or a pro, and regardless of whether you speak English, French, Italian, Spanish, or Portuguese, we have a training session for you. Check out their schedule and register today.
Featured Customer Story: How O'Neal Vacation Rentals Increased their revenue by 60% with PriceLabs
| | |
| --- | --- |
| | Imagine ramping up your vacation rental revenue by 60% and slashing pricing time by a whopping 90%! That's precisely the transformative power of automation that Shane from O'Neal Vacation Rentals discovered when he turned to PriceLabs. |
French market data + live workshop on 5 misconceptions about dynamic pricing
(Video in French) To celebrate the release of PriceLabs's French-langue version, we shared data on the French short-term rental market. We discussed the importance of revenue management, debunked misconceptions about dynamic pricing, highlighted key indicators for effective revenue management, and emphasized the value of the Market Dashboard for investment decisions.
Continuing our New Article Series: PriceLabs Users Turned Solutions Consultants
Discover our new article series featuring PriceLabs Solutions Consultants who started as users. Learn about their experiences, favorite features, and unique perspectives on using our platform. Get inspired by their personal stories and insights.
Best regards,
Your PriceLabs Team